Trump to unveil NAFTA proposals that throw the deal into peril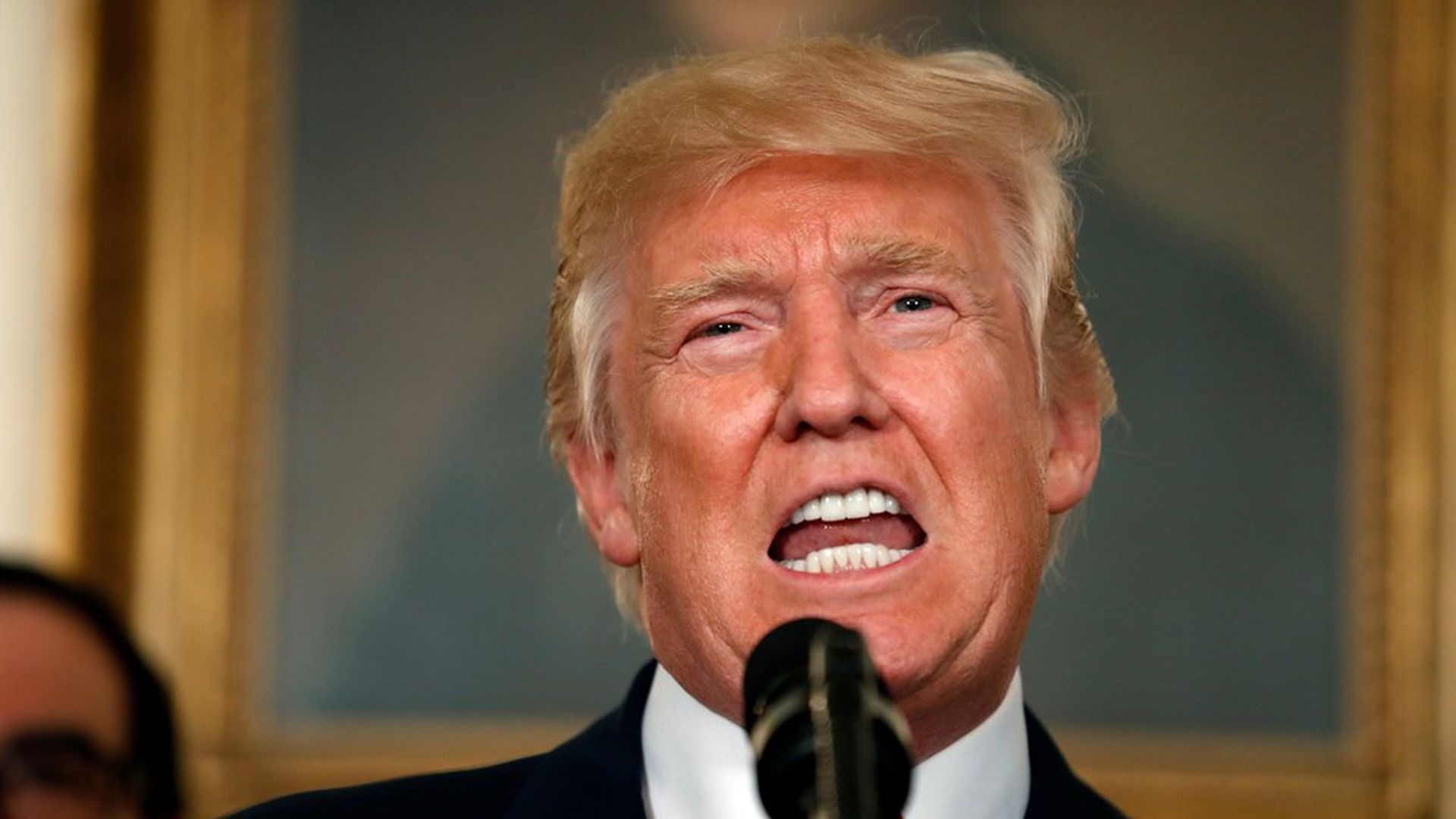 The Trump administration will present controversial proposals for NAFTA negotiations that are expected to attract vehement opposition from Congress, large sections of the U.S. business community and leaders in Canada and Mexico, according to sources with knowledge of the arrangements.
Why this matters: Trade experts on and off Capitol Hill are worried that the Trump demands — which many on the Hill regard as unreasonable and inflexible — will torpedo the NAFTA negotiations and will ultimately give Trump the justification he's been searching for to withdraw.
The proposals come as the Trump administration — led by chief trade negotiator Robert Lighthizer — enters the fourth round of NAFTA negotiations with Canada and Mexico, which begins Wednesday. A senior congressional aide said the administration is pushing to include the following issues, which are troublesome to large sections of Congress and the business community:
Auto rules of origin: Requiring very high percentages of car parts and materials to be made by the NAFTA countries, and a certain percentage to come from the United States in order for automobile manufacturers to benefit from NAFTA.
Five-year sunset: This would mean that every five years the parties to the agreement — the U.S., Canada, and Mexico — would have to restate their willingness to continue the agreement, creating a virtual cliff every five years, which would be vulnerable to political shifts. A top trade lawyer in Washington described this proposal as "lunacy," saying it would discourage investors from building in North America on the expectation of NAFTA benefits.
ISDS (Investor State Dispute Settlement): The Trump administration wants to seriously undermine the ability of private companies to take legal action when foreign governments' moves devalue their investments in that foreign country. U.S. companies that do business abroad are worried that if Trump makes ISDS an opt-in system it will do two things: diminish the value of their investments in Canada and Mexico; and, more importantly, create a precedent to devalue investor protections around the world.
Dispute settlement: The Trump administration wants to make changes to the dispute settlement system between the NAFTA parties that the business community is expected to find troublesome.
Bottom line: Although these are just opening bids, many trade experts worry that Trump and Lighthizer are being so aggressive and unreasonable that Canada or Mexico will see no choice but to walk away.
Be smart: The U.S. Chamber of Commerce and the American Farm Bureau have each launched campaigns to pressure Trump to save NAFTA — an indication of how concerned the business community is about the deal.
When Axios shared this reporting with White House officials they declined to comment.
Go deeper