Trump suspects Bannon of leaking, putting job in jeopardy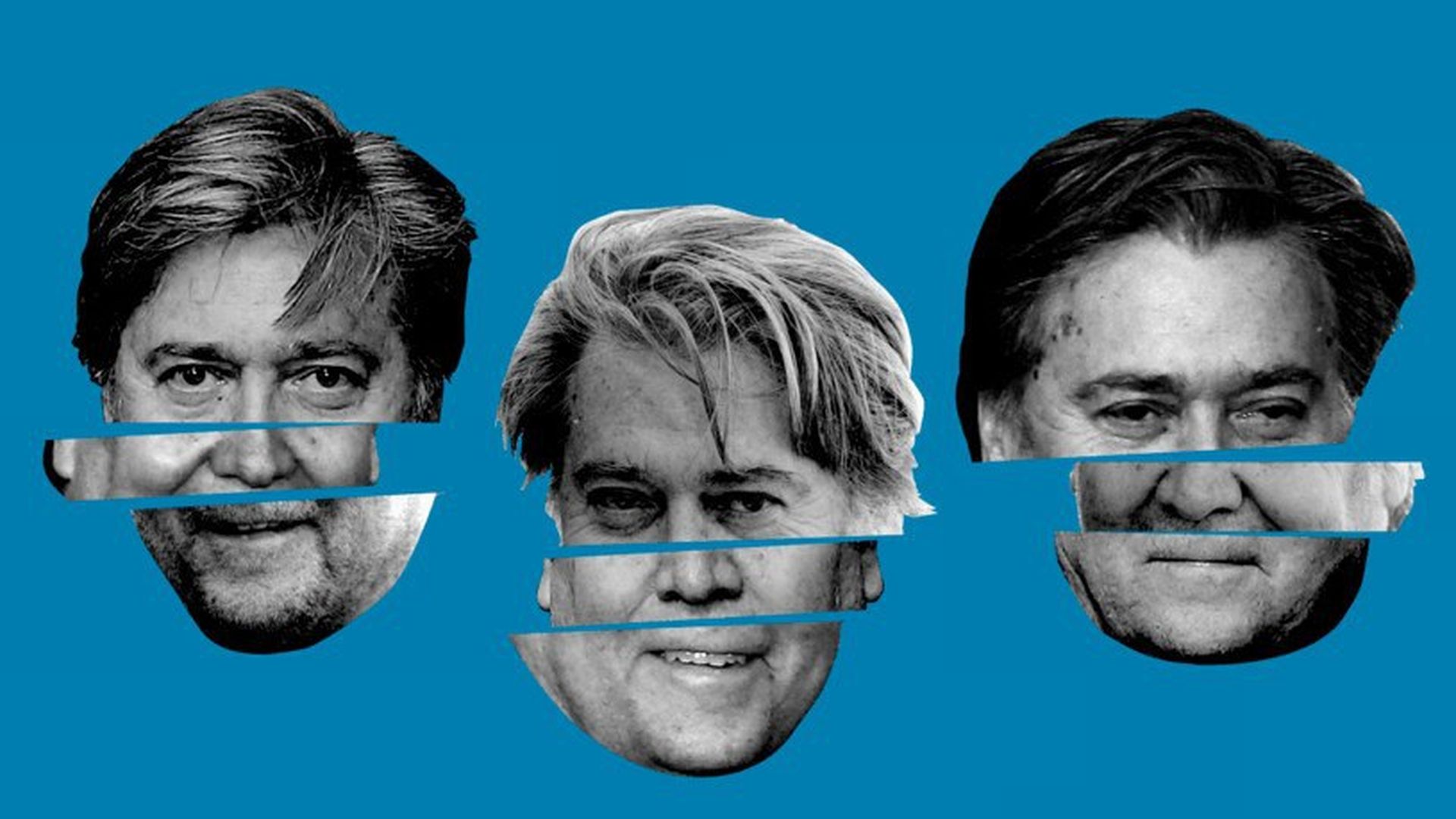 President Trump has told close associates that he believes Steve Bannon is behind damaging leaks about White House colleagues, putting the chief strategist's job in fresh jeopardy, sources close to the president tell me.
Trump has told associates he's fed up with what he sees as self-promotion by Bannon, who did not join the core team this week at the president's golf club in Bedminster, N.J.
Bannon's time with Trump has diminished since the new chief of staff, retired Marine Gen. John Kelly, took over and imposed discipline on the circus around the Oval Office.
Bannon declined to comment.
Why it matters: POTUS has been frustrated with Bannon in the past, but he never had as easy a vehicle for getting rid of him. Kelly is expected to make West Wing changes, anyway. As one top aide said: "Kelly can do the dirty work."
Now Bannon is a man on an island, with very few true allies in the building.
Some caveats: Trump's anger with Bannon is nothing new, and Bannon survived Jared Kushner's attempt to get rid of him early in the administration. It's always perilous to say Trump is going to oust anybody.
How Bannon ran afoul of Trump:
Key West Wing colleagues believe Bannon is an instigator of leaks targeting National Security Adviser H.R. McMaster. The stories have been driven by Breitbart News, where Bannon was executive chairman before joining Trump's presidential campaign as chief executive in August. On Thursday, Trump backed McMaster as "our friend."
Sources close to Trump say he was irritated about Bannon's extensive cooperation with a book by Bloomberg Businessweek's Josh Green, "Devil's Bargain," with a cover that gave Bannon equal billing with Trump.
This was a rerun of one of the key factors that put the chief strategist in Trump's doghouse months ago: a TIME magazine cover dubbing Bannon "THE GREAT MANIPULATOR."
In a New York Post interview in April, Trump refused to definitively back Bannon, and declared himself "my own strategist." After that, Bannon lowered his profile, then temporarily redeemed himself as he helped organize the White House response to Robert Mueller.
Now, Kelly has changed the dynamic:
He's a chain-of-command military guy who was initially mystified, and then horrified, when he learned about the relentless campaign against McMaster, coming from Breitbart and others.
When Reince Priebus was chief of staff and facing his own problems, Trump didn't have an easy vehicle to evict Bannon from the White House. Priebus and Bannon became allies of convenience in a war against Jared and Ivanka (or "Javanka" as Bannon calls them to associates.)
Bannon has told associates he has nothing to do with the campaign against McMaster — that it's a spontaneous effort by the base.
A source familiar with the president's thinking said Trump didn't believe that Bannon was some kind of puppeteer in charge of conservative media. "That would be overstating Steve's influence," the source said.
But the source wondered why Bannon hasn't raised a finger to stop the hit pieces against McMaster that have run on Breitbart, a publication he used to run. The source pointed out that when the media began reporting, early in the administration, that Bannon was warring with Reince, the two went to extraordinary lengths to prove their friendship, and Bannon went to extraordinary lengths to shut down the narrative.
Be smart: The best card Bannon has to play is that he's an important voice inside the building, and a key channel to Trump's populist nationalist base.
Bannon is more aligned philosophically with the President than many of Trump's other senior aides. Bannon has been on the winning side of a number of internal policy battles, including Trump's withdrawal from the Paris climate accord and the new aggressive turn against China on trade. On Monday, Trump returns to D.C. to announce he's signing a memo to investigate China for intellectual property theft and other trade abuses against the U.S. Bannon has been pushing hard behind that policy.
Bannon has a genuine, deeply-felt policy disagreement with McMaster. Bannon's and McMaster's world views are diametrically opposed, and Bannon believes the globalists pose the greatest internal threat to the Trump presidency, and could send it veering off course with foreign interventions.
Other questions circulating the West Wing:
How would two Republican mega-donors, Bob and Rebekah Mercer, react if Kelly were to fire Bannon on Trump's behalf? Given the financial support they've given to Bannon and Breitbart, would they turn against Trump, whom they've also supported?
How will Trump's base react to Bannon's firing?
What kind of havoc could Bannon wreak on the outside, unencumbered by his West Wing responsibilities?
Sign up for Axios newsletters and alerts.
Go deeper