Trump in Israel: potential pitfalls and the "ultimate deal"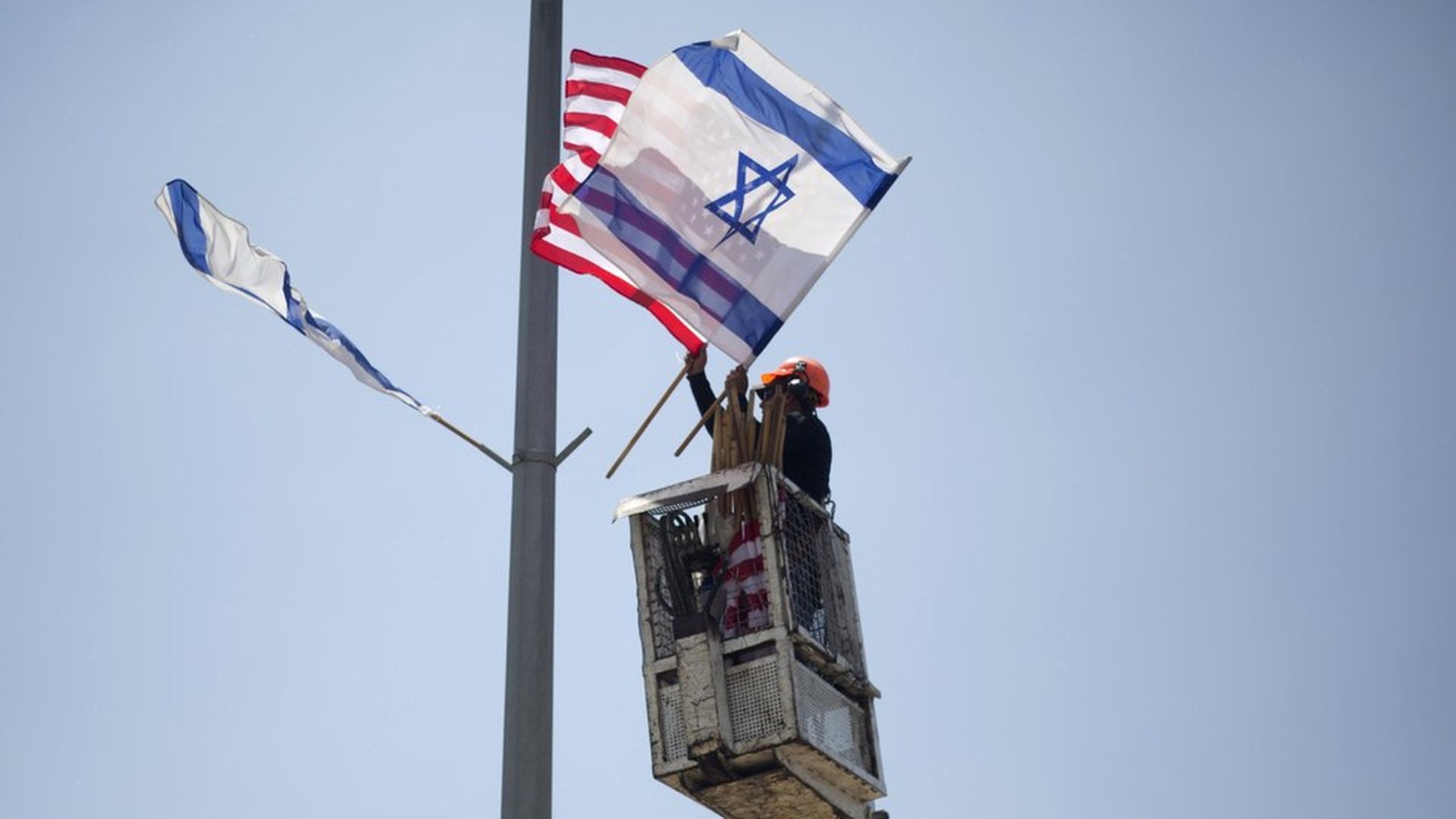 President Trump departs Saudi Arabia for Israel Monday morning, and there are some early indications that the second leg of his foreign trip could present a trickier diplomatic challenge than the first.
Trump was greeted on the tarmac in Riyadh by King Salman and members of the royal family, setting the tone for a visit that included sword dancing and even a billboard displaying his tweets.
Israel Prime Minister Benjamin Netanyahu, meanwhile, had to order his ministers to attend Trump's arrival, Haaretz reports. Many planned to skip because there was no time on the agenda for a meet-and-greet.
Trump's overarching goal: Make some tangible progress toward a peace agreement, which he has said would be "the ultimate deal."
Monday's itinerary, per the White House...
Tel Aviv Airport welcome ceremony
Trump bilateral meeting with President Reuven Rivlin of Israel
Trump gives remarks with President Rivlin
Mr. and Mrs. Trump visit the Church of the Holy Sepulchre
Mr. and Mrs. Trump visit the Western Wall
Trump meets with Prime Minister Benjamin Netanyahu of Israel
Trump gives remarks with Prime Minister Netanyahu
Mr. and Mrs. Trump have dinner with Prime Minister and Mrs. Netanyahu
Three potential sticking points...
Trump's disclosure of highly classified intel gathered by Israel to the Russians without permission.
The $110 million arms deal struck with Saudi Arabia, which a senior Israeli politician said was "something that should trouble us."
Trump's backing off his pledge to move the U.S. embassy to Jerusalem.
And a bonus: Trump cancels Masada speech due to helicopter ban.
Words of warning...
John Reed in the FT:
"Mr Trump's itinerary, which will include stops at Jewish and Christian religious sites in the cramped, disputed confines of Jerusalem's Old City, also carries potential for blunders. In a sensitive national conflict with religious overtones, errant words or gestures can have lasting consequences, as past US presidents who dabbled in peacemaking found."
The New York Times' Isabel Kershner:
"Some in the Israeli news media have already described the visit as 'hysterical,' rather than 'historical.' And squabbling within Mr. Netanyahu's governing coalition has marred much of the festivity surrounding Mr. Trump's visit: Right-wing politicians are disappointed that the Trump administration appears to be adhering to longstanding American policy regarding the Israeli-Palestinian conflict, and they are agitating for Mr. Netanyahu to take a tougher stance."
Things to be aware of...
From the AP's Julie Pace:
"Trump has handed son-in-law Jared Kushner and longtime business lawyer Jason Greenblatt the assignment of charting the course toward a peace process... previous administrations typically gave secretaries of state those reins."
"The low-profile Greenblatt, who spent about two decades as a lawyer at the Trump Organization before joining the White House, has traveled to the region twice since the inauguration and is in weekly contact with pivotal players from both sides. Palestinian officials were struck by the fact that Greenblatt, an Orthodox Jew, took off his skullcap for their meetings."
"While Israeli officials cheered Trump's election, some are now wary of the tougher line he has taken on settlements: urging restraint but not calling for a full halt to construction…. Palestinians, who viewed Trump's victory with some trepidation, are said to have been pleasantly surprised by Trump's openness during a recent meeting with Abbas in Washington."
Three reasons for optimism...
Neither the Israelis nor the Palestinians want to be accused of harming the peace process, and they have incentives to make Trump's visit a success.
There's still plenty Trump and the Israelis agree on, including the threat posed by Iran.
Trump's not Barack Obama. Netanyahu is anxious to maintain better relations with the U.S. president this time around.
Go deeper