Trump breaks from Obama, and himself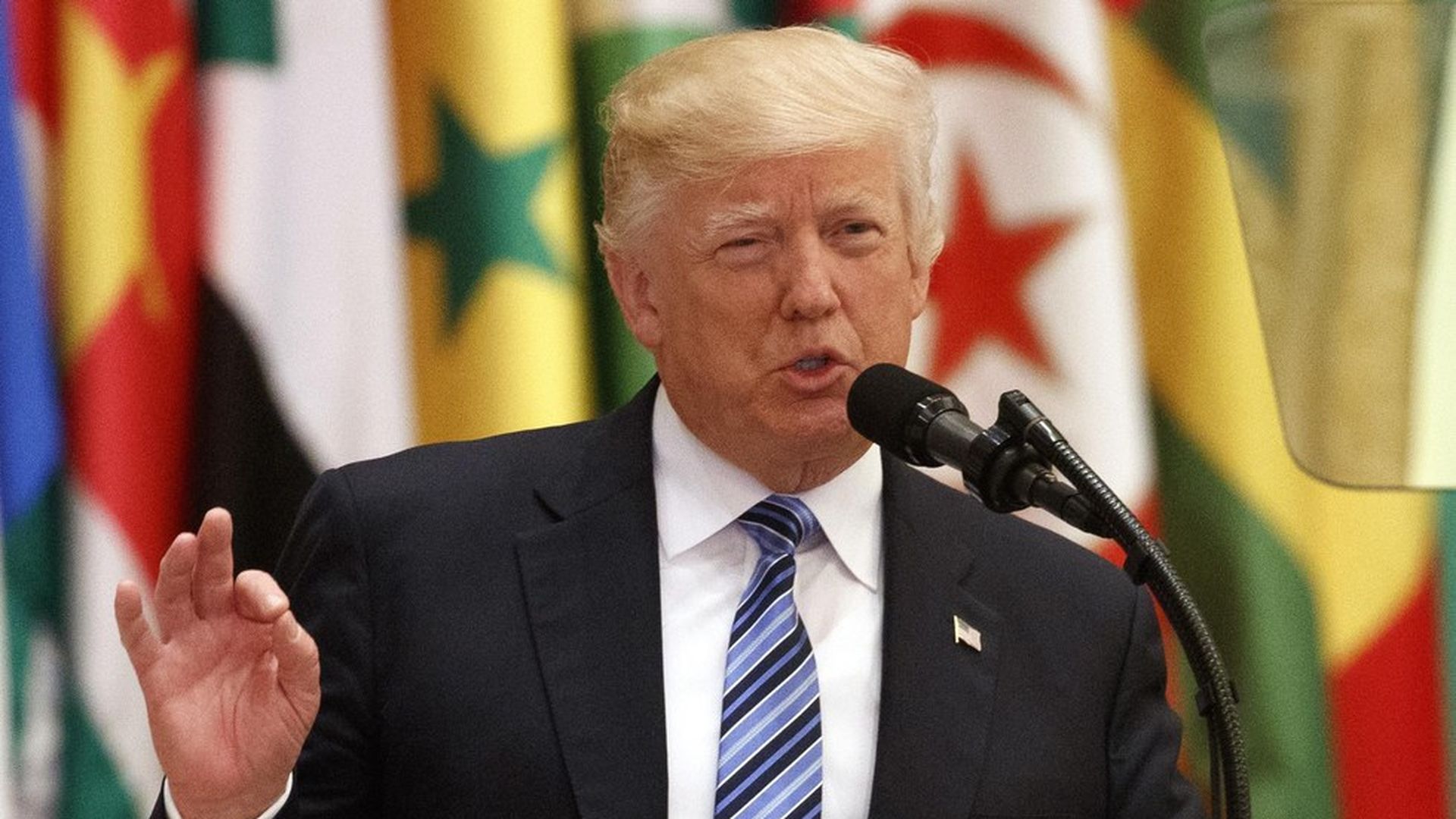 President Trump gave a measured, disciplined speech to the Muslim world in Saudi Arabia on Sunday, reading entirely off TelePrompTer.
What cable TV will focus on: Trump made a profound rhetorical shift from the campaign — and it's a shift we forecasted a few weeks ago after a briefing with senior White House officials. He's now talking about Islam in ways virtually indistinguishable from presidents Obama and George W. Bush.
The key difference: Trump on the campaign said "Islam hates us." Today, Islam is "one of the world's great faiths." And instead of bloviating about how he's the only guy with the courage to say "radical Islamic terrorism," Trump now uses the more PC "combating radicalization."
What really matters: We shouldn't spend too much time obsessing over the rhetorical shift. Trump signaled these substantial breaks from the Obama era:
The most important: While Obama bent over backwards not to offend Iran as he pursued the nuclear deal, Trump did something quite extraordinary: He called on the Muslim world to "isolate" Iran. The Saudis got what they wanted here.
Trump signaled that he'd be very different from past American presidents when it comes to discussing human rights. "We are not here to lecture," Trump told the audience. He won't be using his presidential bully pulpit to pressure countries like Egypt and Saudi Arabia for their human rights abuses. (Note: Senior White House officials have told me they'd do this privately, but we have no way of knowing how tough they've actually been so far.)
Trump showed again that his presidency will be the most transactional in recent history. He framed his $110 billion arms deal with the Saudis as both a job-creating coup and as allowing the Saudis to take more responsibility for their own security. This is a big deal: Trump is putting the onus on Muslim-majority countries to be more aggressive and spend more money to fight terrorism. In Trump's most passionate moment of the speech, he declared: "Drive them out."
Go deeper