Trump administration overhauling ACA-funded health agency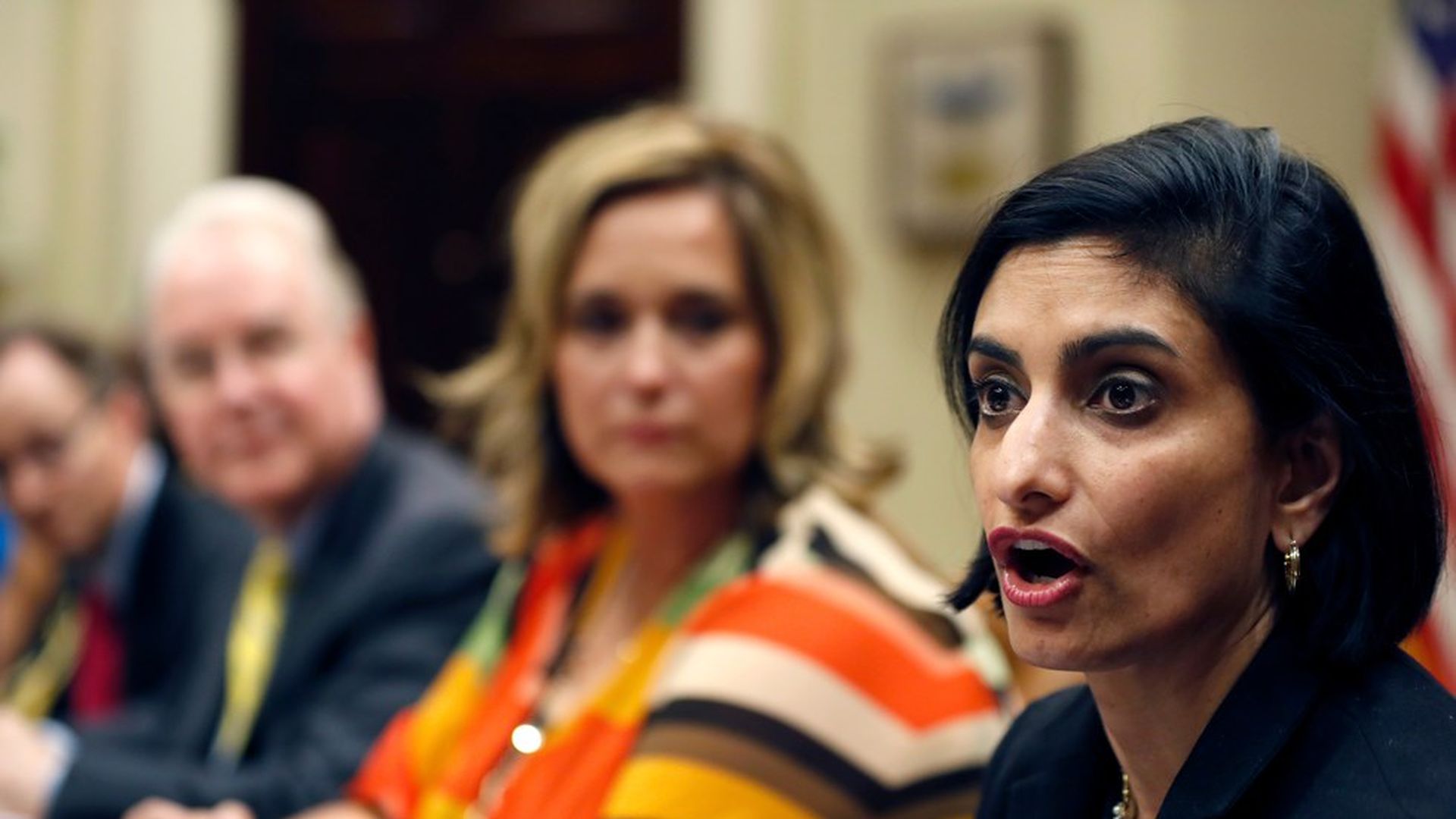 Tom Price, Seema Verma and other top Trump administration health care officials put out a notice this week that they want to overhaul the direction of the Center for Medicare and Medicaid Innovation — an agency created by the Affordable Care Act to test different ways to pay for and deliver health care. The goal: roll out conservative, "market-driven" health policy ideas.
Why it matters: The Innovation Center, unknown to most Americans, holds a lot of power in trying new health care experiments that attempt to lower costs and improve quality. But some health policy observers are worried the Trump administration is changing course with minimal transparency and eyeing radical changes to Medicare and Medicaid.
What the Innovation Center does: It builds health care experiments to test on a small scale. If they are successful, the agency could roll them out more broadly. Some of the Innovation Center's most well-known tests involve bundled payments (paying hospitals and doctors fixed prices for procedures), accountable care organizations (providers caring for a common population and being paid based on quality), and using primary care at home.
Worth noting: Price, the secretary of Health and Human Services, recently scaled back the center's bundled payment experiments, arguing that making the programs mandatory was a government overreach.
Also: CMS put out its request for information just days after Patrick Conway, a top Medicare official who ran the center and proposed some experiments that angered the industry, left to become CEO of Blue Cross Blue Shield of North Carolina.
What's changing: The Centers for Medicare and Medicaid Services, the agency run by Verma that oversees the Innovation Center, made it clear it wants to pursue conservative policies, although some ideas were vague:
"Consumer-directed" models that could involve patients paying more for their own care out of pocket. Medicare and Medicaid beneficiaries usually don't have a lot of disposable income.
Models that would allow Medicare beneficiaries "to contract directly with healthcare providers." Price, an orthopedic surgeon, supported private contracting in Congress, but critics worry patients could be on the hook for higher bills.
Changes to Medicare's prescription drug benefits that "engage beneficiaries as consumers of their care" — another likely reference to shopping and more out-of-pocket spending.
Value-based drug contracts between Medicare and drug companies, like what Novartis is doing for its new cancer therapy.
What's not changing: The view that "fee-for-service is not the most efficient way to pay for health care," said Mark McClellan, the former CMS administrator under former President George W. Bush. McClellan said he supported what the center was doing, but "it's important to view this as a first step."
Yes, but: "There's some very industry-friendly ideas in this (request for information)," said Aisling McDonough, a former CMS staff member who worked during the Obama administration. Some health policy observers also think the Trump administration has the power to pursue more controversial projects, like premium support for Medicare, through the Innovation Center.
Keep in mind: This process is lacking some transparency. CMS said it will not respond to questions or comments, unlike the process for proposing formal rules.
Go deeper