Trade advocates relieved at Trump's moderate turn on NAFTA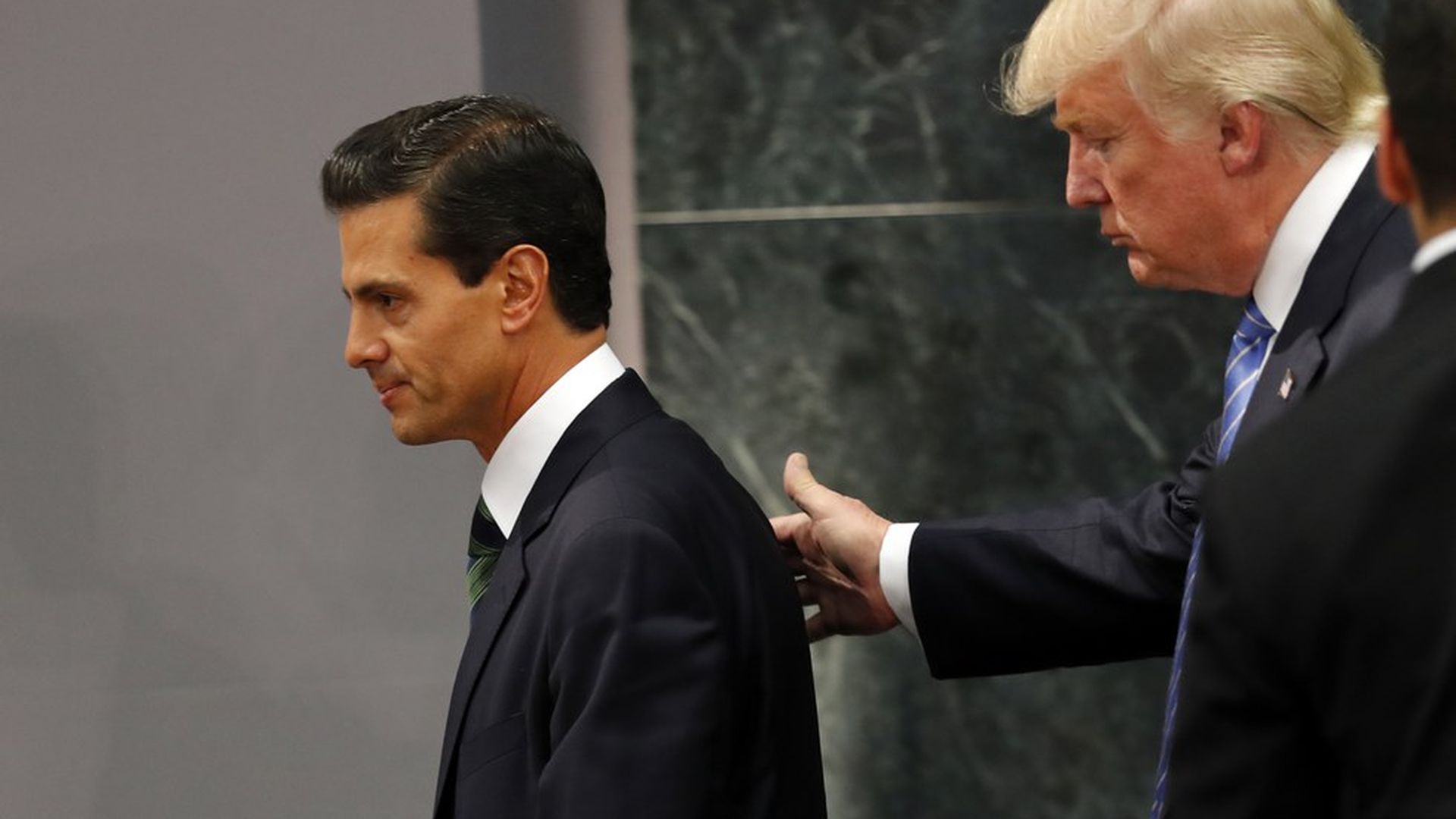 Trade advocates in Washington who Donald Trump would've mocked as "globalists" on the campaign trail are breathing sighs of relief at his far more conventional turn on NAFTA.
Today, the Trump administration released its statement of negotiating objectives for the trade agreement. It's the first step in renegotiating the trade deal and there's nothing in there that terrifies establishment Republicans on Capitol Hill or the Mexicans and Canadians who'll ultimately be sitting across the negotiating table.
Why this matters: This document is a far cry from a couple of months ago when Trump was on the verge of withdrawing from NAFTA. (He had to be talked off a cliff by moderates in his administration, with Agriculture Secretary Sonny Perdue famously convincing Trump by showing him a map of the "Trump country" states that would be hit hardest by the decision.)
Free-trader approval:
House Ways and Means Committee Chairman Kevin Brady and Trade Subcommittee Chairman Dave Reichert released a statement praising the Trump administration's document. Why you should pay attention to Brady: He's a Texan with vested interest in keeping NAFTA afloat, and he's one of the most principled free-traders in Congress.
The Chamber of Commerce's commended the objectives because they "hew to the 'do no harm' philosophy long advocated by the business community," per Inside Trade.
In short: plenty were worried Trump would blow up NAFTA and today's document is the clearest sign they're moving in a more conventional direction.
There are no deal-breakers in the document. Establishment types were worried about hardcore nationalists like Steve Bannon and Peter Navarro inserting "poison pills" that would've made the NAFTA negotiations dead on arrival. Deal-breakers like: an explicit requirement to snap tariffs back in place unless the U.S.-Mexico trade imbalance corrects itself over a short period; or an additional U.S. border tax to offset Mexico's Value Added Tax rebates; or towering requirements for North American content to qualify for duty-free treatment.
Note of caution: This is only the first step and the document makes clear that negotiations are going to take a while. Commerce Secretary Wilbur Ross wants to move fast on the negotiations, but given the level of detail in this document — they want to get into product-specific technical negotiations — trade experts find it hard to see how this won't stretch well into next year.
Go deeper