To save wine from disease, scientists are breeding native plants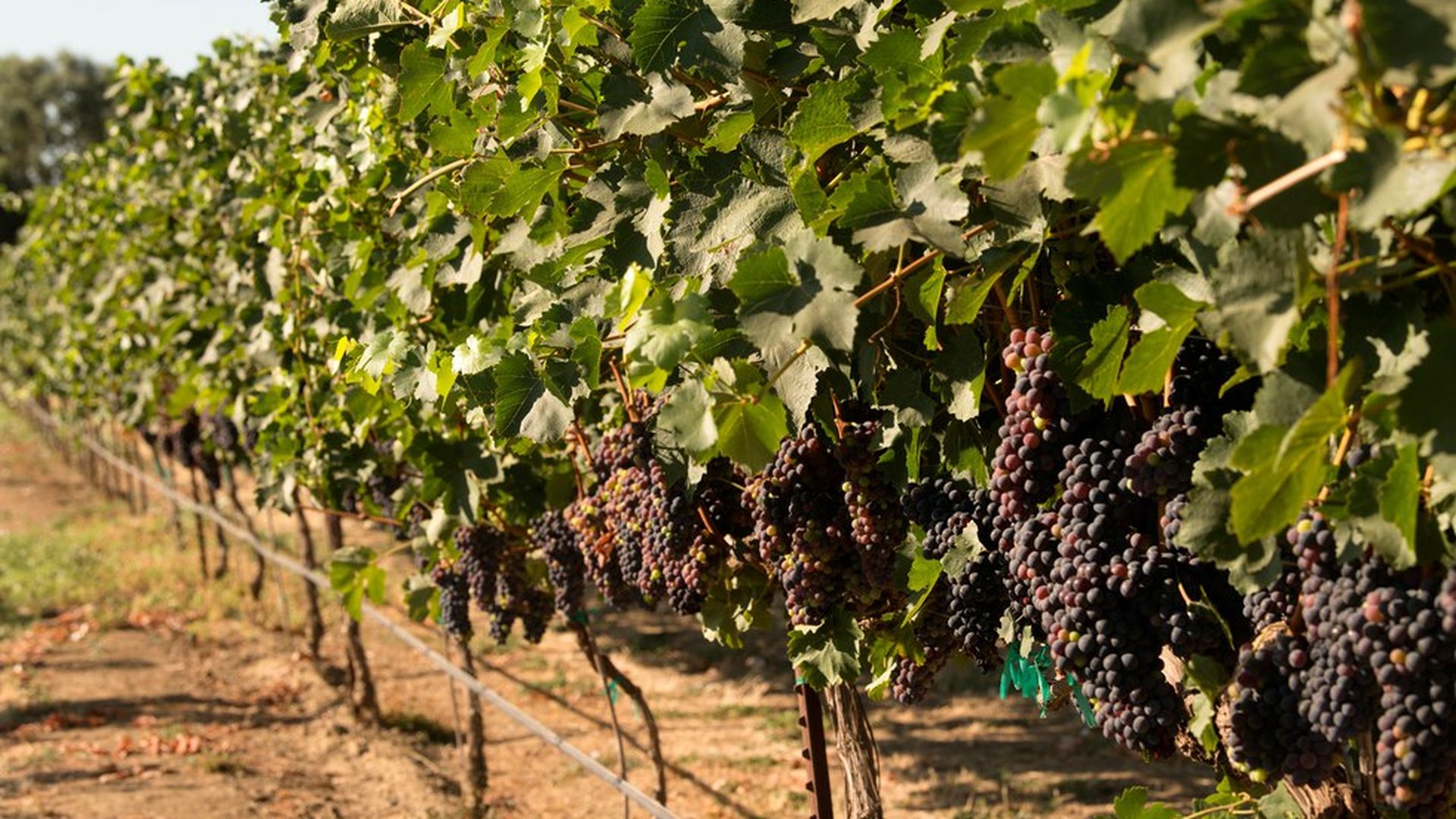 Pierce's Disease is a grapevine strangler. Once bacteria that cause it get into a plant — via insects — it clogs the plant's vascular system and deprives it of water. There's no treatment. Andy Walker, a plant geneticist at UC Davis, is developing new grape varietals that resist the disease. But once the wine is ready to grow, there's another challenge: getting vintners and consumers to try a new wine.
Why it matters:
Modern movement of people seems to have increased the spread of agricultural diseases.
It's also possible climate change may increase the range over which a pest or disease can flourish.
As demand for organic products increases, Walker thinks vintners will need to grow more disease-resistant types of grapes.
The stigma of genetic modification might be too much for wine consumers. And, Walker says because the genetics for disease resistance are so complicated, it could be hard to engineer a plant that can survive Pierce's Disease. Instead, he bred one.
What they did: North America has a number of native grapes (think: Concord, of Maneschewitz fame), and one of them, the notoriously un-drinkable Vitis arizonica, is resistant to Pierce's Disease. Walker crossed arizonica with traditional European varietals, only selecting offspring that could survive the disease. Each subsequent generation was crossed back with the drinkable grapes.
The challenge: Wine growing comes with deep regional traditions, and consumers love their varietals. Walker says it can be hard for new varietals to gain traction, both with vintners and consumers. "There are over 5,000 different wines, but we only drink a few hundred," Walker notes.
Whit Winslow, the Executive Director of the North Carolina Wine and Grape Council, where Pierce's disease is a problem, tells Axios visitors are eager to try new wines in the tasting room. But he notes that anecdotally, it doesn't necessarily translate to commercial and restaurant sales. "They might walk out of the winery with a new bottle," says Winslow, but that doesn't mean they'll grab one off the liquor-store shelf.
Yes, but: Consumers and vintners can and have been convinced to try new things. In 1996, the Cornell University-developed Traminette wine, which is somewhat fungus and frost resistant, hit the market. A combination of high-profile tasting events and media coverage increased its popularity. Today, it's found in vineyards across the United States, is Indiana's state wine and has won several awards. Bruce Reisch, a plant geneticist at Cornell, helped develop the wine. "No varietal starts with name recognition," says Reisch, but growers are eager to appease consumers' desire for fungicide-free vino.
Looking forward:
Walker has only just started doing tastings of the new wines (Reisch has tried them: "they're fantastic!") and they won't be ready for commercial vineyards for a few more years. When they are, it'll likely take some Traminette-style marketing to get consumers ready. But, if Pierce's disease spreads the way some fear it will, Reisch thinks the industry will come together to create a market, and bring a pesticide-free wine to our tables.
Go deeper