Tim Draper keeps defending Theranos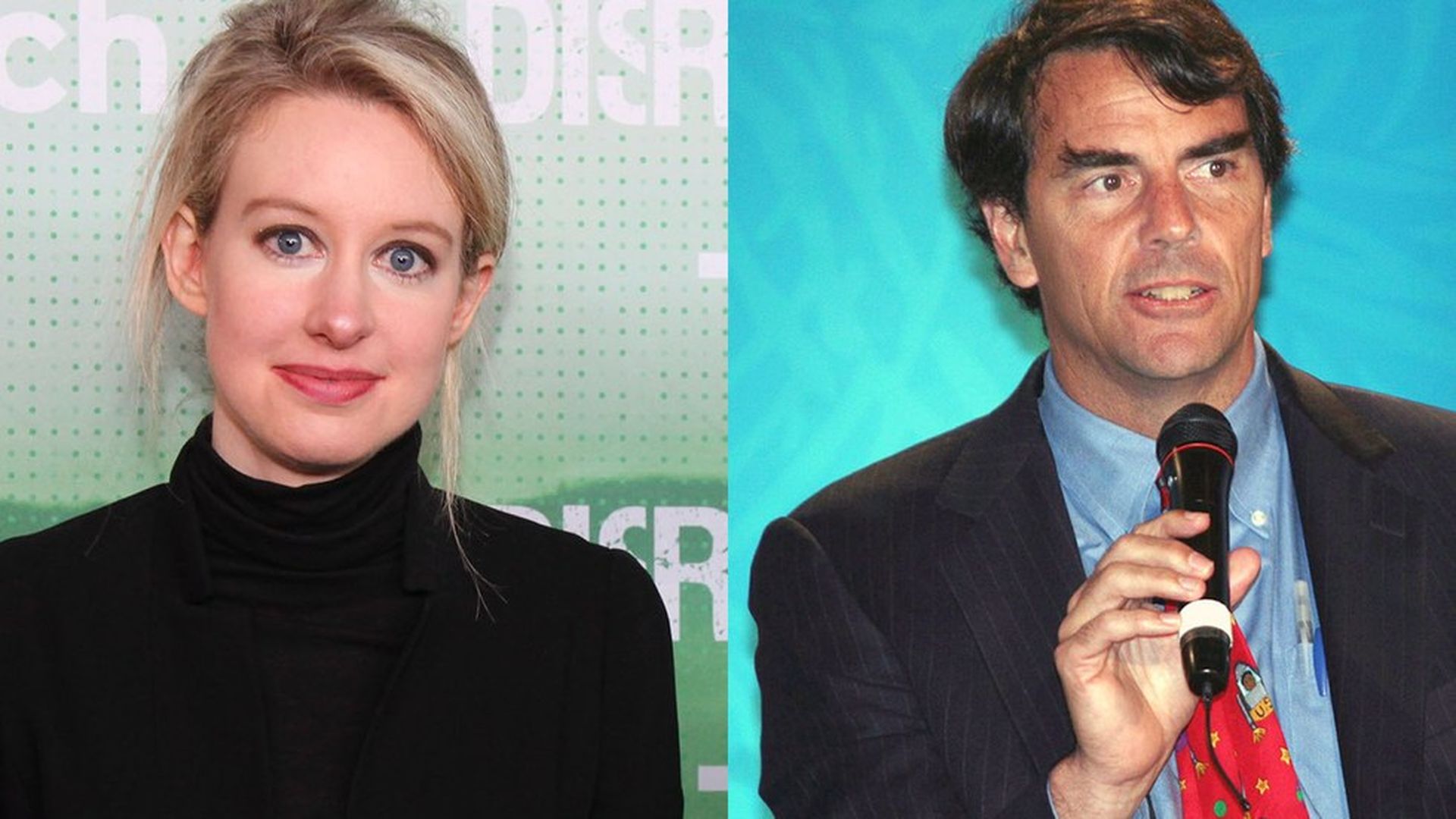 Theranos has become compagnia non grata in Silicon Valley, a troubled reminder that not even multi-billion dollar valuations can save a startup from its own short-cuts. But it still has at least one vocal defender: Venture capitalist Tim Draper, an old family friend of Theranos founder and CEO Elizabeth Holmes, who led an early $1 million investment into the company (split between two investment firms). In short, he believes the attacks on Theranos are "a witch hunt."
If you don't know Theranos, here's the nutshell:
Blood-testing company founded in 2003 by Stanford drop-out Elizabeth Holmes, promising it needed just a few drops to conduct hundreds of tests.
Valued by private investors at $9 billion by 2014, and signed a major partnership with Walgreens. Board members included Henry Kissinger and incoming Defense Sec. James Mattis.
Subject of a series of critical Wall Street Journal articles by John Carreyrou, the first of which showed that the company's technology was so troubled that it regularly used third-party machines that required standard blood draws.
Regulators have banned Holmes from owning or operating a lab (something she's appealing) and the company now wants to sell "mini-labs" to other providers instead of offering blood tests itself. More than 500 employees have been laid off. Walgreens is suing for breach of contract and certain investors are suing for fraud.
Carreyrou is now writing a book about Theranos, which has been optioned for a film that will star Jennifer Lawrence.
Draper recently spoke to Axios about why he believes Holmes, not his fellow investors or the company's users, are the real victims. Here's the interview (slightly edited for clarity):
Axios: Did you primarily invest in Theranos because of Elizabeth Holmes, or because of the technology?
Draper: "There are a lot of things that go through our minds when we're making investments in new startups and what I tend to do is focus on great opportunities that can transform industries. In this case, Elizabeth came in and said, 'I'm going to transform healthcare as we know it.' She was very dynamic and answered all of our questions to our satisfaction. It was just getting started, which is why our investment was so small."
Did you pass up the chance to reinvest, or did she not give you the option?"
"No, we never really had another opportunity."
The first Wall Street Journal story critical of Theranos was published in October 2015. What was your initial reaction?
"I dismissed it because there are always writers who want to take down big successes. Then after the next one I realized there was some strange vendetta. Maybe it had to do with money. The guy is getting $4 million to continue this charade."
Don't journalists sometimes dig into something that only looks like a big success, but actually is fraudulent in some way?
"Elizabeth started an amazing company that is so disruptive to various industries, so I think there were competitors fueling this fire. She was delivering 50 blood tests for $30. Her competitors are delivering the same thing for hundreds, sometimes thousands of dollars. They were hugely threatened by this. Her product allowed consumers to have a baseline and then measure all of the changes in their blood over time. That technology is going to happen and I'm hoping it happens with Theranos.
It's like other industries that get threatened by new technology. Like Bitcoin when all of the banks lined up against it. Or Uber being attacked by the taxi companies or Tesla by the car companies or Skype by the telecom companies. In this case, the competitors got a mouthpiece. I believe Elizabeth is the victim of a witch hunt."
You said something similar to Bloomberg TV last summer, adding that the competitors in this case included pharma and health insurers. How so?
"My argument there is a little more abstract. If you're big pharma, you like this relationship you have with doctors. You like that you can drive what people are prescribed. Theranos allows people to take more control over their own health, which would end up creating smaller markets for drug companies and health insurance companies."
Isn't there intrinsic value in having a trained medical professional involved in some level of decision-making? If Theranos makes a mistake, a doctor is more likely to spot the abnormality than a layperson.
"Do you know how many mistakes Labcorp makes?"
No, but I do know that Theranos was making errors in excess of its own internal standards.
"I like that they're self-policing."
They have to be, by law. But you weren't concerned that they were sometimes several standard deviations off of where they believed they needed to be? Or that they didn't quickly inform patients when results were incorrect?
"There are plenty of customer service groups that don't respond to calls right away, and this is a small company. Maybe they were distracted because they're under attack. But, obviously, you need to be a really good communicator when you're a startup in the medical field, and that's something they'll learn over time.
Dan, you've been covering startups for years. They make a big impact on the world, make all of our lives so much better. When an industry gets transformed, people who work for the status quo have lives that get challenged. They will do whatever it takes to take down the source of the transformation. In this case, that Wall Street Journal writer keeps pounding away but there isn't anything there."
Much of his reporting was based on findings of federal regulators.
"Those regulators were compelled to go in there and find something because of the Journal."
But Theranos then voided thousands of its own tests. Isn't that an obvious admission of messing up with people's health?
"Voiding the tests was a business decision. Look, Tylenol once had to recall capsules because someone had been poisoning them. If things aren't working, you retrench and then return to market. Attacking a company like this is awful."
Would you at least concede that Theranos was sloppy?
"I don't think so. If it wasn't for all this I could have had a really nice trend-line of 50 blood tests, which would have been a great opportunity for me to have better healthcare. It's not something my doctor is doing."
You've said in this interview that the WSJ has a vendetta against Theranos. Leaving aside that Rupert Murdoch was an investor, why would it be out to get Elizabeth Holmes or her company?
"Well, they first say: 'There's a great woman entrepreneur and she's on the cover of Forbes. Let's see what we can do to take her down.' Then there are competitors who want to help take the company down and soon it becomes like the Heisenberg Uncertainty Principle, because the Journal is involved in the experiment so it's no longer a pure experiment. By continuing to publish negative stories about Theranos, it created negative effects. It's like that old thing when NBC News caused a truck to catch fire -- it's the press creating a series of events that negatively impact technology, progress and our economy. And [Carreyrou] ends up getting $4 million."
But that's not the reporting chronology, according to Carreyrou. He says a disgruntled employee came to them.
"Oh, a disgruntled employee. Well why was he disgruntled? Could that be why he decided to attack the company?"
He was the grandson of a board member, and believed there were serious problems with what was happening in the Theranos lab. Have you read the piece about that?
"No, I haven't."
Can Theranos survive, and would you invest again if given the opportunity?
"Sorry, I only had 30 minutes for this and really need to go."
Go deeper