The undoing of the CPP marks the start of a long regulatory battle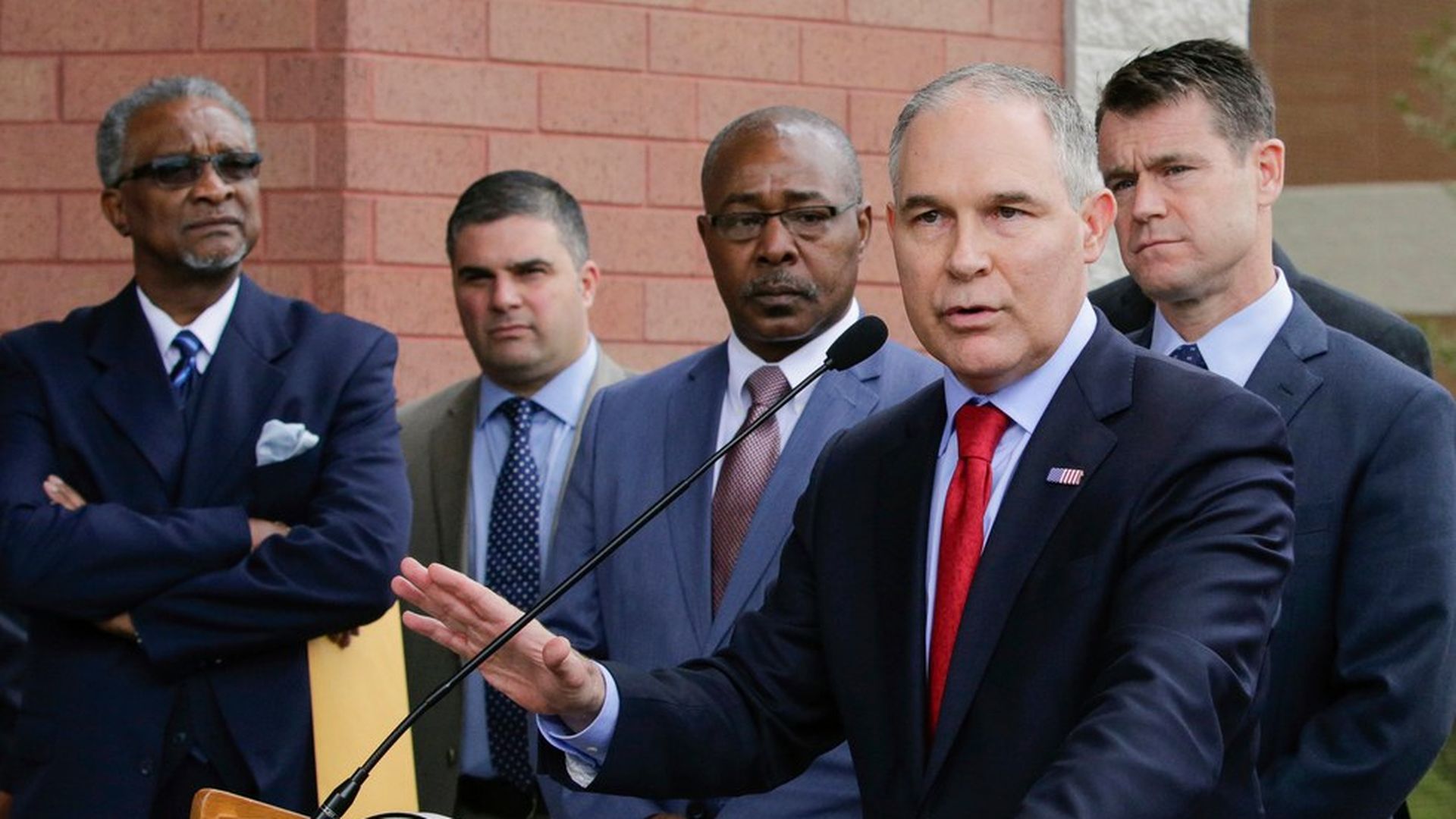 The Environmental Protection Agency's proposal yesterday to undo the Obama-era Clean Power Plan (CPP) marks the start of a long, contentious regulatory fight, which will be followed by a long, contentious legal fight.
Pruitt's strategy: EPA boss Scott Pruitt, in proposing to repeal a rule he said overstepped the bounds of the Clean Air Act, held out the prospect of replacing it with something much more modest — at some point.
Yes, but: As the The New York Times points out, nobody is expecting that anytime soon, if ever. The aggressive strategy — moving to kill the rule, while slow-walking a replacement — could make some in industry nervous by creating a regulatory vacuum.
"Until — and unless — EPA offers a replacement, today's proposal would appear to constitute 'rip-it-up' deregulation, which creates the risk of sacrificing long-term investment stability (i.e., a rule that industry can live with and plan around) for short-term political punch," said Kevin Book, managing director of ClearView Energy Partners, in an email exchange with Axios.
The global picture: One question mark is whether the move has any effect on the already vague U.S. standing in international climate circles. To a large degree it's already baked into the cake, because the White House has for months signaled its plans.
I asked Andrew Light, who was a senior State Department aide under former President Obama, about how the action could affect the next round of UN climate talks in Bonn, Germany, next month.
"In and of itself this announcement doesn't impinge on U.S. positions on finishing the transparency provisions of the Paris Agreement and other issues on the table, but it certainly doesn't help either," he said, referring to the U.S. role, established before the Trump administration, in helping to craft the system for monitoring nations' actions under the deal.
"If there is a best case scenario, then it would be something like a more vocal appeal between now and Bonn by industry calling for the EPA to come up with some kind of legitimate replacement to the Clean Power Plan. That could help to indicate that there are voices other than the environmental community which want to get the U.S. back in the game," said Light, currently a senior fellow at the World Resources Institute.
Go deeper