The next drug pricing target: pharmacy benefit managers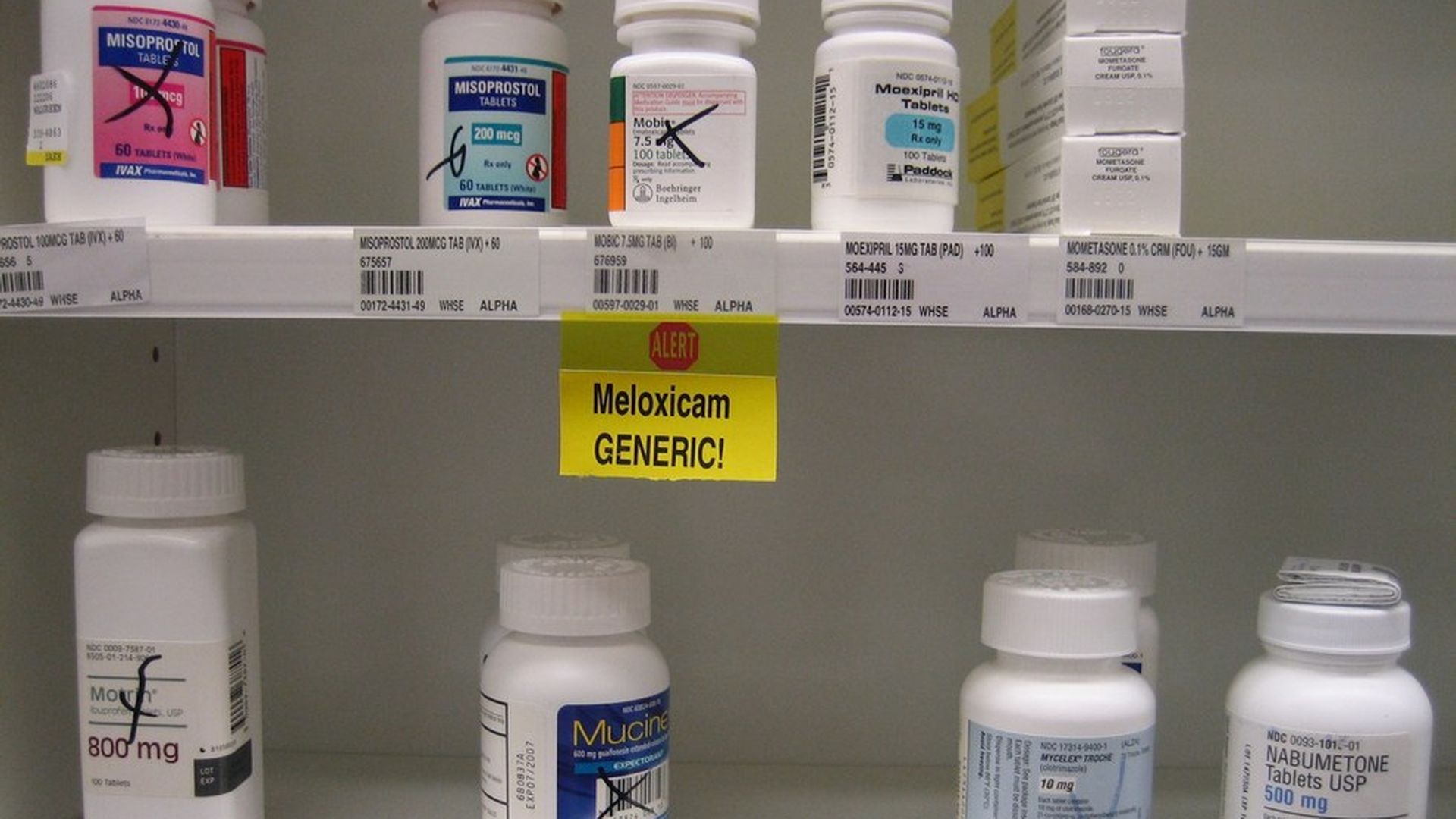 Pharmaceutical companies have a big target on their back. But there's also a push to shine more light on the intermediaries known as pharmacy benefit managers and how they fit into the national furor over drug prices.
Why it matters: These intermediaries are getting some of the money from drug sales, so they may be part of the chain that's leading to higher drug costs. Read on to find out what might happen.
David Balto, a former antitrust attorney with the Justice Department and Federal Trade Commission and a critic of pharmacy benefit managers, has been in touch with Democratic leaders about regulating the companies. Balto wouldn't say who those legislators were, but it's likely the 19 senators who wrote to President-elect Trump in December about drug prices, including Bernie Sanders and Elizabeth Warren, will be interested.
A possible bipartisan issue: A spokesperson for Republican Sen. Chuck Grassley, who hasn't been shy about taking a critical eye toward the health care industry, said the senator is "looking at all factors that might contribute to higher drug prices, including the role of PBMs."
Why now: Employers, unions and health plans hire pharmacy benefit managers to create pharmacy networks and negotiate down prices from drug makers. They've hit criticism in the past. Balto, who represents consumer groups and independent pharmacies, argues that pharmacy benefit managers "don't do anything other than build the network and move information and money."
Last year, pharmacy benefit managers were partially blamed for the rising price of EpiPens. Mylan, which makes the EpiPen, circulated a chart that said pharmacy benefit managers and other actors in the supply chain were eating big slices of the cost pie. Pharmacy benefit managers, in particular, pocket sizable sums of the drug rebates they negotiate. Hence, the higher price.
PBMs aren't having it: Mark Merritt, chief executive officer of the Pharmaceutical Care Management Association, the PBM lobbying group, told me that nobody was buying Mylan's chart or the testimony of Heather Bresch, Mylan's CEO. "It was a load of bull. She was trying to distract that she had made a simple pricing decision."
Merritt added: "Drug pricing is not well understood by just about anybody. You and your compadres in the press get it wrong all the time."
But drug pricing economics is extremely complex: Even experts at the Medicare Payment Advisory Commission, which advises Congress on health care policy, think pharmacy benefit managers are overly covert. "There is a real complexity in how PBMs operate and where they get their revenues," the commission said in a June 2016 report. "Because rebate amounts are proprietary, it is difficult to know with certainty."
Why this won't go away: New York Gov. Andrew Cuomo unveiled new regulations for the benefit managers this month, such as requiring them to be licensed and disclose reasons why certain drugs are promoted. If the federal government doesn't look into those companies, more states could.
Balto said pharmacy benefit managers operate in a "regulatory-free zone" and rules like those in New York will help. But Merritt countered that regulations will raise drug costs, and the New York measure could be illegal based on the Employee Retirement Income Security Act, the federal law that governs many pension and health plans.
Size and scope: CVS, Express Scripts and OptumRx dominate the pharmacy benefit manager space, processing about 75% of all prescription drug claims. Although they have relatively small profit margins, they are handling a lot of money. Express Scripts, for example, banked $2.5 billion in profits in 2015 off of $102 billion in revenue.
Go deeper