The misguided notion of peak oil demand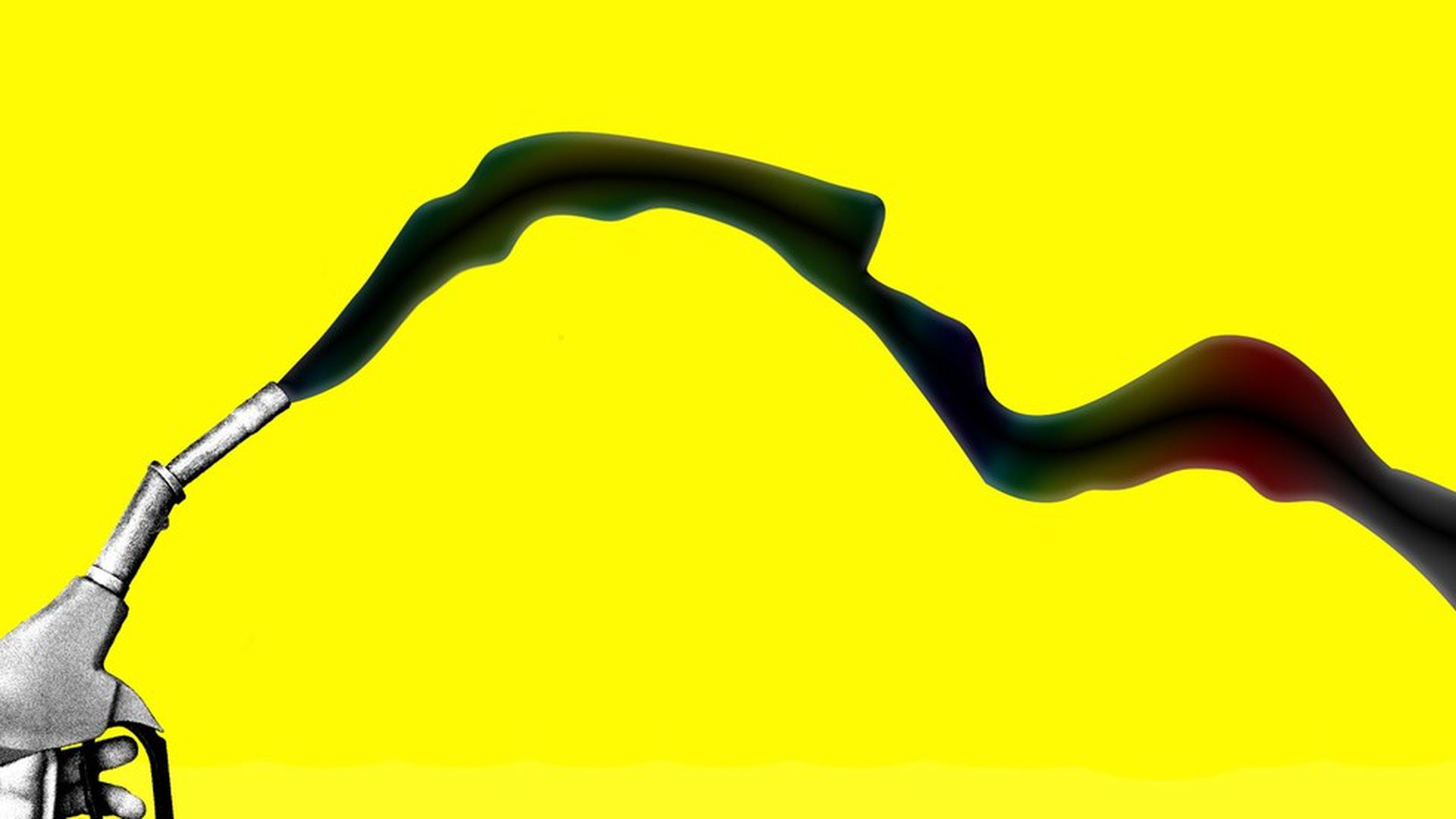 The new conventional wisdom suggests the world is approaching peak oil demand. That's a misleading term for a more stubborn dependency.
Bottom line: The world's appetite for oil is like a huge hill, and we're still going up it. The extent to which this hill flattens out, it will be a long, slow and gradual descent down. Short of an apocalyptic event that wipes out large swaths of the world economy, the moment that global oil demand peaks and falls will never happen. Our lives are too dependent upon the fuel.
Why it matters: Any reduction in the world's demand for oil in the coming decades has profound implications for the companies and countries built upon oil, and for global efforts to cut greenhouse gas emissions. More fundamentally, oil demand is driven by the everyday lives of more and more people on this planet, from the way we move around to the plastic products we use — which come from chemicals derived from oil and natural gas.
Driving the news:
The Organization of Petroleum Exporting Countries, the oil cartel of Middle Eastern countries that produce about 40% of the world's oil, releases its world outlook on Tuesday that will project oil demand to keep increasing through at least 2040.
IHS Markit, a consulting and information services company, in coordination with others, is set to release as soon as this week a report finding oil demand could flatten out -- but not decline -- in the 2030s.
The United Nations annual climate conference starts this week and goes through Nov. 17. It's not about oil, but the world's attempt to address climate change is one of the main drivers that is already starting to sap demand for oil in some developed countries.
The old conventional wisdom was that oil itself would peak — because the industry would run out of resources. Today, amid America's oil boom, persistently low prices and increased worries about climate change, that wisdom has reversed and become about peak oil demand. Projections, including by some oil companies, that find the world's demand for oil could peak within the next couple of decades, are often assuming advances in technologies and policy changes that are far from guaranteed.
The big picture
The global economy is growing at a surprisingly brisk and broad pace not seen in the last decade, which has been marred by recessions in Europe, the U.S. and elsewhere. That means more oil demand, even accounting for higher efficiencies in developed countries.
"It's funny to be talking about peak demand when demand has been so strong recently," Daniel Yergin, energy scholar and vice chairman of IHS Markit said in an interview. "I think people were taken by surprise at the strength of the synchronized economic growth. They've gotten so used to thinking Europe would never recover."
The International Energy Agency, a Paris-based group that advises nations on energy policy, keeps increasing its estimates for oil demand because of this economic growth. Oil demand is around 96 million barrels a day, with the IEA predicting an increase of approximately 1.5% over the next couple of years. Oil prices, in turn, have crept up to near $60 a barrel, a level not seen since 2015.
"Based on what we know now, we would need major technological breakthroughs or weak world growth, including for large emerging and developing economies, for oil demand to peak in the next 20 years," said Gian Maria Milesi-Ferretti, deputy director of the International Monetary Fund's research department.
Gritty details
Global oil demand is driven most by three big buckets (figures courtesy of the IEA):
Passenger cars make up a little more than 25%.
Other modes of transportation -- shipping, aviation, and freight transport -- make up almost 30%.
Industry, most of which is petrochemicals derived from oil and natural gas that make a wide range of plastic products, account for almost 20%.
The first bucket gets most of the attention. Many parts of the world, including China, India and several European nations and cities, have made headlines pronouncing they will move away from gasoline-powered cars toward electric vehicles. Most projections do predict oil demand from cars will decline.
Even if those pronouncements turn into concrete policy changes (a big if), those declines are more than offset by growth in the other two buckets, according to the IEA and others analyses, including one released last month by Wood Mackenzie.
"In these areas -- trucks, petrochemicals, aviation -- to find alternatives to oil production is very, very difficult, if at all possible," Fatih Birol, head of the IEA, said in a podcast with Columbia University's Center on Global Energy Policy published last week. One startling stat: More than 45 countries have efficiency standards for cars; only four have them for trucks.
Two cautionary notes
Small changes in oil demand won't demonstrably affect most people's lives, but "they could have a huge impact on oil prices, equity values of energy companies and on their ability to finance new projects," said Jason Bordoff, a Columbia University professor who interviewed Birol on the podcast. That's why some oil companies, like Norway-based Statoil, are investing in non-oil resources.
Even under a scenario of flat oil demand, oil companies still need to invest trillions of dollars into new oil and gas drilling to replace depleting resources. If companies maintain their tepid pace of new investments, as the IEA found, Birol forecasts high and volatile oil prices. "We may well have some challenges in the next few years if the demand continues to be so strong," Birol said last week.
Go deeper