The meaning of Lindsey Graham's carbon announcement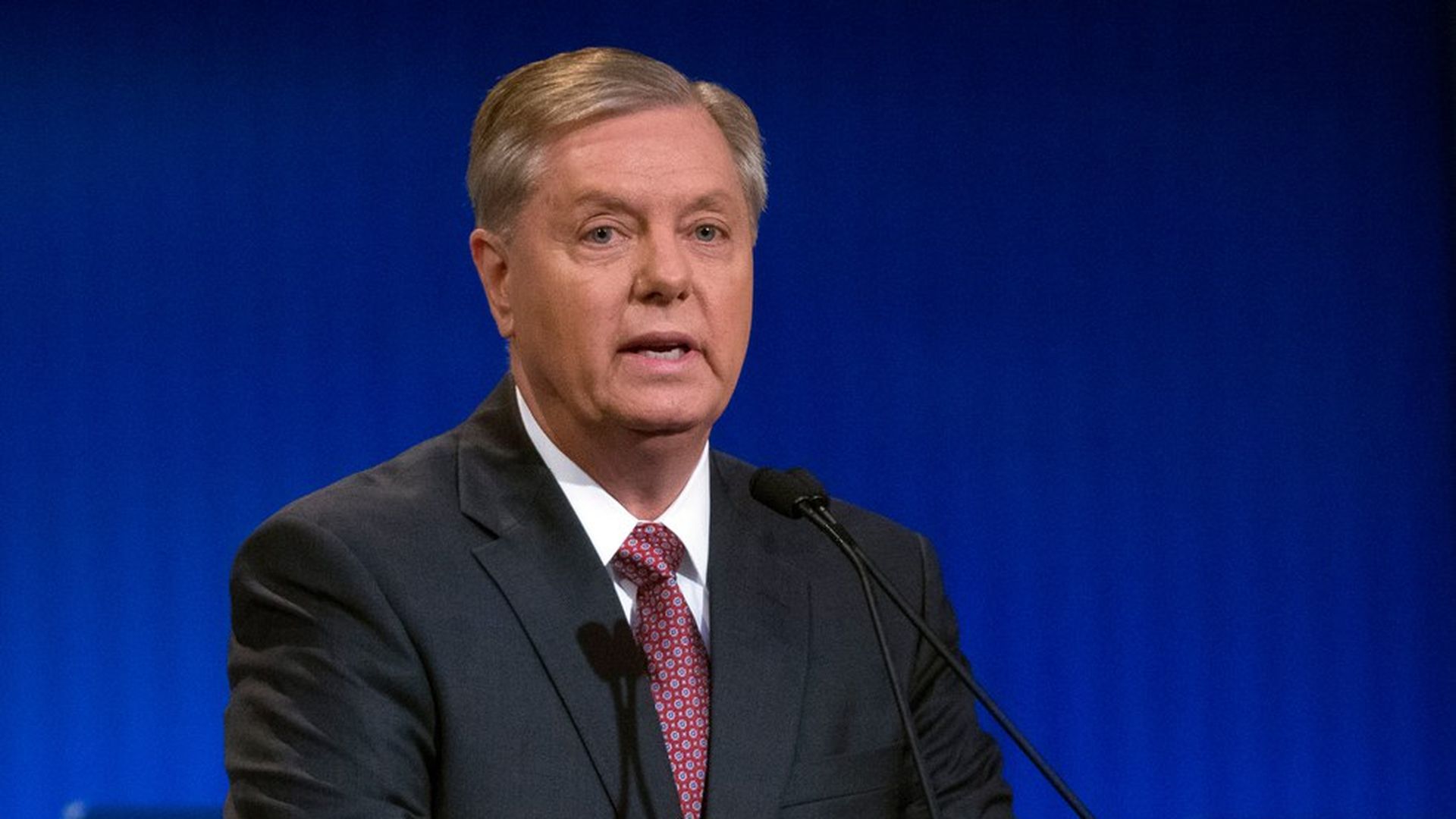 GOP Sen. Lindsey Graham announced at a climate change event at Yale Tuesday that he's working with Democratic Sen. Sheldon Whitehouse on legislation to "put a price on carbon." He didn't get into details, but Whitehouse has for years been pushing a carbon tax.
The big question: Whether Graham's announcement can lead to other sitting GOP senators coming out in support of pricing carbon in some fashion beyond the tiny circle that already has in years past.
In the Senate that's...
Graham himself, who worked with then-Sens. John Kerry and Joe Lieberman on a cap-and-trade plan in 2010 but ditched the talks, dooming any slim chance of passage.
John McCain, who co-sponsored cap-and-trade bills in the 2000s.
Susan Collins, who offered a carbon-capping bill with Democrat Maria Cantwell in late 2009.
Jeff Flake (sort of), who co-sponsored a carbon tax bill in 2009 as a House member, though he later walked away from the idea, suggesting it had been a tactical move to counter cap-and-trade legislation he opposed.
Why you'll hear about this again: The ecosystem of conservative and free-market groups trying to work with Republicans is larger and better organized than it used to be. A number of groups have emerged in recent times, such as the Niskanen Center and the Alliance for Market Solutions.
The highest profile has been the Climate Leadership Council, which launched earlier this year and is led by GOP elder statesmen including James Baker and Hank Paulson. The group is pushing a plan that, among other things, would create a carbon tax with the revenues returned to the public via dividend payments, while scuttling emissions regulations that the group says are no longer needed with the tax in place.
Indeed Graham's videotaped remarks to the Yale event were at a session where Baker was the speaker. Founding members of the group include oil-and-gas giants Exxon, Shell, BP and Total, as well other large corporations.
Reality check: I should have cleared the decks already by noting by there's probably zero chance of a carbon tax moving anytime in the next few years — especially under a GOP administration that's dismantling the regulations that may have helped to force tax-curious lawmakers to the table.
Yes, but: Graham's announcement shows the idea has a faint pulse. The question now is whether it gets any stronger. At an American Enterprise Institute event in July, Whitehouse said he and Democratic co-sponsor Brian Schatz have had discussions with six to 10 GOP lawmakers (scroll to the 24-minute mark of the video here).
Ted Halstead, the CLC's executive director, said there's a larger appetite among Capitol Hill Republicans to his group's idea than has been made public. He tells Axios: "Behind closed doors there's a lot of interest in what we are proposing."
Go deeper