The key moments in Trump's first speech to Congress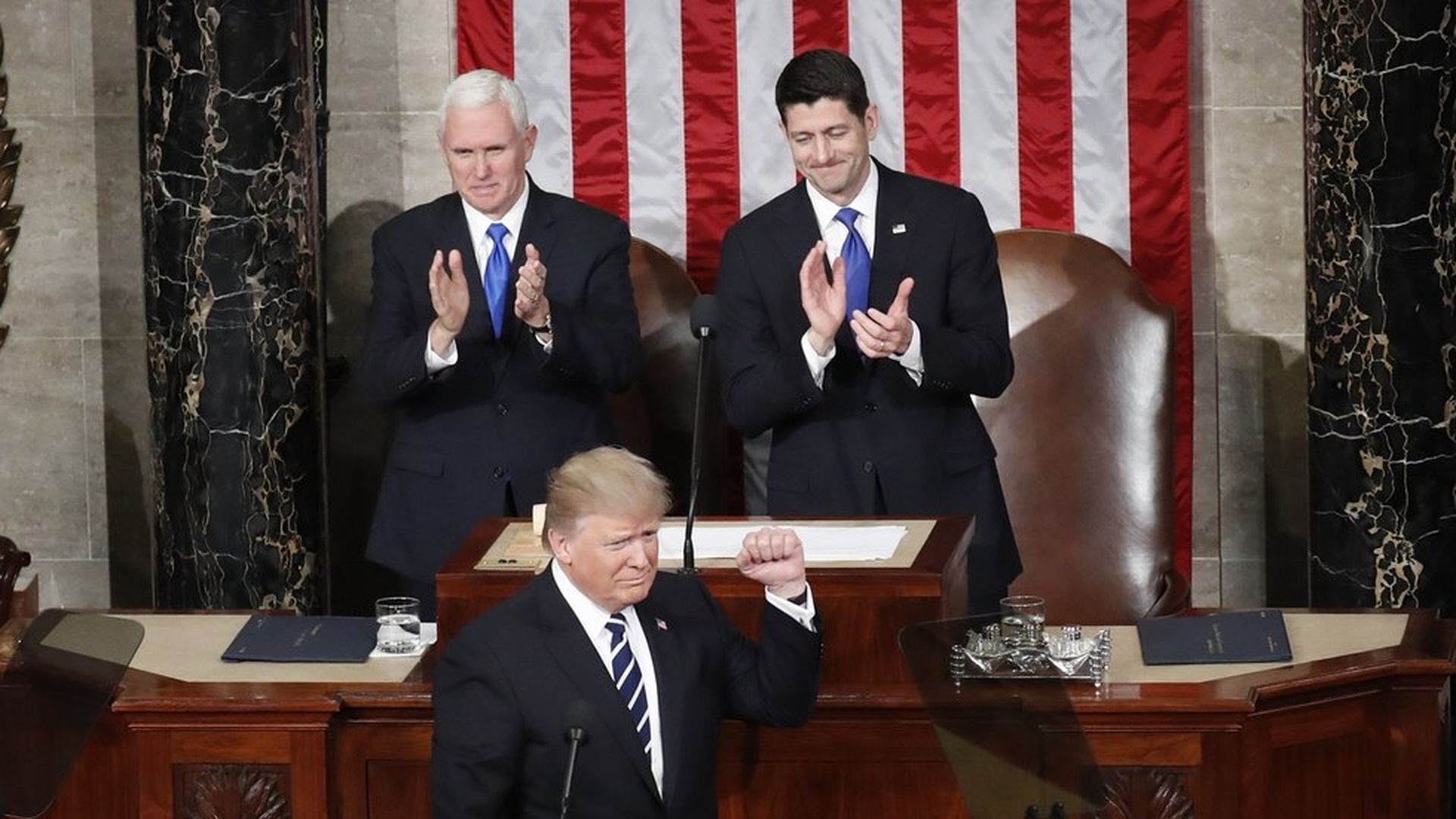 Trump observers probably recognized most of his speech, although it got started with a surprise on civil rights. Here were the evening's most memorable lines, even if they weren't deployed for the first time.
The big open on civil rights:
"Tonight, as we mark the conclusion of our celebration of Black History Month, we are reminded of our Nation's path toward civil rights and the work that still remains. Recent threats targeting Jewish Community Centers and vandalism of Jewish cemeteries, as well as last week's shooting in Kansas City, remind us that while we may be a Nation divided on policies, we are a country that stands united in condemning hate and evil in all its forms."
Nancy Pelosi's lack of enthusiasm when Trump called Obamacare a "disaster"
OMG Nancy Pelosi's reaction: pic.twitter.com/PvC82P0gIG— KristinWilsonKeppler (@TheOtherKeppler) March 1, 2017
Trump's message to the victims of crime in the U.S.:
"Joining us in the audience tonight are four very brave Americans whose government failed them. ... Their names are Jamiel Shaw, Susan Oliver, Jenna Oliver, and Jessica Davis."
Jamiel's 17-year-old son was viciously murdered by an illegal immigrant gang member, who had just been released from prison. Jamiel Shaw Jr. was an incredible young man, with unlimited potential who was getting ready to go to college where he would have excelled as a great quarterback. But he never got the chance. His father, who is in the audience tonight, has become a good friend of mine.
Also with us are Susan Oliver and Jessica Davis. Their husbands –- Deputy Sheriff Danny Oliver and Detective Michael Davis –- were slain in the line of duty in California. They were pillars of their community. These brave men were viciously gunned down by an illegal immigrant with a criminal record and two prior deportations.
Sitting with Susan is her daughter, Jenna. Jenna: I want you to know that your father was a hero, and that tonight you have the love of an entire country supporting you and praying for you.
To Jamiel, Jenna, Susan and Jessica: I want you to know –- we will never stop fighting for justice. Your loved ones will never be forgotten, we will always honor their memory."
But the biggest moment, and the one that drew the most sustained ovation, came when Trump honored the widow of Senior Chief Ryan Owens:
"We are blessed to be joined tonight by Carryn Owens, the widow of a U.S. Navy Special Operator, Senior Chief William "Ryan" Owens. Ryan died as he lived: a warrior, and a hero –- battling against terrorism and securing our Nation. I just spoke to General Mattis, who reconfirmed that, and I quote, "Ryan was a part of a highly successful raid that generated large amounts of vital intelligence that will lead to many more victories in the future against our enemies." Ryan's legacy is etched into eternity. For as the Bible teaches us, there is no greater act of love than to lay down one's life for one's friends. Ryan laid down his life for his friends, for his country, and for our freedom –- we will never forget him."
Video below:
The biggest standing ovation of the night https://t.co/dBaVCjyP7B — Axios (@axios) March 1, 2017
Go deeper