The GOP anti-establishment's early 2018 playbook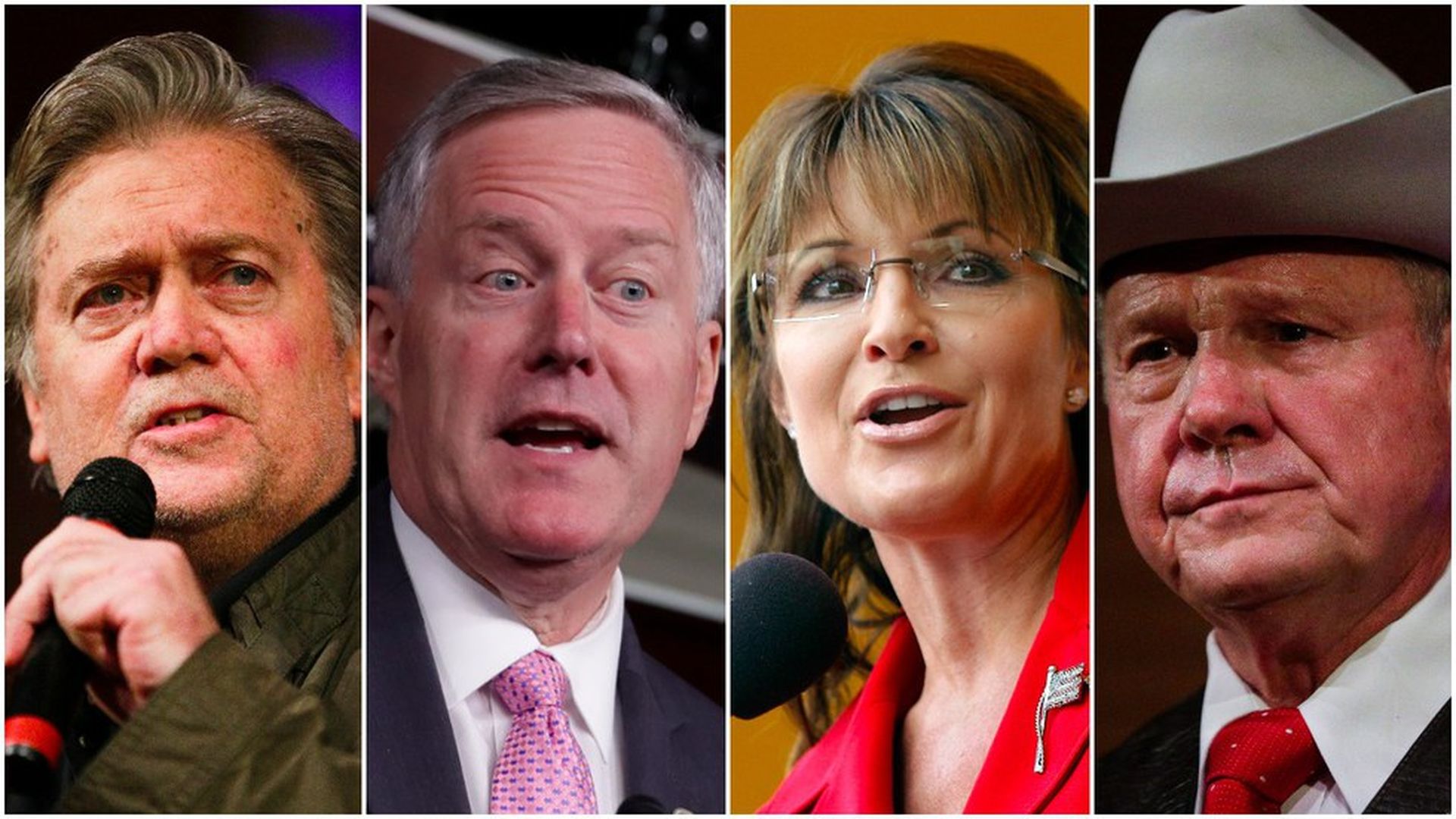 A nexus of anti-establishment figures plans to replicate the Roy Moore playbook across the country, backing insurgent candidates in 2018 GOP primaries and making life uncomfortable for Republican leaders in Washington.
Key question: Does President Trump continue to side with the incumbent candidates and Mitch McConnell's picks? Probably for most; but in some cases, e.g. Jeff Flake, there's no way.
The gang:
Steve Bannon and Breitbart: Bannon will stump at rallies again for races he believes are as important as the Moore-Strange matchup. Mark Meadows, representing the Freedom Caucus, via his aide Wayne King (whom Meadows dispatched to Alabama for the Moore-Strange race.Great America, a well-funded outside group run by Ed Rollins with Bannon ally Andy Surabian.The return of Sarah Palin: The former Alaska governor enjoyed her rally for Judge Moore so much she's told associates she'd be happy to team up again with this group through 2018. Definite targets and potential challengers, per a source close to Bannon:
Mississippi's Roger Wicker: Chris McDanielArizona's Jeff Flake: Kelli WardNevada's Dean Heller: Danny TarkanianStrong possibilities:
Open seat in Tennessee: Bannon is close with Mark Green and likes him a lot. But it's a possibility that Marsha Blackburn will run for Senate and Green will run for Blackburn's House seat. Bannon could conceivably back Blackburn.Ohio: Josh Mandel. Bannon loves him.Montana: Matt Rosendale. Bannon loves him too, but neither Ohio or Montana are likely to be wars with the establishment, so they belong in a different category.
Surabian has been tracking more than a dozen extra races, all in a spreadsheet, but they're going to be selective about which ones they throw the muscle behind.
"Bannon's not afraid to back an underdog, especially if it means upending the plans of the Republican establishment, but he is going to be selective on who he throws his full weight behind. He's focused on winning elections," Surabian said.
Go deeper