The fuzzy math around Community Health Systems' hospital sales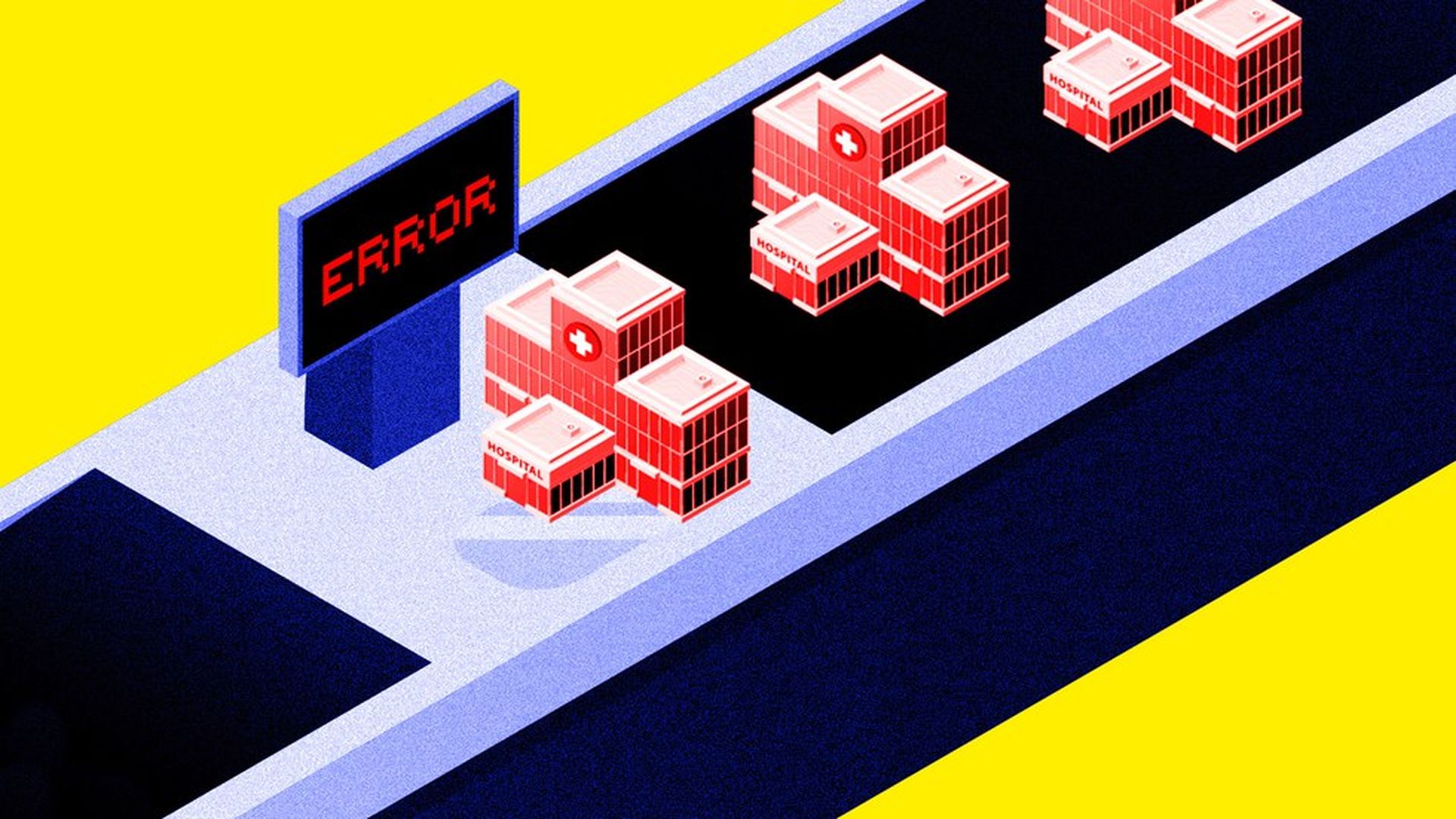 Community Health Systems, the struggling for-profit hospital company, recently conducted a 30-hospital fire sale to reduce its massive debt load. Top executives routinely said in earnings calls with investors they were selling "unproductive" hospitals for "outstanding prices."
What we found: An Axios analysis finds that, for at least some of those facilities, the numbers don't really match what executives said. CHS appears to have sold several profitable hospitals for below-average prices.
Why it matters: The discrepancy between CHS' words and actions raises questions. If CHS sold profitable hospitals for low prices, the company could continue to struggle paying down its mountain of debt because it will have fewer facilities to generate cash. Some investors already believe CHS could default on its debt.
The background: Hospitals are often sold based on a measure of profitability called earnings before interest, tax, depreciation and amortization, or EBITDA. Prices vary based on location, profit, insurance contracts and other factors, but the average hospital today could be sold at 8.5 times its EBITDA, according to one industry estimate.
CHS CEO Wayne Smith and former CFO Larry Cash both have frequently said during earnings calls over the past 18 months the company was getting rid of low-performing and low-margin hospitals. Smith also declared CHS was getting "attractive prices" and "very good value for the facilities that we're selling, and we're getting about 10 times (EBITDA) in a market for single-digit (margin) hospitals." Smith later said "the multiple from our 30-hospital divestiture plan is approximately 12 times EBITDA."
The gritty details: Eight of the 30 hospitals in CHS' fire sale are in two states, Pennsylvania and Washington, that have reported financial statements to the public. And the numbers don't line up with what Smith and Cash said. Here's the quick synopsis of our analysis, which focused on deals that had publicly announced financial terms:
CHS sold four hospitals in Pennsylvania to PinnacleHealth for $231 million, or 3.4 times operating earnings. That multiple would have been even lower if the Pennsylvania data excluded interest and depreciation.
CHS sold two hospitals in Washington to Sunnyside Community Hospital for $45 million, or 5.3 times EBITDA.
CHS sold two hospitals in Washington to MultiCare Health System for $424 million, or 7.2 times EBITDA.
None of those deals are close to the prices that CHS executives discussed publicly.
CHS had a few gripes with the analysis:
The Pennsylvania data is based on a July 1 to June 30 fiscal year instead of the typical calendar year that CHS reports.
Neither state includes the financial impact of physician practices and other ancillary services.
Smith said the multiple from the entire 30-hospital divestiture plan, including working capital, was 12 times EBITDA. That means "some of the transactions were above 12 times, and some were below."
"The Community Health Systems management team has made accurate and appropriate disclosures about our divestitures," spokeswoman Tomi Galin said several times during a three-week email exchange. CHS declined to provide the audited data it used for the hospital transactions, and executives were not made available for interviews.
Yes, but: The analysis was shared with a few industry experts who have experience with hospital transactions and spoke on background. They didn't believe CHS' points made a material difference. "You're not going to get a 12-times multiple for something that's debt-laden," one hospital finance expert said.
Another industry source said it's "a little fuzzy sometimes to figure out exactly what the EBITDA is and what the multiples are." But the numbers CHS executives were citing "just aren't seen often," the source said. Getting anything above 12 times EBITDA is almost unheard of for most hospitals right now and highly unlikely in these cases, the experts said.
Underlying concern: Although CHS defended the statements and numbers from earnings calls, some people who follow the company believe the discrepenacies are representative of a long pattern. "There's a history of deceptive communication practices," said one CHS investor, who asked not to be named given the sensitivity of the issue.
What to watch for: How much debt CHS still has at the end of the third quarter, and what executives tell investors about the status of the company.
Go deeper