The fights ahead on health care, tax reform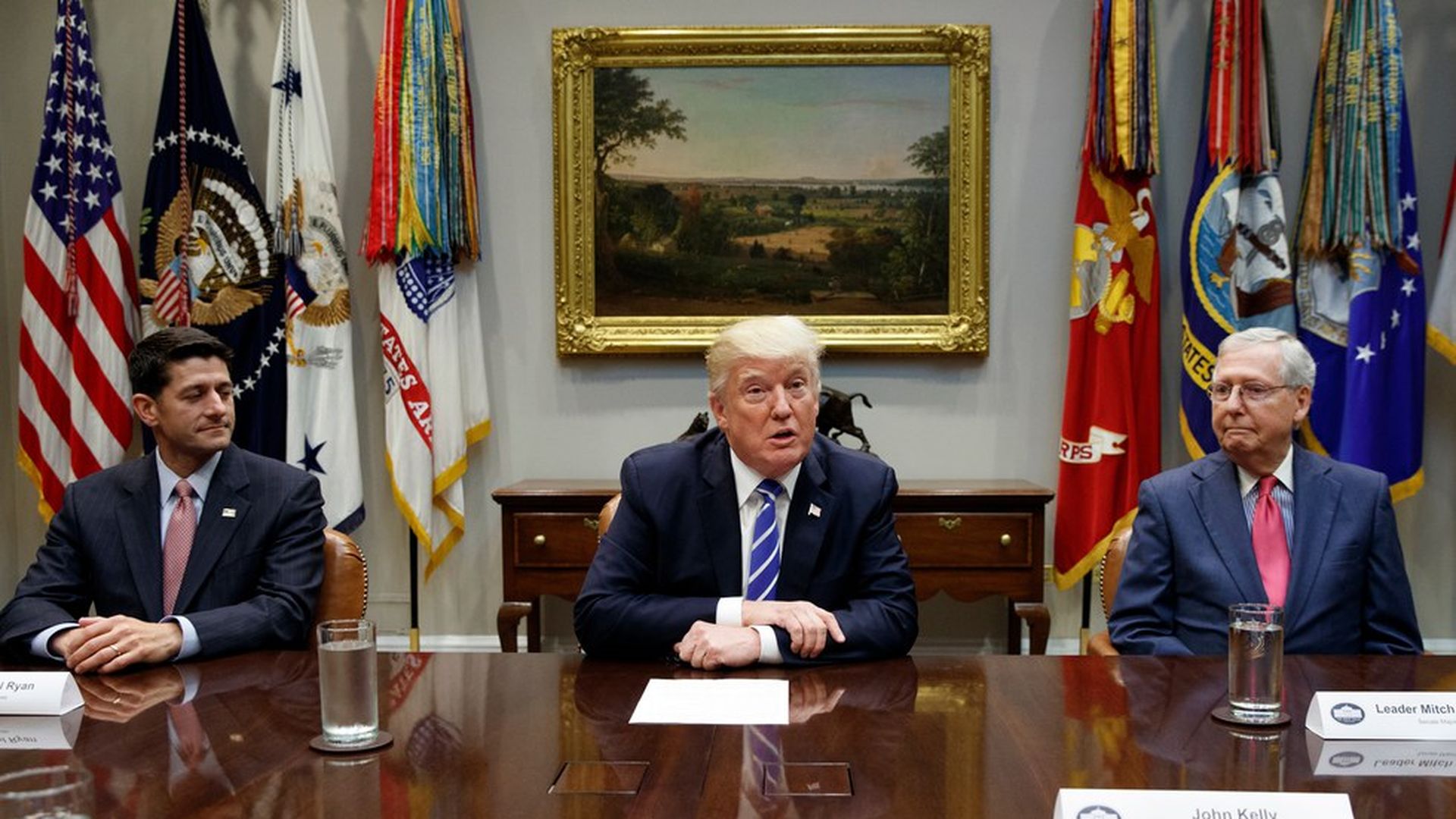 Here's how top sources in the White House and on Capitol Hill expect this week's major legislative items to play out:
1. Health care: Over the past 48 hours, I've spoken to more than half a dozen senior administration officials and Republican leadership sources about health care. Not one of them said they were optimistic about the chances of passing the GOP's last-ditch Graham-Cassidy bill to repeal and replace the Affordable Care Act.
It's telling — and not in a good way — that President Trump is pinning a good deal of his hopes on his last-ditch attempt to flip Rand Paul, who is perennially the toughest vote in the conference, from a hard no to a reluctant yes.
The political chessboard, per sources close to the process:
John McCain has already said he's voting against it, and nobody thinks there's a snowball's chance in hell of persuading him to change his mind. They can only lose one more vote.
Susan Collins signaled she's almost certainly voting against the bill. The administration plans to release new figures on Monday they say will show that Collins' state of Maine gets significantly more resources under the GOP health care bill, but nobody I've spoken to believes that argument will work on her. The way one source put it: Collins' political brand is built on being bipartisan and her incentives are to oppose any bill that's Republican-only.
Lisa Murkowski leans heavily towards no, and McCain has given her political cover to vote against the bill. (Oh, and bonus! Ted Cruz said today they don't have his vote yet. He wants the bill to tackle more regulations. Oh, and Mike Lee hasn't committed to the bill, either.)
The opposition: Progressives are well organized against the key Republican senators leading up to the health care vote, which is expected to happen as early as Wednesday. Progressive groups are running high-pressured ads, and have planned protests and rallies this week in Alaska, Ohio, West Virginia, Colorado, Florida, and Nevada.
X factor: Republican leaders are hoping that the realization sinks in among their reluctant colleagues that repeal will either happen this week or never. If Republicans don't repeal-and-replace the Affordable Care Act this week, forget it. The road ahead is clear: working with Democrats to strengthen President Obama's signature domestic achievement.
2. Tax reform: Republican leaders were frustrated when Axios and the Washington Post reported leaked details of the "Big Six" tax plan that's been hashed out for months in immense secrecy among Republican leaders and administration officials Gary Cohn and Steven Mnuchin. These leaks, which began circulating around Capitol Hill on Friday night, put GOP leaders under pressure from their members, who are anxious for the details.
Overall, however, leaders and administration officials feel far more optimistic about tax reform than they have about health care:
Tax reform is a natural issue for a lot of Republicans. When most Republican lawmakers wake up in the morning they don't think about refashioning the health care system; but most do think about cutting taxes.
They've had a pretty good run up to tax reform; they're going to have vigorous hearings, a lot of negotiation. The pay off — reduced tax rates, goosing the GDP, money in voters' pockets — is more tangible than it ever was with health care.
Senior officials on Capitol Hill and inside the administration told me this weekend that they fully expect Trump to embrace the Big Six tax plan. He won't be selling the framework as a finished product; it's the starting point of a process that will be long and have lots of give and take as it wends its way through the House and Senate.
The opposition: Following Axios' scoop about Republicans' planned cut to the top income tax rate, Democratic Senate leader Chuck Schumer said: "Democrats have strongly and firmly stood for the position that not one penny of tax cuts should go to the top 1%."
Go deeper