The ethanol empire strikes back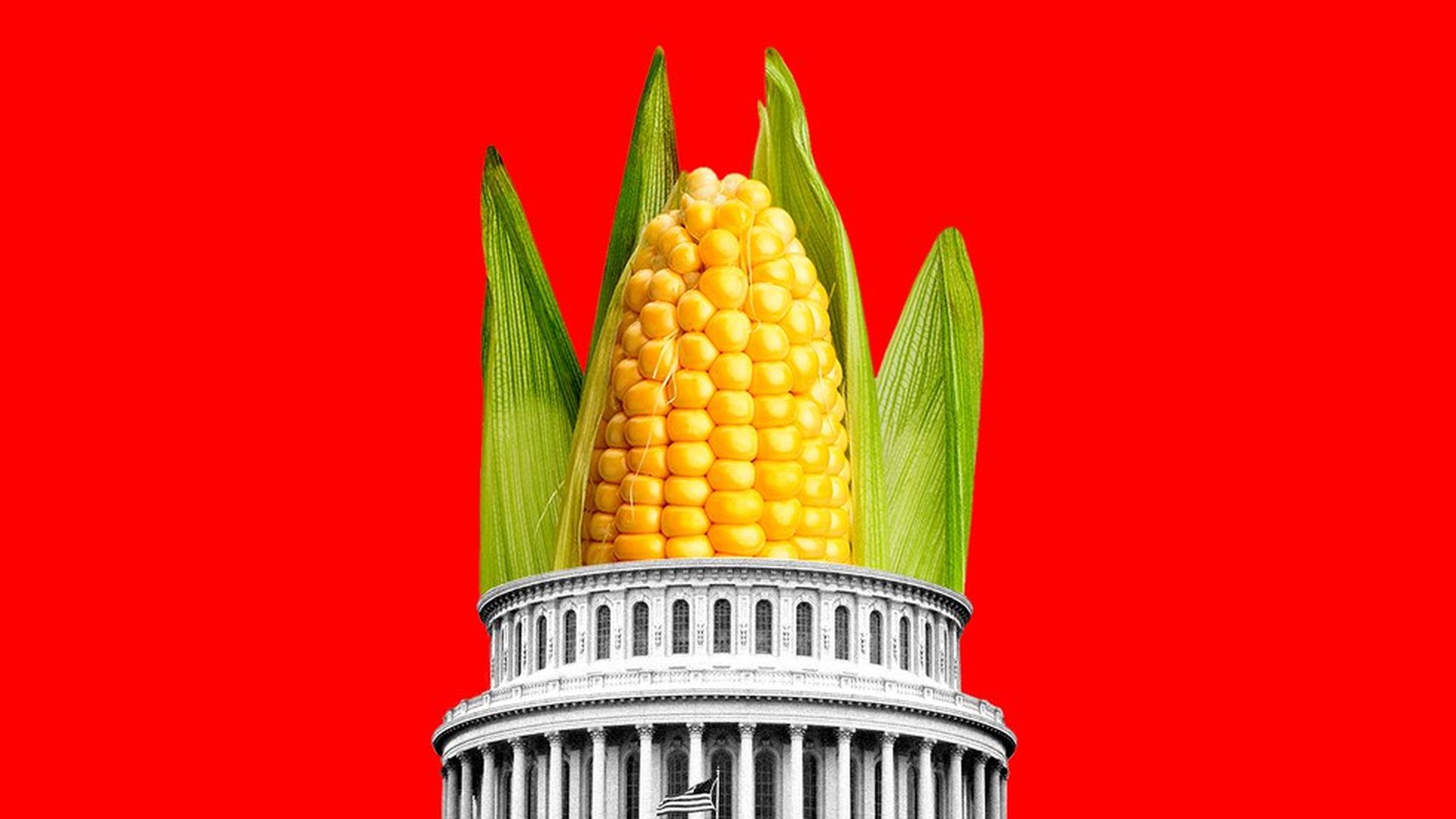 Ethanol is hot like it's the Iowa caucuses. It may be October in an off-cycle year, but President Trump is suddenly facing unusually intense pressure from Midwestern politicians and ethanol companies to keep his campaign promises on this issue.
Driving the news: Environmental Protection Agency administrator Scott Pruitt assured a group of corn-state lawmakers in an unusually detailed letter last week that he won't alter a federal mandate that requires refineries to blend biofuels — mostly corn ethanol — into the nation's gasoline supply. The EPA was considering changing certain parts of the mandate at the behest of oil-industry lobbying — but backed off under pressure from seven Midwestern Republican senators and ethanol companies.
Why it matters: Most casual observers know about corn ethanol in the context of politics: it's produced in Iowa, whose caucus kicks off America's presidential races. Trump vowed over and over to support the ethanol industry and its 12-year-old federal mandate.
The big picture: Trump has bigger problems on his plate with Congress, namely passing bills on higher priority issues like tax reform and health care. He needs GOP support everywhere he can get it. Ethanol battles flare up, but can be resolved comparatively easy given their parochial nature.
Midwestern GOP senators, led by Iowa's two Republican senators Joni Ernst and Chuck Grassley, threatened to hold up Trump's nominees unless they got Pruitt to back down on changes oil refineries were asking for. Committee votes on several top EPA nominees were delayed until this week because of the kerfuffle. Trump told Pruitt in a phone call late last week he needs to keep Grassley happy, according to multiple people familiar with the call.
"If he satisfies the refineries, then he's going to go back on the president's promise and hurt rural America," Grassley said in an interview last week. "Even though he's acting in good faith to thread the needle and go down the middle, it's pretty impossible to make that miracle come out."
What's next: The EPA faces a Nov. 30 deadline to issue quotas for how much biofuels refineries must blend into the gasoline supply. Iowa Gov. Kim Reynolds, a Republican, visits Washington this week and has meetings planned with Vice President Mike Pence and Pruitt. The oil refining industry will also be scrambling to respond to last week's machinations.
"In a moment of weakness I'll tell you what I'm really thinking," Chet Thompson, president and CEO of the American Fuel and Petrochemical Manufacturers, which represents oil refineries, said on Friday. "It's frankly been very embarrassing to watch the administration bend its knee to its will to king corn and these handful of senators."
Thompson said he anticipates allies of his industry aren't going to stay quiet for long. "This all happened quickly and I do think it took people a bit by surprise," Thompson said.
Fights du jour
Grassley and other Midwestern politicians have been worried over the last several months about three related but distinct possible changes to the mandate. Each of the revisions would benefit some refineries struggling to comply with the mandate. Ethanol backers say the changes are unnecessary and worry they would open the floodgates to broader rewrites, and possibly a wholesale repeal.
The agency in late September said it was considering cutting the levels of biodiesel and other advanced biofuels the mandate requires.
The EPA was also considering a request by refineries, including Valero Energy Corporation and Monroe Energy (owned by Delta Airlines), to allow exported biofuels to count toward domestic quotas.
The agency has been considering a request by some refineries to broaden the category of companies that must show compliance with the law.
Pruitt assured the group of Midwestern senators in his letter late Thursday that he won't follow through on any of these, with final regulatory announcements expected by Nov. 30.
"This really represents the first major pushback by ethanol — it was well coordinated, strong and effective," said Bob McNally, president of the Rapidan Energy Group and former adviser to then-President George W. Bush. "The ethanol empire strikes back."
Why this all matters less to most drivers: The oil boom of the last decade, which has made complying with the law more difficult, has also lowered gasoline prices. This has made any ethanol impact on gas prices — up or down — almost unnoticeable, McNally said.
Go deeper