Tax reform shocker: the White House actually has a plan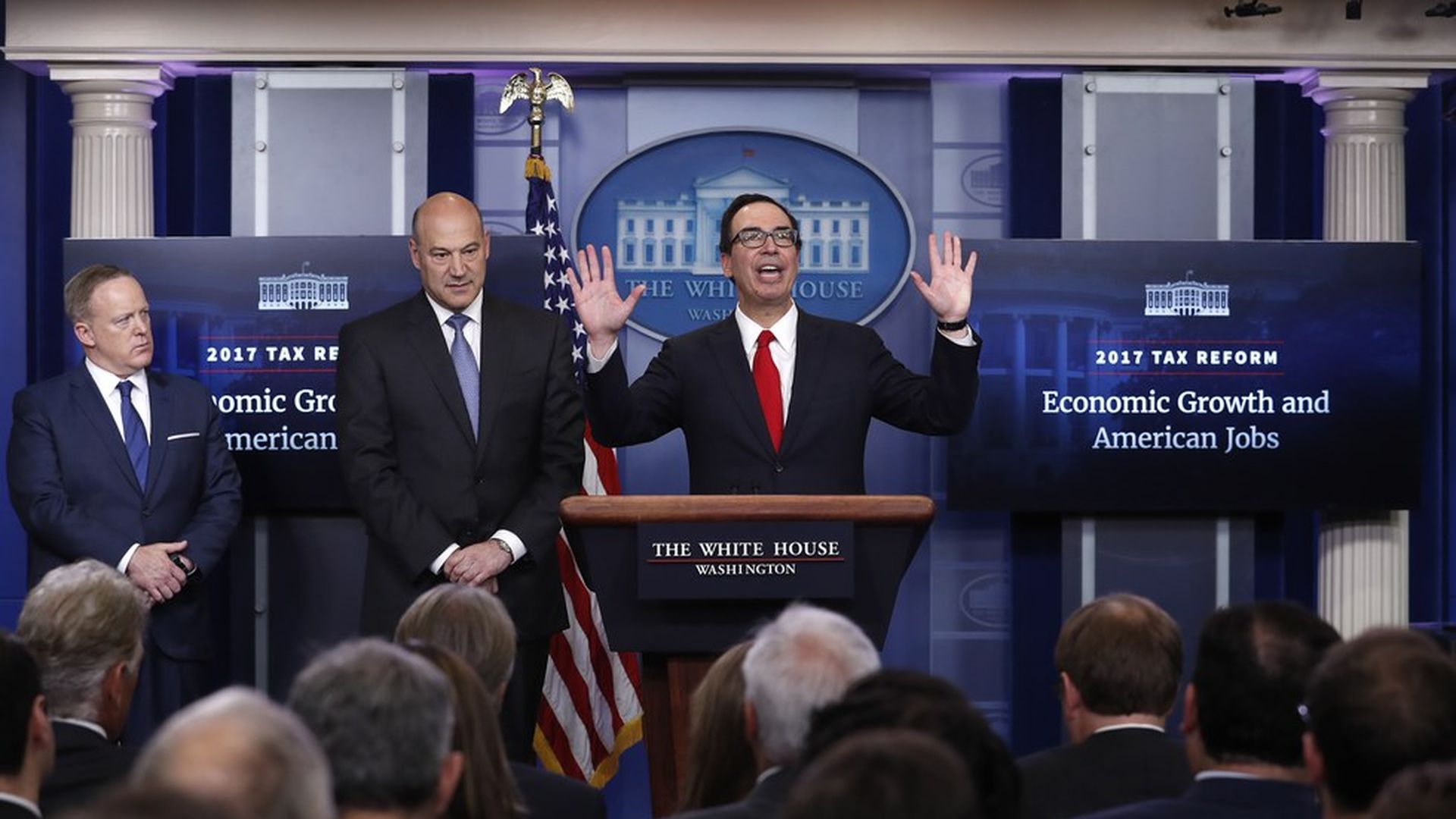 Here's a shocker that shouldn't be a shocker: The White House actually seems to have its act together on tax reform. Activists and business leaders who've been meeting with Gary Cohn, Steven Mnuchin, Marc Short & Paul Teller from legislative affairs, and Sean Spicer (who's leading the comms strategy), all tell us the same thing: They're surprised about how much planning and organizing the White House has already done, given its ham-handed approach to the health care rollout.
The administration will start pitching the tax reform effort in mid-August, according to sources involved. They're hoping to get the bill itself finalized for mark-ups after Labor Day (count us as skeptical on that.) But while that happens, expect to see CEOs, White House surrogates, and high-profile conservative activists start talking up the plan.
Sources close to the effort say the White House is looking to avoid the mistakes of the health care debacle, when they failed miserably to build nationwide support.
Here's what to expect:
President Trump wants to pitch tax reform aggressively. Our sources expect him to make the case for the plan by barnstorming the Midwest states he won in November. Reince Priebus is in charge of his schedule, so this will be a major test of his organizational skills.
The White House is engaging CEOs across the country, looking for them to hold town halls, do media appearances, and write letters to their employees explaining the benefits of tax reform. They want members to return to their districts in August and hear from business leaders and other influential constituents about why tax reform needs to get done.
They're talking to local mayors and county commissioners, too. And they're pressing outside groups to spend big on advertising support.
A wide range of groups — from movement conservatives to downtown lobbying shops — are fired up. This includes Heritage Action, Americans for Tax Reform, the Business Roundtable, and the Koch brothers' network, which is already rolling out a multi-million dollar ad and grassroots organizing campaign to support comprehensive tax reform.
We expect the White House to float a few tax policy trial balloons in August.
The aim is to get as many administration officials involved as possible, regardless of their day jobs. UN Ambassador Nikki Haley, for example, has nothing to do with tax reform. But White House officials think she could be an asset because she's a great communicator and a former small business leader.
On the substance:
The "Big Six" leading the tax code rewrite — Speaker Paul Ryan and Rep. Kevin Brady, Sens. Mitch McConnell and Orrin Hatch, Treasury Secretary Steven Mnuchin, and National Economic Council Director Gary Cohn — are currently working through their disagreements.
One of the toughest remaining disputes is whether to start letting businesses immediately write off the cost of equipment (known as "full expensing"). This would be hugely expensive, so some conservatives oppose it. But House Leadership argues it would juice short-term economic growth.
Another major unsolved problem is how (or if) to pay for all these tax cuts. Some in the White House would happily just blow out the deficit, but Leadership suspects most Republicans wouldn't be on board with that.
Be smart: There's a reason it's been more than 30 years since Congress passed real tax reform: It's damn hard.
Go deeper