Sunday surprise: Trump partners with Putin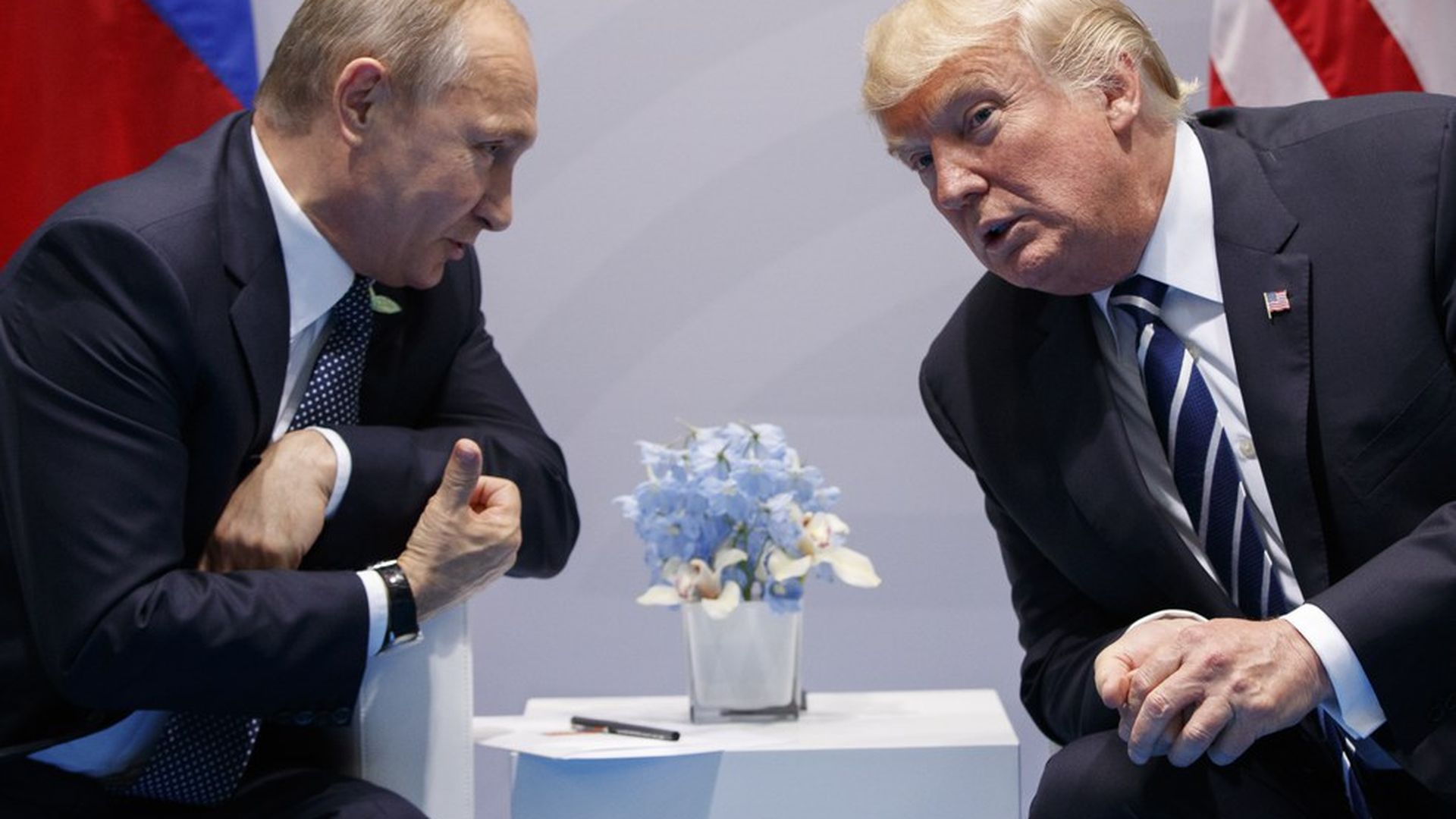 President Trump tweeted Sunday morning about Friday's meeting with Vladimir Putin:
I strongly pressed President Putin twice about Russian meddling in our election. He vehemently denied it. I've already given my opinion....We negotiated a ceasefire in parts of Syria which will save lives. Now it is time to move forward in working constructively with Russia!... Putin & I discussed forming an impenetrable Cyber Security unit so that election hacking, & many other negative things, will be guarded.
What that means: Trump's opinion as he stated it last week is that Russia probably interfered but no one knows for sure and other countries probably did as well. His aides have been pressed on whether Trump accepted Putin's denials in the meeting and have yet to say he didn't.
Our thought bubble: Given that Russia is suspected in several major cyberattacks in the U.S., Putin is an unlikely partner for a potential cybersecurity alliance. Read more: Washington Post has the latest on Russia's cyber intrusions.
Nikki Haley interprets Trump's tweets: "From a cyber standpoint, we need to get together with Russia, we need to tell them what we think should happen, shouldn't happen, and if we talk to the about it hopefully we can cut this out and get them to stop.... You keep those that you don't trust closer so you can always keep an eye on them and keep them in check."
Two more Trump tweets: "Questions were asked about why the CIA & FBI had to ask the DNC 13 times for their SERVER, and were rejected, still don't.. have it. Fake News said 17 intel agencies when actually 4 (had to apologize). Why did Obama do NOTHING when he had info before election?"
Between the lines: On the one hand, Trump claims the consensus that Russia interfered isn't as rock solid as was reported, but on the other, he argues Barack Obama had the intel before the election and only didn't act because he thought Hillary Clinton would win.
Trump is already getting pushback from within his own party. Marco Rubio tweeted, "While reality & pragmatism requires that we engage Vladimir Putin, he will never be a trusted ally or a reliable constructive partner. Partnering with Putin on a "Cyber Security Unit" is akin to partnering with Assad on a "Chemical Weapons Unit."
Go deeper