Steve Bannon's next victims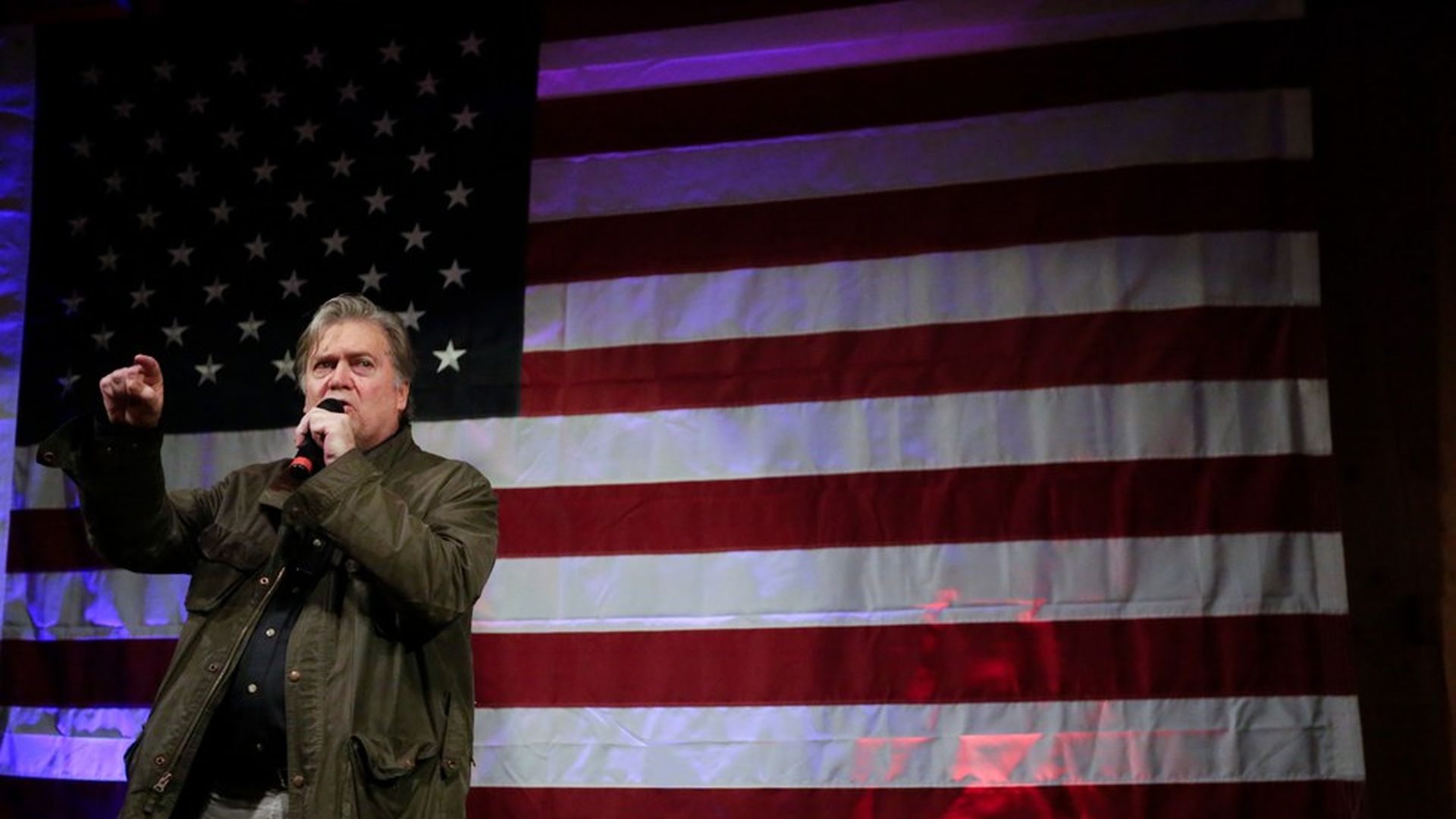 Steve Bannon and his allies are planning a hostile takeover of the Republican Party. And only one Senator running in 2018 will get a free pass: Ted Cruz.
Breitbart's Washington Editor Matt Boyle writes today that conservatives are "running or actively seeking out" serious primary challengers for every incumbent Republican senator running in 2018 except the Texan.
Why this matters: Bannon once said he successfully weaponized a human being in Matt Boyle. So Boyle's stories are a useful guide for what Bannon and his outside groups — funded by billionaires like the Mercers — are planning.
Here are the races and candidates Boyle teases as part of Bannon's push to support "America First" candidates in congressional and gubernatorial races nationwide:
Rep. Marsha Blackburn for the open Senate seat in Tennessee vacated by Bob Corker
Attorney general Patrick Morrisey against the establishment favorite Evan Jenkins in the West Virginia Republican primary
Matt Rosendale against Jon Tester in Montana
State Attorney General Josh Hawley in the Missouri primary to challenge Democrat Sen. Claire McCaskill
Danny Tarkanian against Dean Heller in Nevada
Kelli Ward against Jeff Flake in Arizona
Chris McDaniel against Roger Wicker in Mississippi
Gov. Rick Scott in Florida's Senate race (Scott hasn't announced whether or not he's running)
Roy Moore, who already beat Luther Stranger in Alabama
State Treasurer Josh Mandel in Ohio's Senate race
Blackwater founder Erik Prince, who Bannon is encouraging to run against John Barrasso in Wyoming. (NYT broke that he was considering running.)
Ann LePage, the wife of Maine Gov. Paul LePage, to challenge independent Sen. Angus King (like Scott, LePage hasn't made her intentions clear)
Go deeper