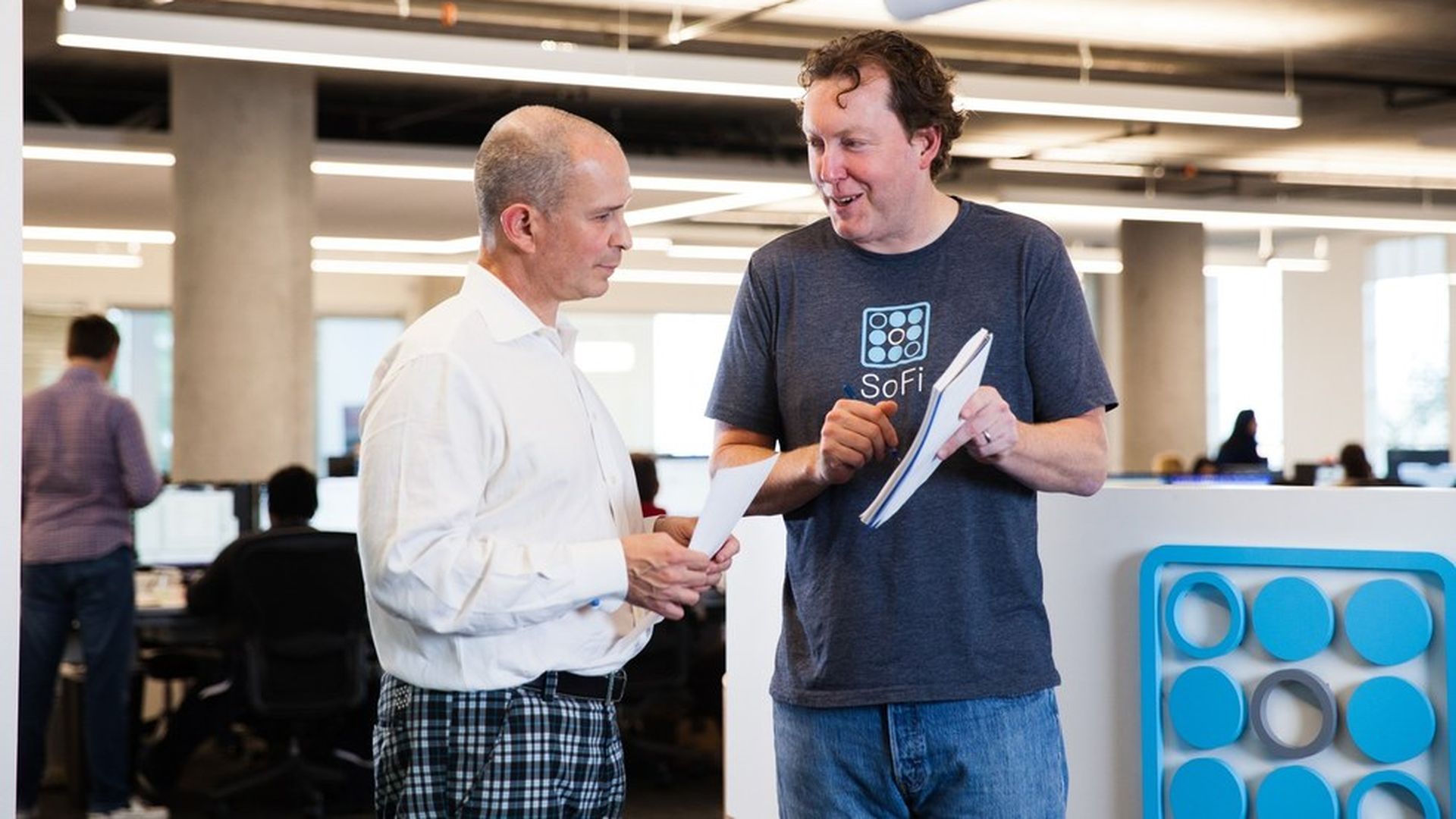 Social Finance (SoFi) on Friday confirmed earlier media reports that it has raised $500 million in new funding led by private equity firm Silver Lake. Others participants include asset management firm GPI Capital and Japan's SoftBank, which had invested $1 billion into SoFi in September 2015.
Axios spoke with SoFi co-founder and CEO Mike Cagney, to learn more about the deal specifics, deal rationale and SoFi's intentions toward going public and expanding into business lending:
Bigger deal: The $500 million is primary equity, but there is an additional $250 million of secondary funding that will mostly be used to cash out some very early institutional investors. Some of the secondary also will go toward employee liquidity, as SoFi typically offers in its financing round.
Valuation: Cagney won't give specifics, except that it's a "mid-teens" percentage boost over that last round, which was reported to have a post-money of between $3.5 billion and $4 billion (numbers which Cagney says are "in the right zipcode"). He does confirm, however, that the company was profitable in its most recent fiscal year.
Why: In addition to the equity commitment, SoFi is getting introductions to Silver Lake investors that have debt functions and can buy up loans. Contrary to one earlier report, none of the $500 million is being used to buy existing SoFi loans. The company also brought some unidentified sovereign wealth funds in Asia and Europe into the round, with which they already had existing loan relationships. The idea is to strengthen those partnerships.
Will SoFi expand into biz lending? "That's a very active dialog we have here, particularly with the Zenbanx acquisition that's synergistic to the business side. I think we'll decide that soon... One thing we are going to do first is launch a practice loan for doctors and dentists where they can borrow money to start their own businesses."
IPO? "We are going to go public at some point. We don't have the Palantir view that we'll be private forever... We're a direct-to-consumer finance business, so being a public entity helps."
Go deeper