Snap's hypocrisy on stock rules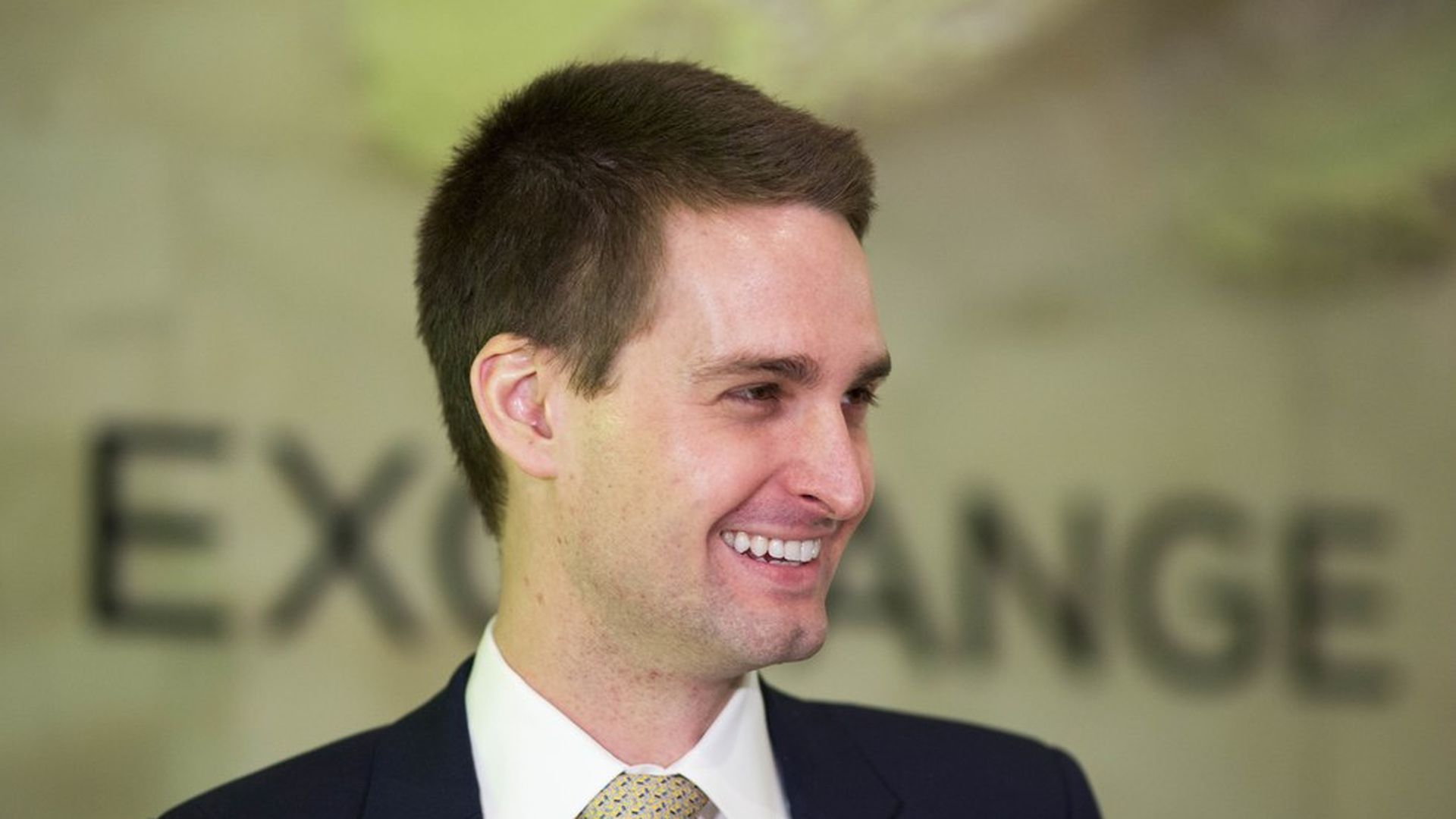 Snap yesterday opened trading at $24 per share, compared to its $17 IPO price, and peaked at $25.99 before closing at $24.28. Some notes:
Snapback? VCs have spent the past 18 months telling their later-stage portfolio companies to focus more on profitability, as the public markets no longer are receptive to "growth at all costs." But Snap is very much an unprofitable "growth at all costs" sort of company, and public investors slobbered all over it yesterday. This could post a serious challenge to newfound discipline among unicorns and their aspirants.
Early adopters: One of the huge winners is Lightspeed Venture Partners, whose $8.5 million in total investment was valued at nearly $1.5 billion at the IPO price. Lightspeed's Jeremy Liew tells Axios: "One of the things we've always looked for are companies that can become part of popular culture, and we believe that young women are the early adopters of pop culture. This is true if you look at Facebook or Instagram or Tumblr or even MySpace back in the day. We saw the same thing when we first met with Snap, and it has only solidified our belief that user adoption by young women is a good indicator of something that could go mainstream."
Terms: Jeremy Liew has been in the news a bit lately, following a NY Times story about how the onerous terms of Lightspeed's seed investment in Snap both: (1) Caused a still-lingering rift between Lieu and Snap CEO Evan Spiegel; and (2) Was the catalyst for Snap's super-voting rights. Liew has declined to speak specifically about the situation, although he did touch on it in the aforementioned Axios interview (basically saying that market terms for seed deals have since changed).
But here's a larger point: Spiegel & Co. are being hypocritical. The company, like many other unicorns, has put very strict restrictions on how employees and other early shareholders could sell stock pre-IPO. Snap didn't like Lightspeed putting a right of first refusal on its seed deal, because it reduced your financial flexibility? Okay, then why did you effectively do the exact same thing to your own people? Some major-league myopia there.
IPO buyer: CNBC reports that NBCUniversal pumped $500 million into the IPO, making it the only strategic investor to participate. [Note: NBC is an investor in Axios]
Ouch: At least some VCs have a sense of humor about missing out.
I know one person who isn't getting rich in the Snapchat IPO. Hint: the guy who didn't reply to this email. Congrats to everyone at $SNAP! pic.twitter.com/txk7SxSken— Chris Sacca (@sacca) March 2, 2017
Iconoclast: Spiegel and co-founder Bobby Murphy did an exclusive post-listing interview with the LA Times, but bypassed the typical cable biz net stops. Instead, they reportedly headed over to Goldman Sachs, which was one of its top IPO managers (albeit not left lead, which was Morgan Stanley's spot).
Go deeper