Shipping deal links Wilbur Ross to Putin's son-in-law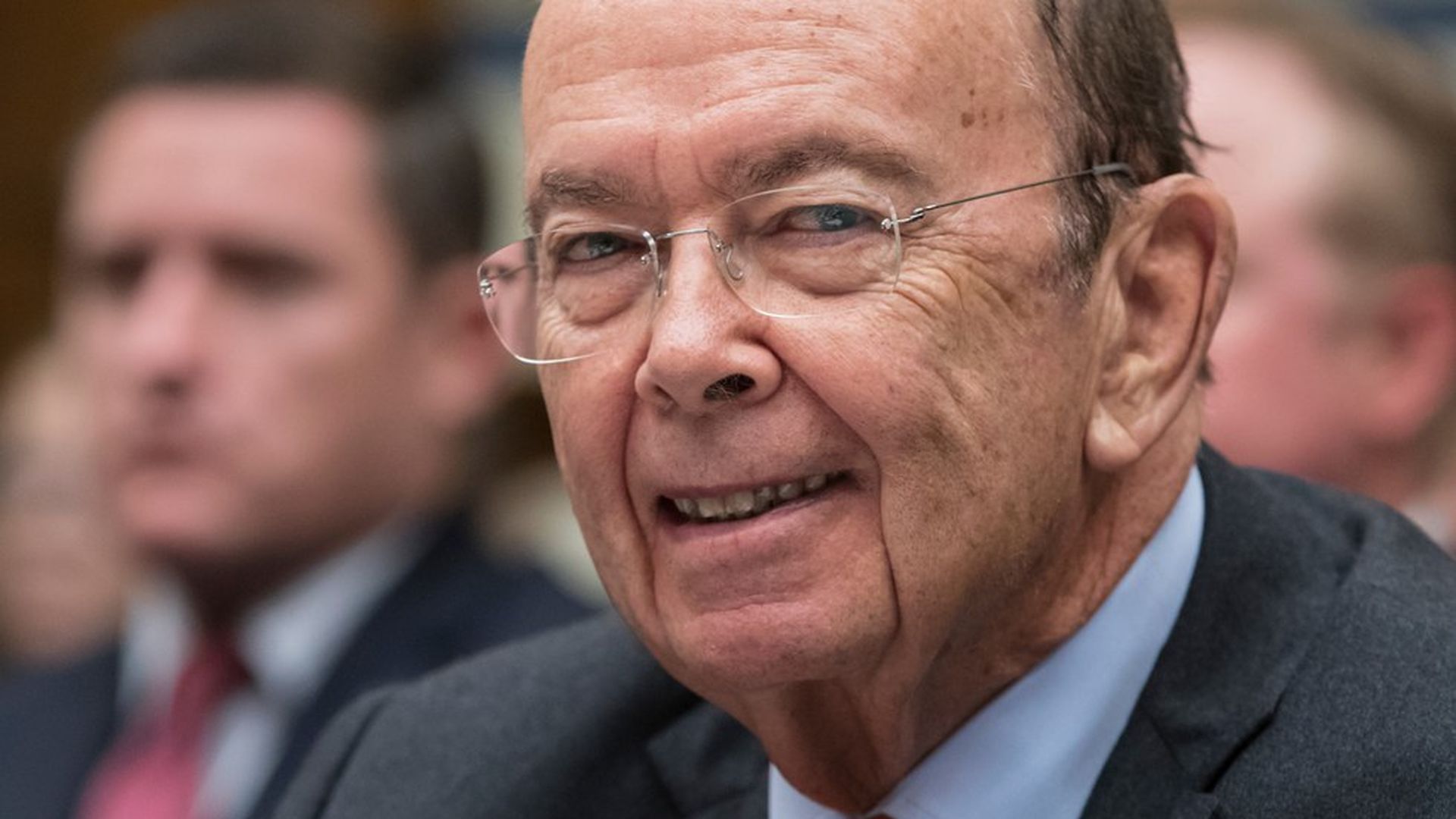 Commerce Secretary Wilbur Ross owns part of a shipping company that has lucrative dealings with a company owned in part by Vladimir Putin's son-in-law, per reports from several media outlets.
Why it matters: Per NBC, Ross "failed to clearly disclose those interests when he was being confirmed for his cabinet position."
How we know this
Internal documents from Appleby, a law firm based in Bermuda, were leaked to Süddeutsche Zeitung, a German newspaper. Those documents — known as the Paradise Papers — were shared with the International Consortium of Investigative Journalists and media partners around the world including the New York Times, the Guardian and the BBC.
The companies
Navigator, a shipping company that Ross's investment firm began buying pieces of in 2011, and took control of with a $110 million investment in 2012, per the Guardian. Navigator signed a 10 year, $226 million deal in 2013 with Sibur, a Russian company, to ship natural gas out of Russia.
The key players
Ross, a billionaire investor, divested many of his holdings before joining the administration, but kept his stake in Navigator.
Kirill Shamalov, the son of a close friend of Putin's who married Putin's younger daughter in 2013. He began investing in Sibur in 2011 and was named the firm's deputy chairman in 2012.
Gennady Timchenko, an oligarch with close links to Putin who is under U.S. sanctions. He's another top owner of Sibur.
Ross and Russia
"It is perhaps unsurprising that Navigator would have a relationship with a major Russian company during Mr. Ross's tenure. Much like President Trump, whose company sought approval for a hotel project in Moscow as recently as last year, Mr. Ross has long shown an appreciation for the untapped potential of Russian markets when seeking investment opportunities. His involvement there dates at least to the 1990s, when he was appointed by President Bill Clinton to the board of the U.S. Russia Investment Fund, established to promote American business interests in Russia.
"... his firm acquired a German rail car company, VTG, which pursued an expansion strategy in Russia before Mr. Ross sold his stake in 2016. And Mr. Ross led a private bailout of the Bank of Cyprus, long regarded as a favorite financial haven of wealthy Russians, after the worldwide economic crisis crippled the Cypriot banking system."
Ross's response
Per the Guardian:
"Rockas, Ross's press secretary, tried to distance Ross from the Sibur deal with a series of statements that were contradicted by other sources. He said the Navigator-Sibur deal was signed in February 2012, before Ross joined the Navigator board. But Sibur's annual report for that year said the deal was signed in March.
"Rockas said Ross did not join Navigator's board until 31 March 2012. But a press release filed to the Securities and Exchange Commission on 2 March that year said Ross was by then already on the board. In ethics forms filed this year, Ross estimated that his start date had been January 2012.
"Rockas said: "No funds managed by WL Ross & Co ever owned a majority of Navigator shares." But a press release issued by the company in August 2012 was titled "WL Ross Agrees To Acquire Majority Stake In Navigator".
Rockas told the NY Times: "Secretary Ross has never had to seek, nor received, any ethics exemption. And he works closely with Commerce Department ethics officials to ensure the highest ethical standards."
Go deeper