Senators at odds with tech over trafficking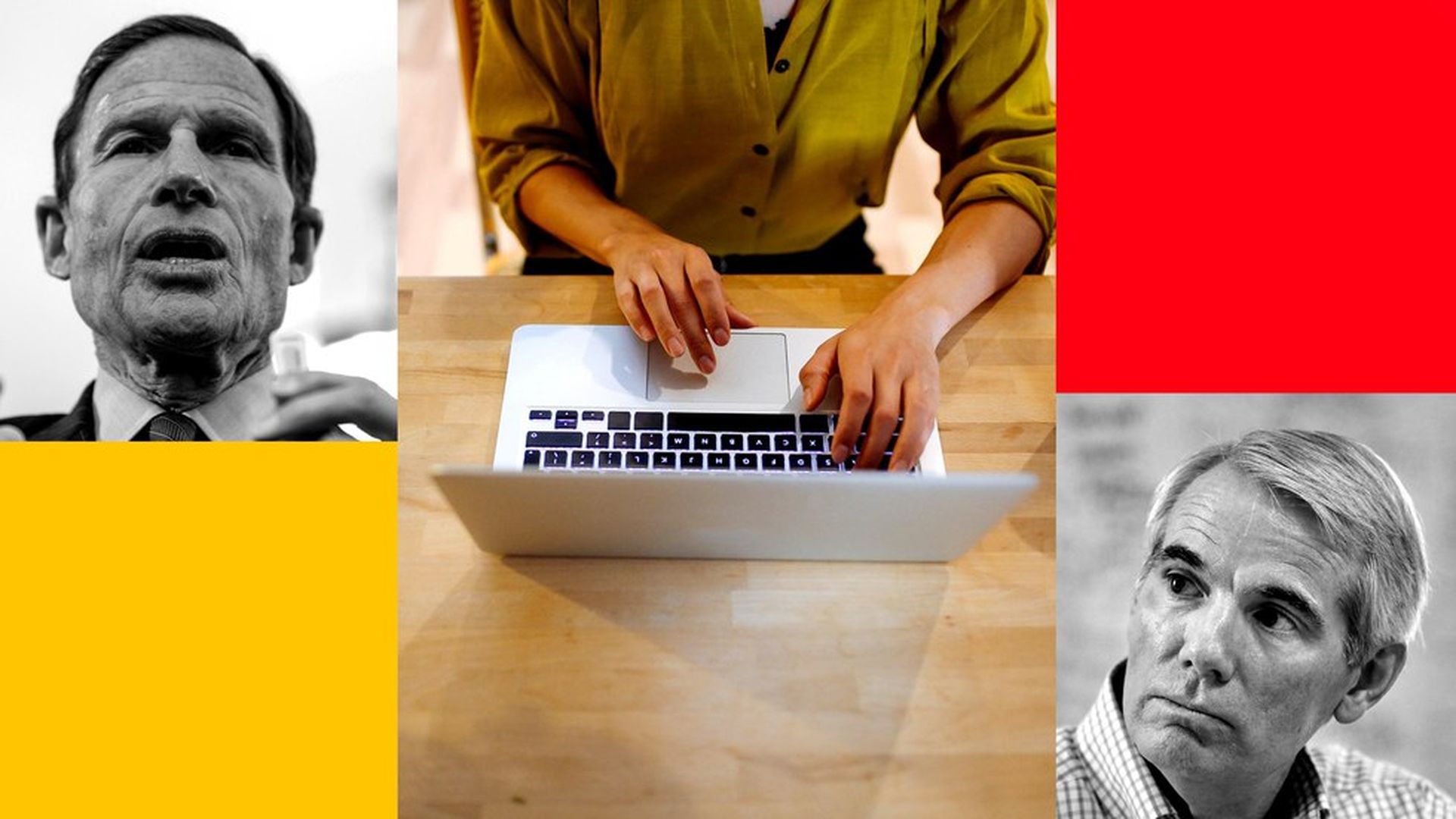 Republican Sen. Rob Portman and Democrat Sen. Richard Blumenthal are on a collision course with Silicon Valley's giants over a bill that would allow victims to sue sites that facilitate sex trafficking.
Internet companies say it will endanger their business models by sending them down a slippery slope to being liable to user content. Portman and Blumenthal, not surprisingly, disagree. They talked with Axios last week about the bill and their disagreements with tech, and their hope that they still might be able to find common ground with the Valley.
Why you'll hear about this again: This debate is heating up as the Senate Commerce Committee convenes a Tuesday hearing on the bill featuring defenders and opponents of the proposal. Some corporations in tech and media — like Oracle and 21st Century Fox — have endorsed the proposal in recent weeks.
What's the pitch you're making to your colleagues?
Portman: "I just gave a little talk to some colleagues and I just said that it is a national embarrassment that we permit people to be sold online in the 21st Century in America, and it's increasing. … It's a very simple message."
Blumenthal: "I haven't found colleagues really pushing back with any degree of enthusiasm. It's more, you know, 'What I've heard is…," and then [you say], "But these are kids sold online." And at that point it's sort of game over on the intellectual side. Now, politically, [tech companies are] very powerful. They have a lot of sway, and in my view they should be regarded as potential allies, not adversaries."
Why do you think tech companies feel that they can say they're not going to work with you on this?
Blumenthal: "I have to confess I don't know. There is in the culture a sense of freedom and autonomy. An adverseness to any sort of government intervention or interference."
Do you mean the culture of Silicon Valley?
Blumenthal: "Well, I don't know whether it's the culture of Silicon Valley or libertarian culture, but just an adverseness to any sort of intervention."
On the idea the law would broadly hurt web companies:
Portman: "You have to actually be participating in it. So it's not enough to say, just I knew it was happening on my website, in order to be subject to this you have to know about it and be involved with it. … But again, it''s in the context of, for those folks you cover everyday in Silicon Valley, they need to open their eyes and see what's happening."
Blumenthal: "When they talk about 'Oh my goodness, lawsuits, deluge of lawsuits.' You have to be a victim or survivor. … And that's a very limited group of people."
On the critique that companies would have to stop their current anti-trafficking efforts because it might make them legally vulnerable:
Blumenthal: "Now, if you're participating with law enforcement, prosecutors are not going to take action against you if you are truly cooperating. And for some limited period of time, if in fact you are cooperating in good faith, and survivors are aided, that would be a defense to a civil lawsuit as well."
Portman: "The other part of this is you know there's a Good Samaritan provision in the [current] law, and we purposely keep that provision in the law for the companies you're talking about. If you're the prosecutor, that's a total defense right there."
On having major companies say they aren't interested in moving the legislation over the line:
Blumenthal: "I think that's just the opening to the conversation. … These are people who don't like this crime any more than we do. They're parents, they're citizens, they're human beings. I mean, they have a company to run, but — and I may sound naive — but I think it's still possible to reach some common ground or at least address some of their concerns."
On the possibility that liability protections could be included in a renegotiated North American Free Trade Agreement:
Portman: "The last thing we want to do is export the part of [the current law] that provides an immunity for sex trafficking. … We've talked to [the United States Trade Representative] at some length about it."
What's next?: The lawmakers said they don't expect to try to attach their bill to legislation that funds the armed services — as has been speculated — instead opting to proceed through the standard process of vetting the bill through hearings and markups. They'd like to resolve the issue by the end of the year. "I think we're gaining a lot of momentum, I really do," Portman said. A similar bill in the House is considered harsher, and has not attracted as much attention as the Senate proposal.
Go deeper