Scott Pruitt's big day spoiled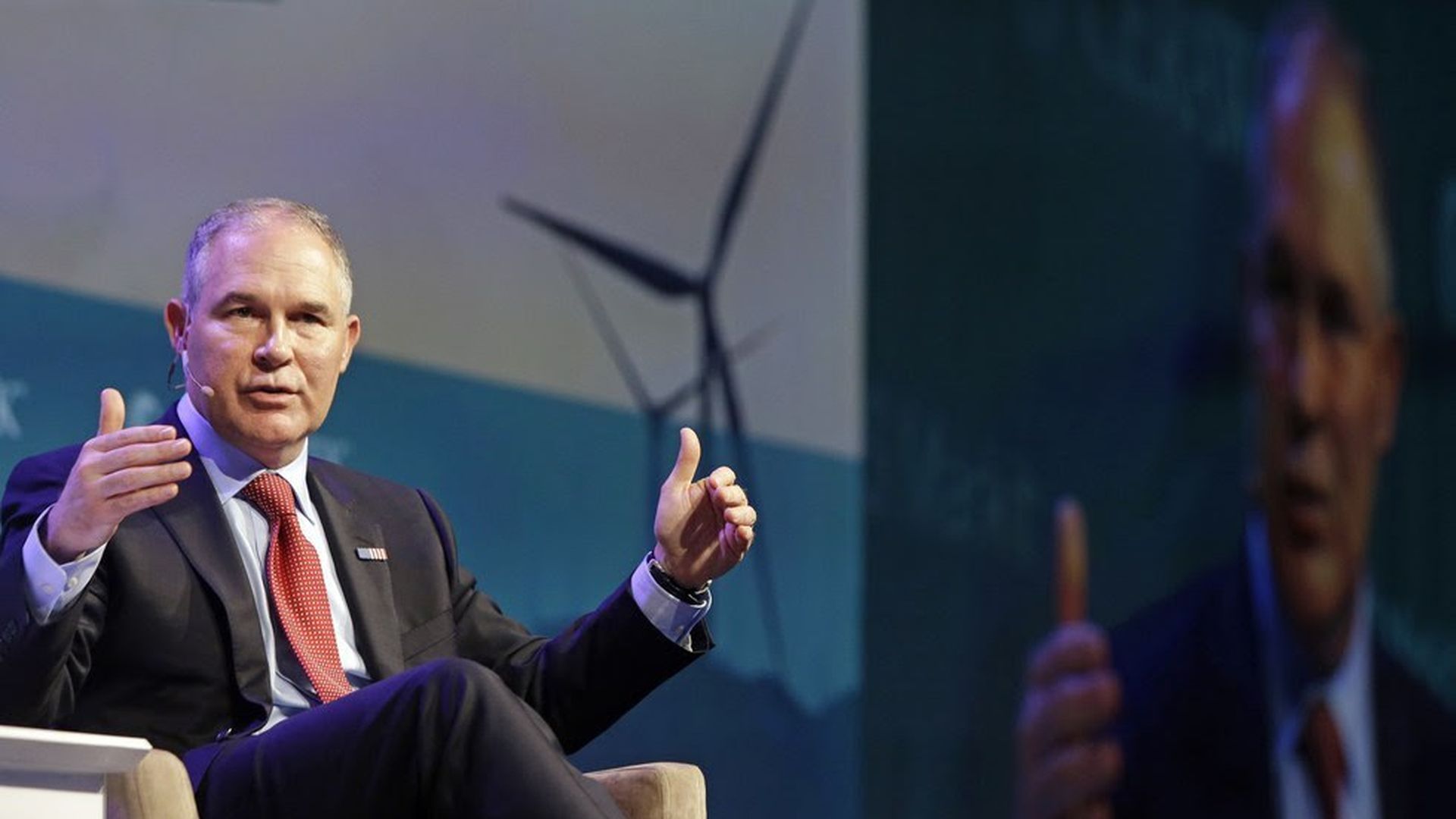 The question facing EPA now is whether there's lasting fallout after Administrator Scott Pruitt's trip to the energy conference in Houston, CERAWeek, didn't go quite as planned. By now you've probably seen that he broke sharply with the scientific community by disagreeing that carbon dioxide is a primary global warming driver. So what does it all mean?
The comments gave activists and Democrats political ammunition, and they fired away all day. That won't change. "It will definitely become part of what we see next on CPP," one environmental advocate told Axios, referring to the Clean Power Plan carbon regulations that Pruitt hopes to scuttle. Another advocate predicted the comment could somehow surface in legal battles over climate policy. EPA sought to downplay the comment as simply a reiteration of what Pruitt has said before.
The dust Pruitt kicked up (which made it all the way to the White House briefing) distracted from his remarks to CERAWeek. Pruitt told the audience that his EPA would provide clarity to the regulatory process that was missing under Obama; would not exceed the authority that Congress has provided in environmental laws; and vowed respect for state-level oversight policy. "We can be both pro-growth, pro-jobs and pro-environment," he said, but the earlier carbon remarks on CNBC got far more press attention than his speech.
"He gave a great speech right there. I think I'd like to see you all write about that," EPA spokesman John Konkus urged reporters after we unsuccessfully sought comments from Pruitt after he walked offstage.
What's next: Pruitt's comments are certain to feature in the debate over Trump's climate plans. The White House is slated to issue an executive order soon to begin the lengthy process of rescinding carbon emissions rules for power plants. And Pruitt is also reportedly planning to revisit strict mileage standards for cars and light trucks that are another pillar of Obama's climate push. But as one industry lobbyist emailed: Pruitt didn't give opponents any more ammo than they could have already found elsewhere.
Go deeper