Scoop: Why the White House can't get its political act together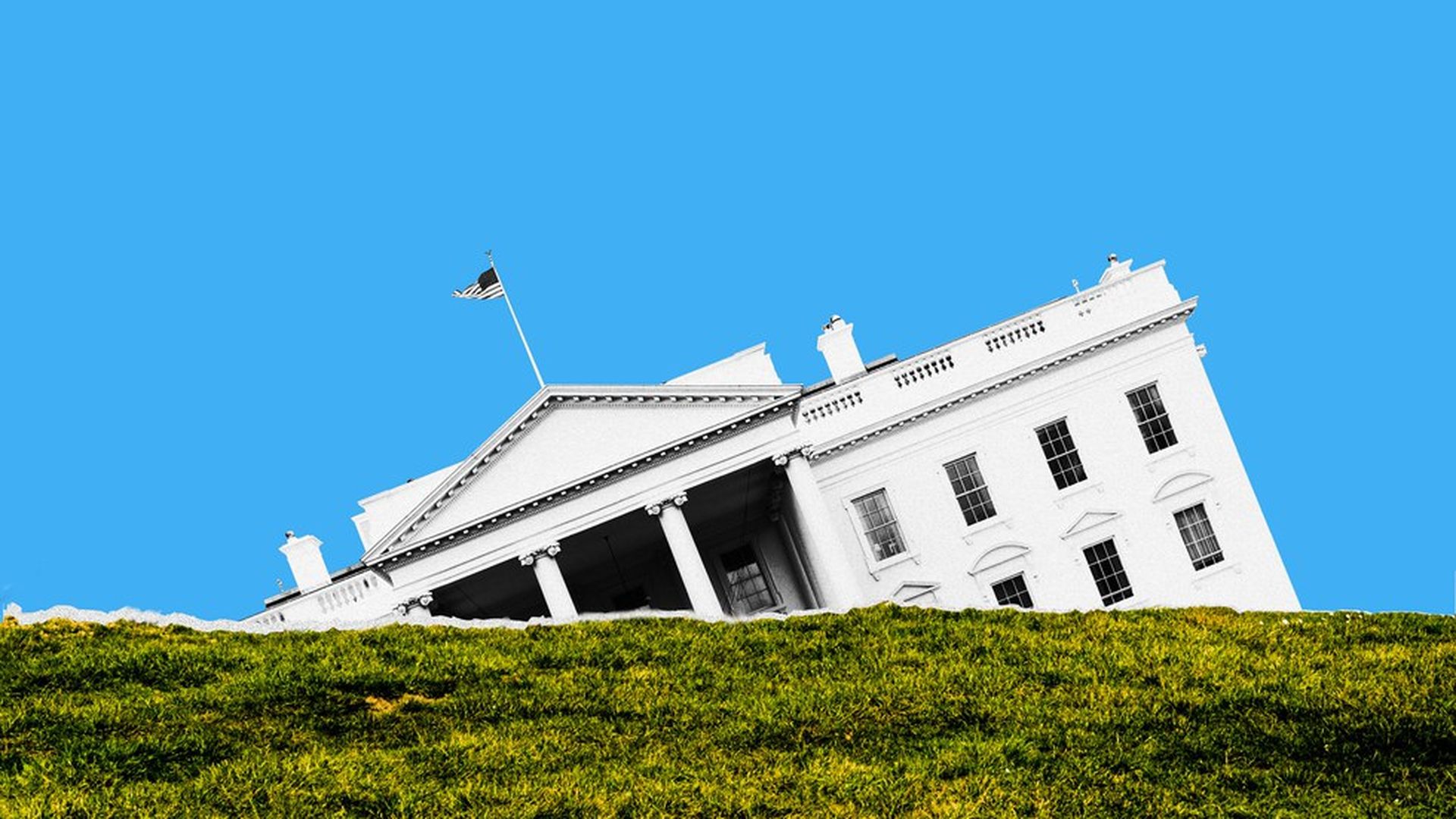 The Trump White House stands at the doorstep of the 2018 midterm elections with no serious political operation. It's been a slow-moving train wreck, from the botched health care effort to the handling of Roy Moore's candidacy. And the man in charge of the political office, Bill Stepien, is seen by administration officials and conservative leaders as a non-entity — a situation senior Republicans blamed on Jared Kushner, who put him there.
Why it matters: White House officials say there shouldn't be too much focus on Stepien, and that this White House shouldn't be judged by the standards of more conventional ones. But the 2018 midterms will have a huge, definitional impact on the future of Donald Trump's presidency. If Republicans lose the House or their grip on the Senate, Trump will not only run into a legislative logjam — he could face an impeachment drive led by Democrats.
The back story: In a White House with a strong political operation, there'd be a big shot acting as the main strategist — marshalling party leaders across the country, controlling the Republican National Committee and ensuring the biggest donors in the conservative movement are ready for the epic fights ahead. That's more like the role Karl Rove or Ken Mehlman played for George W. Bush.
Instead, Trump has Stepien — a former aide to New Jersey Gov. Chris Christie and an experienced operative, but one of the quietest men in Washington. He's virtually unknown to conservative groups and has little sway inside the White House, and none whatsoever on Capitol Hill.
When I texted a senior figure at a powerful conservative outside group to ask him about Stepien, he called back and admitted he needed to Google his name before responding.
"Nobody knows what the f--- he's done or is doing to advance the president's agenda politically," a senior administration source told me. "There's no follow through on initiatives."
Stepien seems to have little sway over the RNC chairwoman, Ronna Romney McDaniel. She often deals directly with the president and White House chief of staff John Kelly.
"Stepien's not the guy you pick up the phone and call," said a leader of a conservative outside group. "It just seems like the office is a non-entity. At most they monitor things. It's a completely passive operation."
As a result, party leaders across the country, outside groups, and the biggest donors in GOP politics have little idea what this White House wants them to do to advance its agenda.
It's not that insiders have any personal animosity towards Stepien. They just don't think he has a lot of juice, and is working within a structure that needs an overhaul. I spoke to more than a dozen senior administration officials and conservative leaders for this story, and the best defense anybody offered of Stepien was that he's a competent, smart, man and that he was never given the tools he needed to succeed.
A senior administration source described Stepien as a smart and competent organizer, but not the force of nature he needs to be in that job. Nor is he empowered. By virtue of his title — he's a deputy assistant to the president rather than an assistant to the president — Stepien is often not even in the room for important meetings.
The other side: It's a sensitive topic at the White House. After contacting the White House I received a flurry of on-the-record responses from McDaniel, White House counselor Kellyanne Conway, and Vice President Mike Pence's chief of staff Nick Ayers.
From McDaniel: "We have a great working relationship with Bill and the White House. Our combined efforts are crucial as we work together to support the President's agenda to cut taxes and create jobs."
From Conway: "Bill has a very sharp eye for data and the overall political landscape. In addition to special and other off-year elections he keeps us attuned to state party races, down ballot initiatives and other individuals and issues of interest."
From Ayers: "Bill doesn't get enough credit for the very good work he did on the campaign. He is a friend of many around here and trusted by all."
White House officials say they're going to kick the political operation into higher gear for 2018, but they also insist that Trump runs his own show and the focus on the staff operation is misplaced.
"This president is unique. He's his own political strategist," said one White House official. "He was told every single moment, every single turn he's ever had, 'what you're doing is wrong.' Yet he's still the guy in the chair in the Oval Office."
The impact: But it's hard to ignore two of the biggest signs of political sloppiness since Trump won the White House:
The Alabama Senate race. In no normal White House would the following things happen: the RNC pulls all support and funding from Moore, only to watch the president come out and effectively endorse him. McDaniel spoke to Trump about it, by telephone, before she pulled the support; but a functional political operation would have never allowed that to happen.
The health care fizzle. At a meeting earlier this year, Stepien claimed he'd use the grassroots to pressure senators who were reluctant to repeal and replace Obamacare, according to one administration source. He told colleagues he'd put on "repeal-and-replace rallies" in Maine and Nevada to pressure senators Susan Collins and Dean Heller. They never happened.
A White House official insisted that the White House, including the Office of Political Affairs, was "on board" with the RNC strategy of cutting off Moore because "it was in line with where the administration was at that time." But two sources with direct knowledge of the conversations say McDaniel spoke to Trump about the decision, and the political office wasn't looped in.
How it happened: Kushner advocated for Stepien to be installed as political director. The two are close, and Kushner had already brought Stepien into Trump's orbit by installing him on the presidential campaign.
Several senior players, both inside and outside the administration, blamed Kushner for the situation with Stepien. "Jared put somebody in there he could keep his eye on," said a senior administration official. The source added that Kushner took other "ridiculous" political actions early in the administration, including inviting Michael Berland, a former adviser to Bill and Hillary Clinton, into the Oval Office to brief the president on multiple occasions.
A White House official pushed back on the idea that Kushner wanted somebody he could control, saying Kushner has little involvement in the political operation and promoted Stepien because he's loyal to the president and did a good job on the campaign. The official added that the broader team supported the decision to appoint Stepien.
A senior administration source also pointed out that the president genuinely likes Stepien and often name drops him at political events as the guy who presciently saw a path to election victory in Florida.
Notable: Steve Bannon actually had the opportunity to play the political heavy hitter/Karl Rove role in the Trump White House. But he wanted to be on the National Security Council, and spent much of his time thinking about economic warfare with China.
Bannon told me that "the policy is the politics," and insisted his plan of ticking off campaign promises from his office whiteboard would have put the White House and the party in the best possible position for 2018.
Go deeper