Scoop: Bannon pushes tax hike for wealthy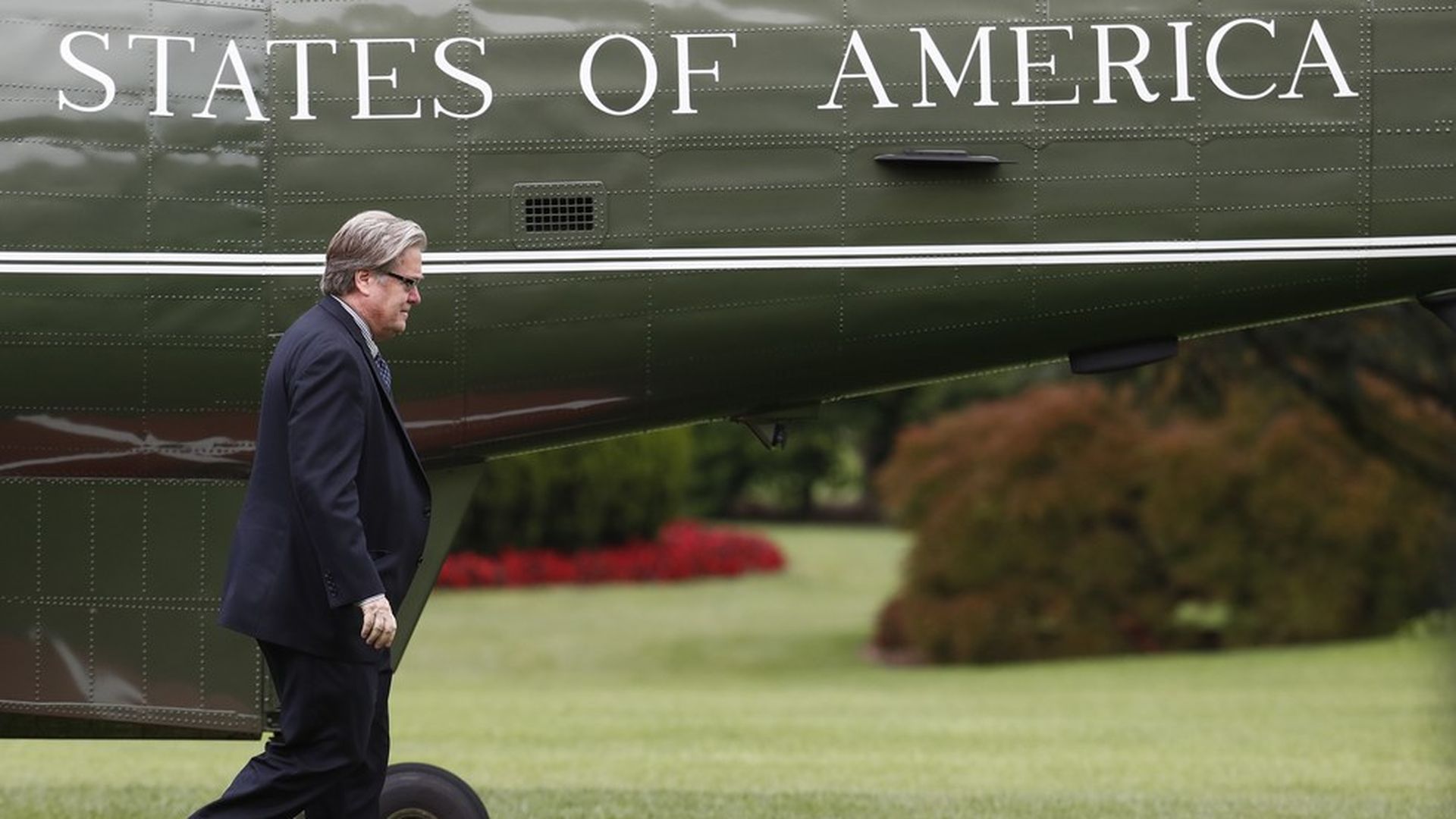 Steve Bannon is causing a stir inside the administration by pushing an idea that's anathema to most Republicans: raising taxes on the wealthiest Americans to pay for steep middle and working-class tax cuts. (Some officials who've heard Bannon's idea think it's crazy, but the President's chief strategist believes it's a potent populist idea.)
Bannon has told colleagues he wants the top income tax bracket to "have a 4 in front of it." (The top bracket is currently 39.6% for Americans who earn more than $418,400.)
It's classic Bannon – pushing a maximalist position that's reviled by the Republican establishment.
While all the public attention has been going to health care, Trump aides are teeing up an extremely aggressive tax plan.
Lobbyists who have met with Gary Cohn and Treasury Secretary Steven Mnuchin say they've been struck by how impatient the two appear:
Cohn has told associates that if tax reform doesn't get done this year, it's probably never going to happen.
Sources who know Cohn speculate that he'll leave the White House the instant he concludes tax reform is dead.
While Cohn and Mnuchin differ stylistically — Cohn is brash and physically imposing while Mnuchin is mild-mannered — sources who've been meeting with them say they share the same philosophy: Go big or go home.
What that means:
Cohn and Mnuchin aren't bluffing when they say they want to slash the corporate tax rate to 15% from the current 35%. Neither man has any interest in timid tax cuts, and they wager that special interests will relinquish their loopholes if they become convinced their tax rate really will be in the teens.
They're becoming far less wedded to revenue neutrality — the idea, favored by House and Senate Republican leadership, that tax cuts mustn't add to the deficit.
They're increasingly tantalized by an idea some conservatives (like Grover Norquist and Sen. Pat Toomey) are pushing: Allow major tax cuts to last longer than 10 years without having to balance the budget. (More detail here.)
Conservatives like Toomey favor a more expansive 20- or 25-year period. But top White House officials are more cautious, and are said to be weighing a 15-year period.
Context: The last time Congress passed major tax reform, in 1986, it was a two-year rollercoaster. This time, the White House officials driving the process have concluded there's no chance of getting Democrats to support what Trump wants to do. So they believe it must be done before the 2018 midterm elections or not at all.
That's going to be a heck of a challenge. They need to first pass a budget, which is embroiled in fights over defense spending and welfare reform. And they need to finish with health care.
Some top Republicans have come to believe, contrary to conventional wisdom, that tax reform stands a better chance if health care fails — so desperate will Trump and Republican leaders be for a victory.
Go deeper