Paris deal decision expands Trump-Silicon Valley divide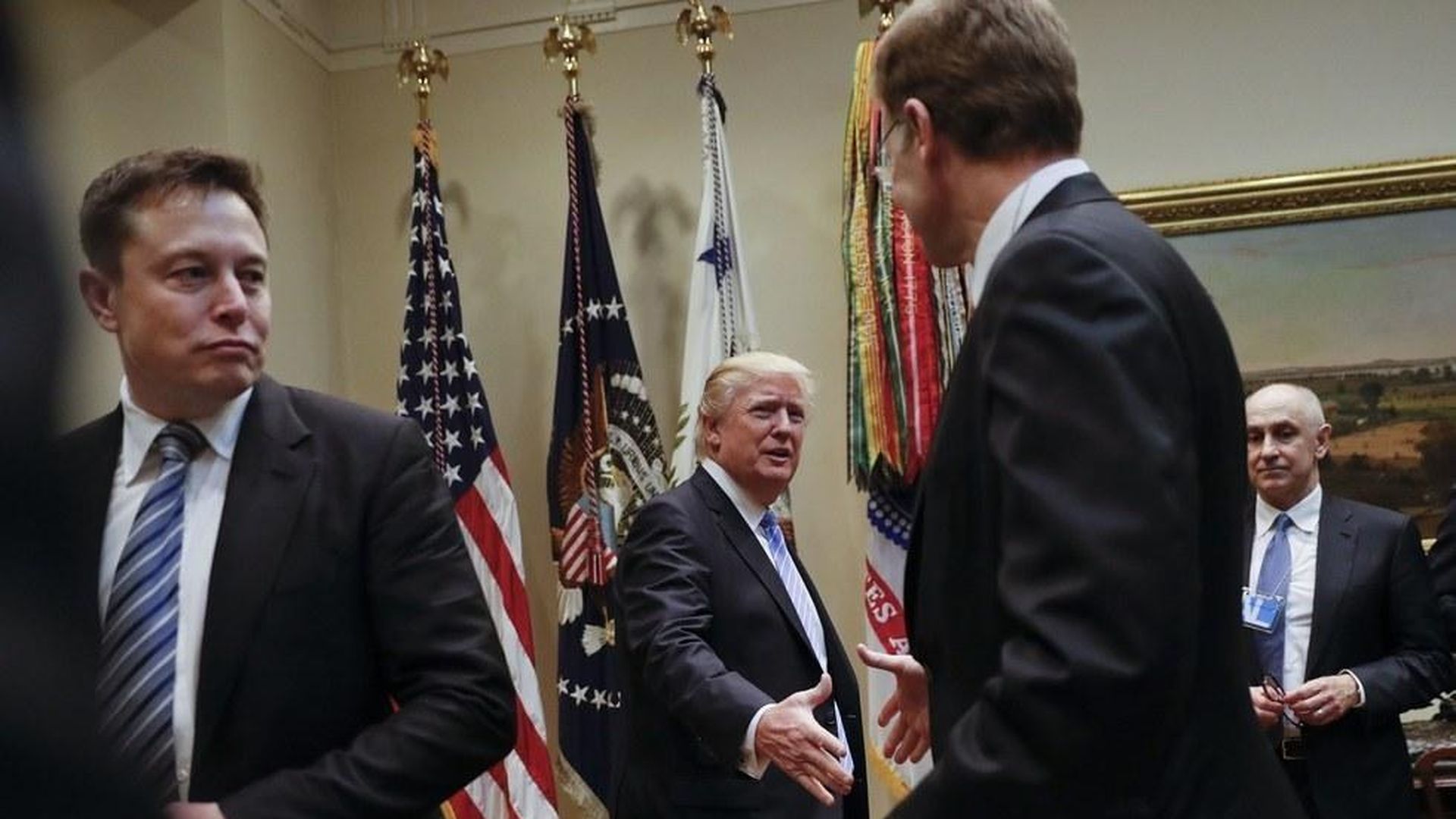 Silicon Valley isn't happy with President Trump's decision to walk away from the Paris climate accord. Elon Musk said he'd leave advisory councils run by the White House — though other tech execs will stay on — while Mark Zuckerberg and other major figures from around the industry expressed disappointment.
Why it matters: This is yet another divide between Trump and Silicon Valley, and discontent over the move in the Valley is reflective of a broader backlash in corporate America.
On Trump's business councils: Elon Musk is departing the White House councils he was serving on. The multi-company mogul said that leaving "Paris is not good for America or the world." Max Levchin, who worked with Musk at PayPal, tweeted that Musk's decision means one "less voice of reason further isolates an already misguided President."
Not everyone is bolting: IBM says that CEO Ginni Rometty will stay on the president's business advisory council even though the company supports the United States sticking with the accord. "IBM believes we can make a constructive contribution by having a direct dialogue with the Administration — as we do with governments around the world," a spokesperson said in an email.
A spokesperson for Dell, whose founder and CEO sits on Trump's council on manufacturing, said that there was "no change in engaging with the Trump administration and governments around the globe to share our perspective on policy issues that affect our company, our customers and our employees." He also said that the company "will continue to work with our customers, communities and suppliers on a strong global approach to tackling" climate change.
Intel CEO Brian Krzanich, who serves on Trump's manufacturing council, plans to continue working with the administration. "We need to engage, and what I'll do is I'll spend time in there talking about what are we going to do, how do we get back in," he said on CNBC before the decision was formally announced. Another Intel executive said in a statement that the company thinks the U.S. should stay in the accord.
Disney CEO Bob Iger is also leaving Trump's advisory council.
There's more:
Facebook's Mark Zuckerberg: "Withdrawing from the Paris climate agreement is bad for the environment, bad for the economy, and it puts our children's future at risk."
Uber's Andrew Salzberg: The "announcement ... that the United States will not honor the agreement is a huge disappointment. Addressing rising temperatures is vital to ensuring the continued health and prosperity of populations across the globe."
Salesforce's Marc Benioff: "Deeply disappointed by President's decision to withdraw" from the agreement.
Google's Sundar Pichai: "Disappointed with today's decision. Google will keep working hard for a cleaner, more prosperous future for all."
Microsoft's Brad Smith: "We're disappointed with the decision to exit the Paris Agreement."
Amazon: "Amazon continues to support the Paris climate agreement and action on climate change."
Apple's Tim Cook: He said he "spoke with President Trump on Tuesday and tried to persuade him to keep the U.S. in the agreement. But it wasn't enough."
What to watch: How the companies respond beyond their statements, and whether their employees pressure them to do or say more on the issue.
Go deeper