Nissan's overhauled Leaf electric car lands tonight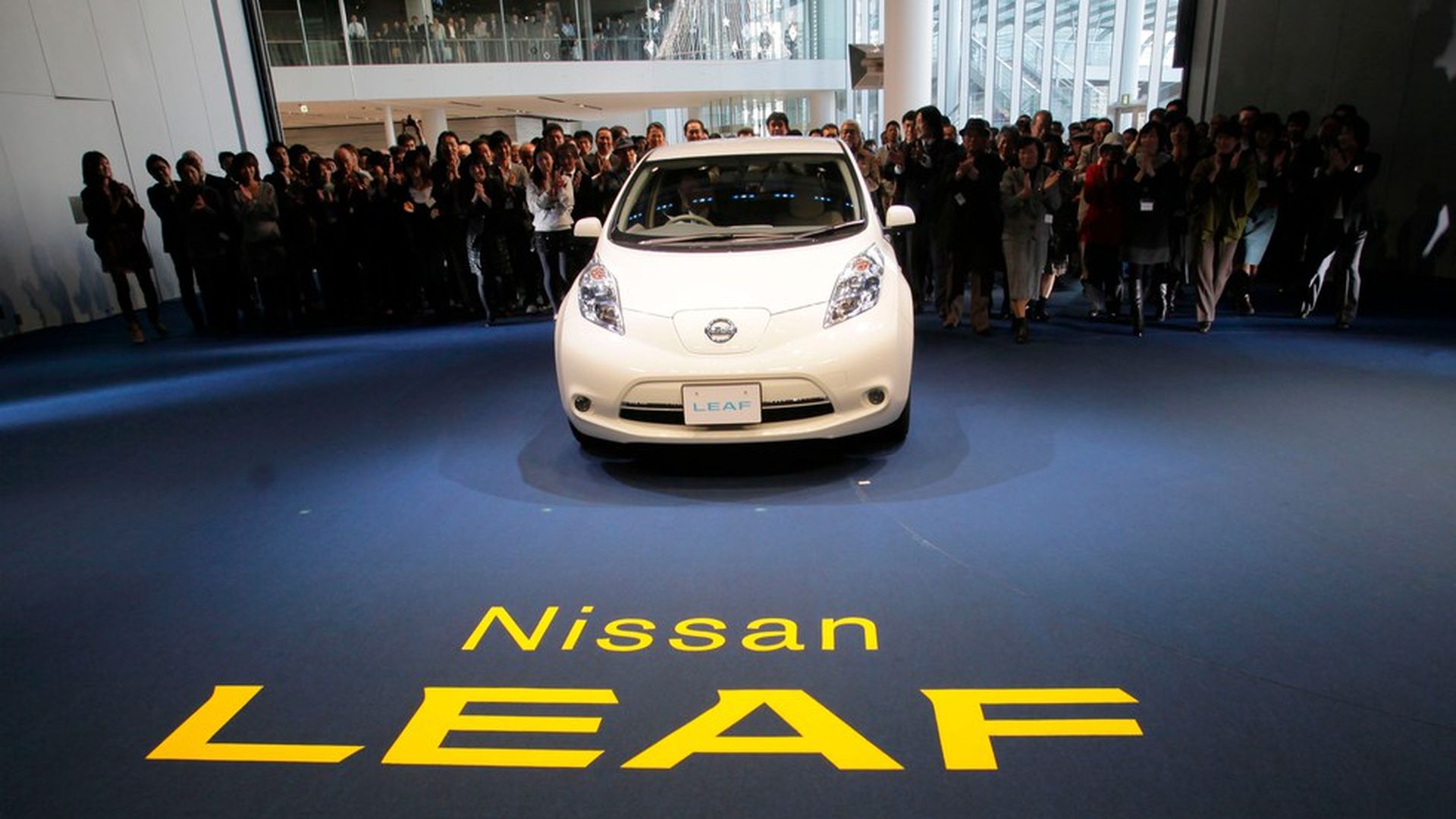 Nissan will unveil a completely redesigned version of its all-electric Leaf in a heavily promoted event later tonight.
Why it matters: The overhaul arrives at a time when analysts are upping estimates of the EV market's growth in coming years and decades, and countries including France and the U.K. are rolling out more aggressive clean transportation policies.
The automaker faces big challenges, even though the Leaf is the leader in cumulative worldwide EV sales since its 2010 debut, with over 280,000 sold. These days Nissan has lost ground to Tesla and other rivals who offer models with much more range than the current generation Leaf's roughly 100-miles-per-charge capacity.
Nissan has already revealed that the new version will feature tech including its single-pedal operation mode called "e-Pedal," and its "ProPILOT" assisted-driving system.
One big question: How much Nissan may have upgraded its battery system to allow longer range. More broadly, whether Nissan can capture the EV buzz that rests squarely with U.S rival Tesla. Elon Musk's Silicon Valley firm has its own long-term challenges but got rave reviews for its new mass market Model 3 (which has a higher base price than the current Leaf) and its 220-mile base range.
A number to watch: My Axios colleague Steve LeVine, a longtime watcher of EV trends, believes that the floor to catch on with consumers these days is now 200 miles on a single charge, even if most drivers very rarely need that much range.
Perspective: Tatsuo Yoshida, a senior analyst at Sawakami Asset Management Inc., sums up Nissan's challenge nicely in this Bloomberg piece: "It will be tougher for the new Leaf than for the first generation, as it's no longer the only mass-market EV, or monopolizing public attention. . . . Tesla's brand is more alluring even if Nissan comes close to its technology."
Go deeper