Nikki Haley sounds ominous notes on Iran deal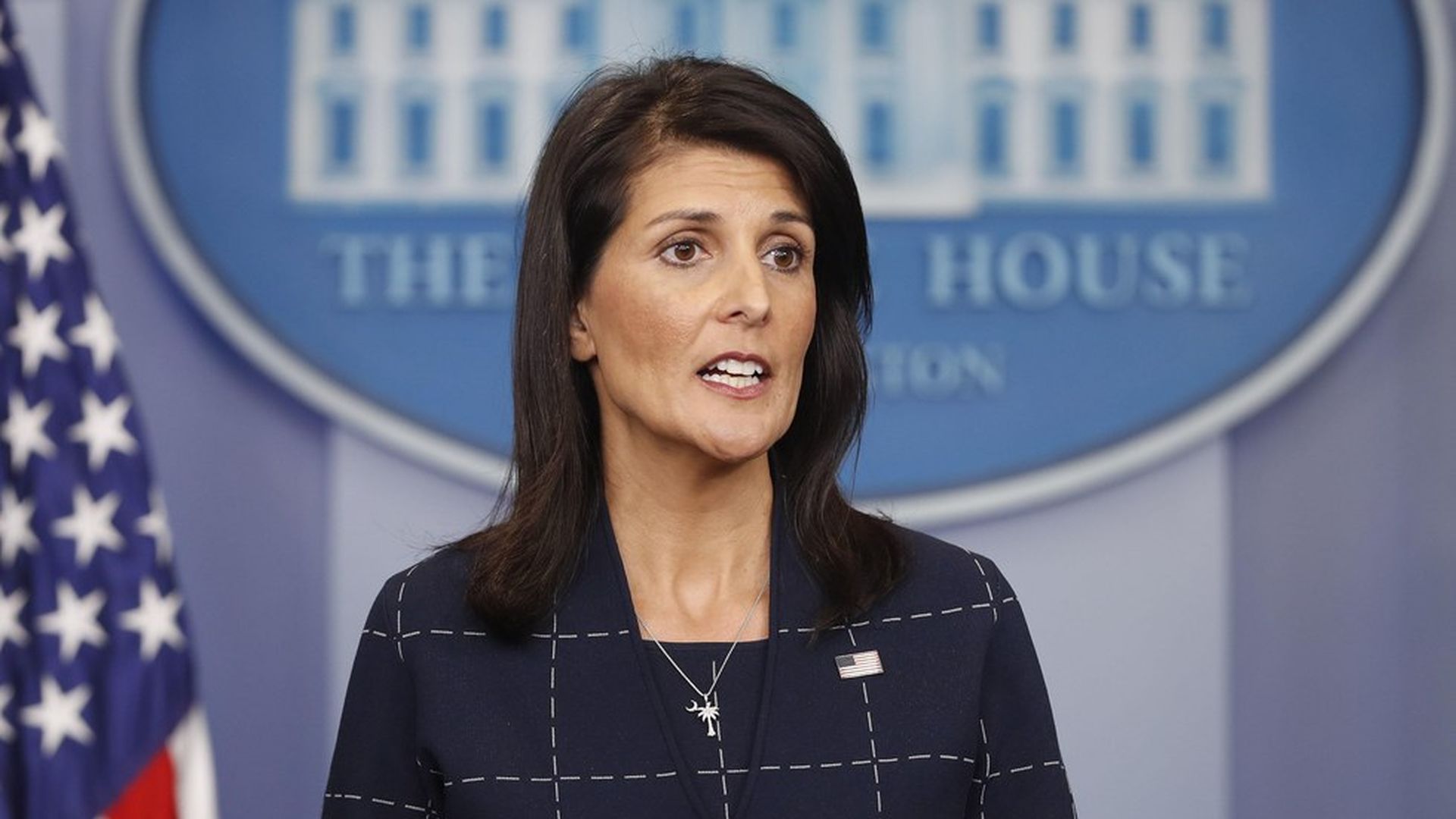 UN Ambassador Nikki Haley gave a speech today that should make supporters of the Iran deal very nervous.
In an address to the American Enterprise Institute, Haley made clear the Trump Administration believes Iran has failed to live up to key clauses of the congressional review legislation overseeing the Iran deal. President Trump is next required to re-certify Iran's compliance by October 15.
Haley said that judging the Iranian regime's nuclear plans "strictly in terms of compliance with the JCPOA [the nuclear agreement] is dangerous and short-sighted."
She zeroed in on two "pillars" that Iran hawks believe already give Trump all the justification he needs to de-certify Iran's compliance:
"National security interest": Haley points out that the Corker-Cardin law — the legislation that Congress overwhelmingly passed to review the Iran deal — requires that the president certify every 90 days that the Iran deal is vital to the national security interests of the United States. Trump could decertify Iran on those grounds alone.
UN Security Council Resolution 2231: "They [Iran] are clearly acting in defiance of UN Resolution 2231 by developing missile technology capable of deploying nuclear warheads." She also mentioned "devastating evidence of Iranian violations," including "proven arms smuggling....violations of travel bans...ongoing support for terrorism." (Between the lines: Corker-Cardin requires that the president certify that "Iran is transparently, verifiably, and fully implementing the agreement, including all related technical or additional agreements." ... Sources who worked on the bill consider UNSCR 2231 a "related" agreement.)
Why this matters: Trump thinks the Iran deal is the worst deal in history and he was very reluctant to re-certify Iran's compliance. He's re-certified twice, against his instincts, but sources close to Trump believe his national security and foreign policy advisers will have an uphill battle to get him to re-certify Iran's compliance for a third time next month. What Haley outlines would be a classic Trump play: putting the onus back on Congress.
It's telling that in her speech today, Haley describes what de-certification would look like in practice:
"If the President chooses not to certify Iranian compliance, that does not mean the United States is withdrawing from the JCPOA," she says. ... "What happens next is significantly in Congress's hands."
"Under the law, Congress then has sixty days to consider whether to re-impose sanctions on Iran...During that time, Congress could take the opportunity to debate Iran's support for terrorism, its past nuclear activity, and its massive human rights violations, all of which are called for in Corker-Cardin.
"Congress could debate whether the nuclear deal is in fact too big to fail," she adds. "We should welcome a debate over whether the JCPOA is in U.S. national security interests."
Reaction to Haley's speech:
Jamil Jaffer, a former top staffer on Bob Corker's Senate Foreign Relations Committee, emailed me after reading Haley's speech: "Ambassador Nikki Haley's speech today carefully and cogently lays out the case for a presidential determination that Iran isn't entitled to continued suspension of sanctions." (Jaffer worked on the Corker-Cardin law)
Mark Dubowitz, the CEO of the Foundation for Defense of Democracies, emailed: "Ambassador Haley provided the predicate for the president to conclude that the JCPOA is not in the vital national security interests of the United States while signaling to Congress that now may not be the opportune time to reinstate JCPOA sanctions and take America out of the deal."
Dubowitz, an influential Iran hawk, added: "She also blew apart the false distinction that Iran's nuclear capable ballistic missile program and march to ICBMs is somehow not an integral part of a nuclear deal designed to stop Iran from producing a deliverable nuclear weapon."
Go deeper