Next up at the White House: "Energy Week"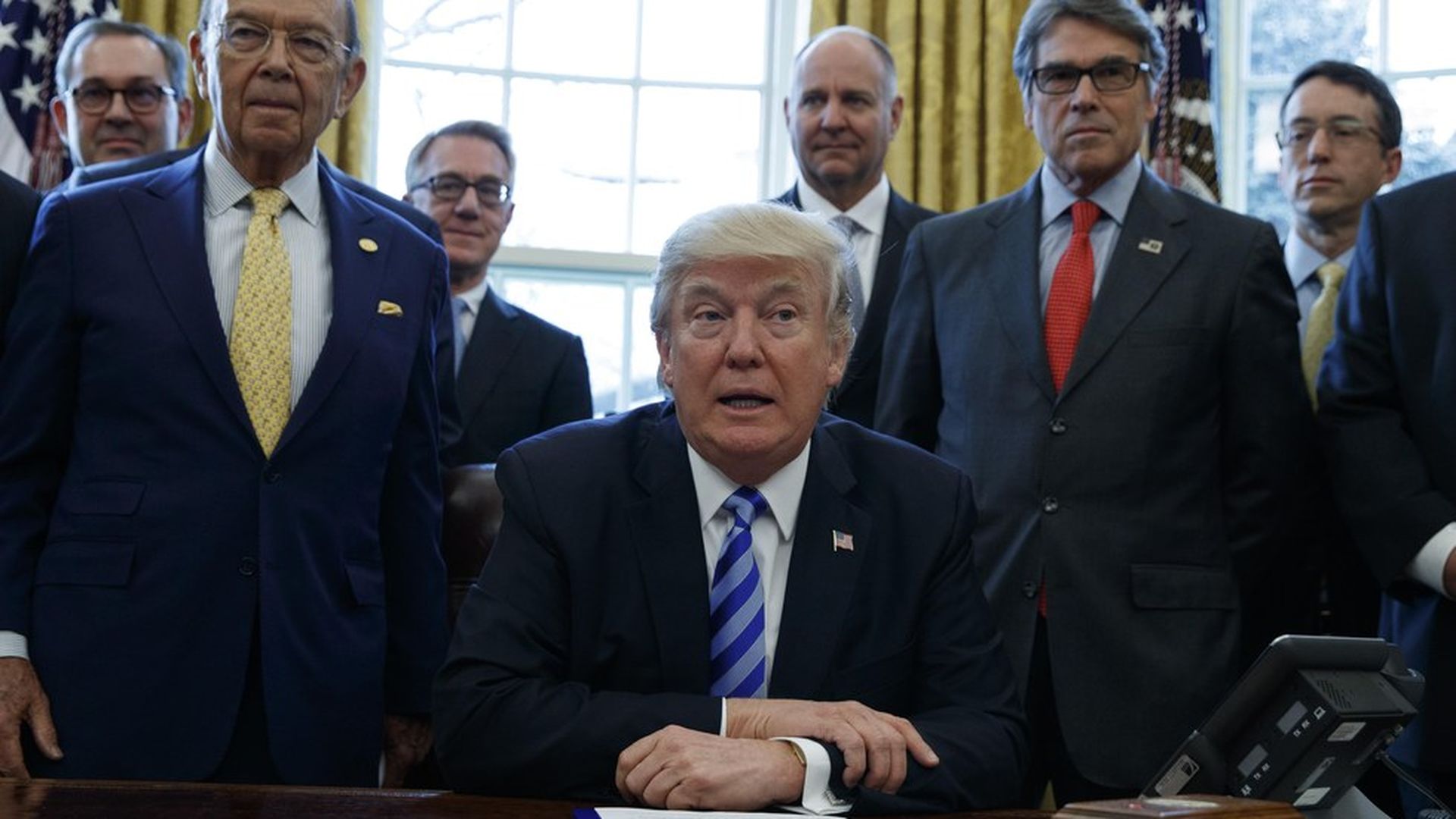 It's "energy week" at the White House, the latest of the administration's themed messaging weeks. Axios' Ben Geman helps me sketch how it will unfold:
Tomorrow, Trump will highlight India's multibillion-dollar purchases of U.S. natural gas. Axios' Amy Harder says it's a "a striking contrast to Obama who emphasized climate change and renewable energy when meeting with India — a critical player in the energy and climate debate because of its expected growth in energy use."
On Wednesday, Trump and Energy Secretary Rick Perry will meet in the White House Roosevelt Room with governors, tribal officials and others.
The big showcase comes Thursday when Trump will make a speech at the Energy Department, with other Cabinet officials, top aides, and industry workers and officials coming along.
Expanding liquefied natural gas will be a theme, so will the overall message of making the U.S. "energy dominant," the White House official said. Trump will soon be traveling to Poland, which received its first LNG imports from America earlier this month.
Ben's quick take: "Trump-world's frequent use of 'dominant' creates a rationale for easing rules and making more lands and waters available for drilling. They need a big word, because U.S. oil and natural gas production already surged under Obama, reaching records in gas and near-records in oil."
Modi visit: India's Prime Minister Narendra Modi visits the White House tomorrow. On a call Friday, a senior White House official previewed a significant defense-related announcement. Per Reuters' reporting, we expect Trump will announce plans to supply India with 22 unarmed drones "in a deal worth more than $2 billion." New Delhi views the deal as a test of the strength of U.S.-India defense ties. Trump will also host Modi for dinner at the White House — the first foreign dignitary to get that treatment.
Healthcare: Trump will keep calling Senators, trying to rally them behind McConnell's bill. A White House official tells me Vice President Pence "is hosting a listening session with victims of Obamacare" tomorrow.
Immigration: Per the official, "the administration is backing the House's push on two key immigration bills this week: Kate's Law and the 'No Sanctuaries for Criminals Act.' July 1 will be the 2nd anniversary of Kate's tragic murder" by an illegal immigrant.
Go deeper