Mnuchin: Losing human jobs to AI "not even on our radar screen"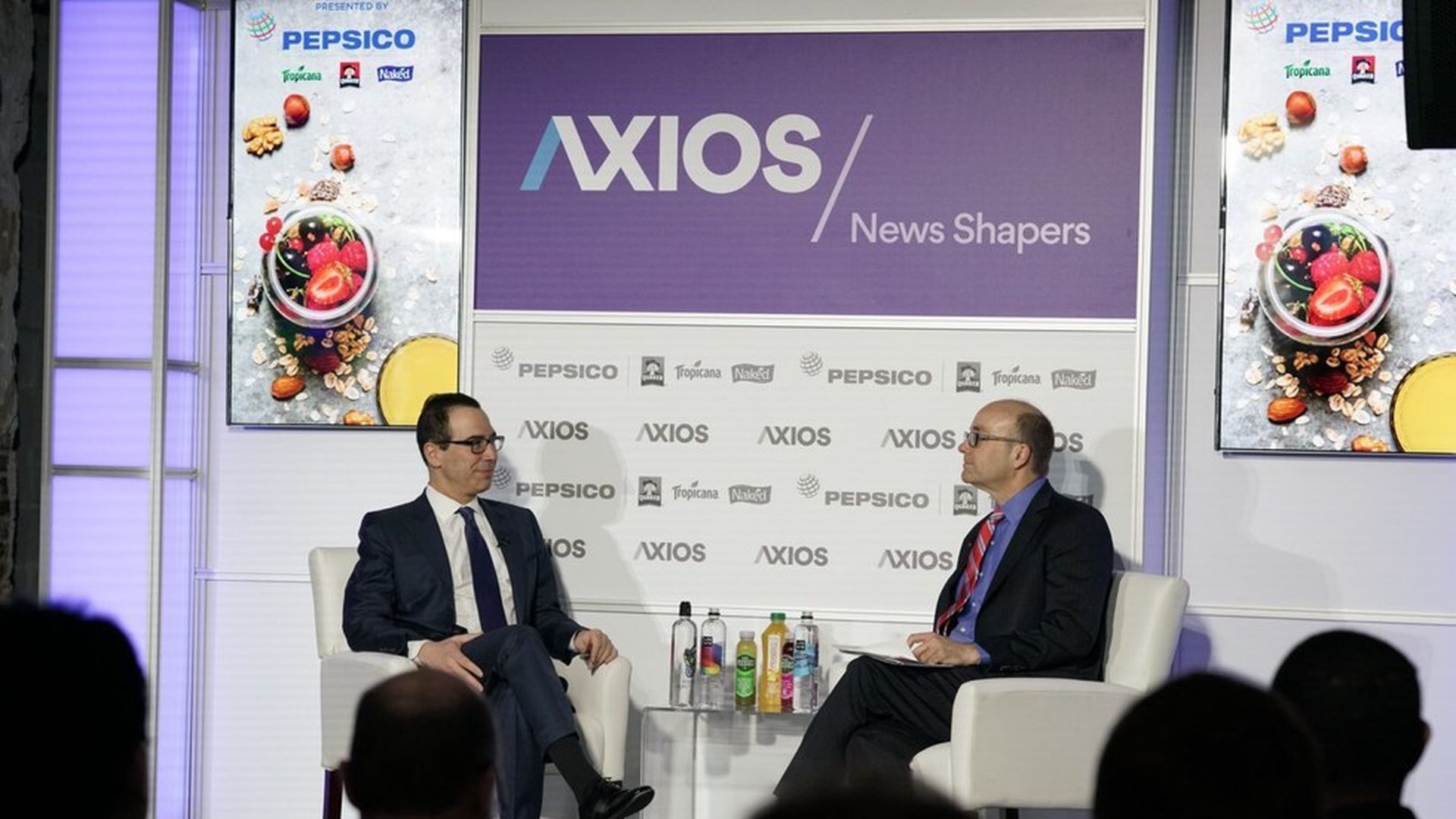 Treasury Secretary Steve Mnuchin joined Axios' Mike Allen this morning at the debut of his News Shapers event series to talk about his new role in the Trump Administration.
On AI supplanting human jobs: "it's not even on our radar screen.... 50-100 more years" away. "I'm not worried at all" about robots displacing humans in the near future, he said, adding: "In fact I'm optimistic."
Other big ticket items:
Trump:
Trump's stamina: "He's got perfect genes. He has incredible energy and he's unbelievably healthy."
Trump's diet: Mnuchin claimed Trump no longer eats KFC or McDonald's, as the White House food is "great."
The dollar bill: "I think we should look at putting President Trump on the thousand dollar bill."
Trump's views evolving: "He's the negotiator-in-chief... he wants big deals."
Trump's leadership style: "He has an open door. People are coming and going, and he thinks about something and calls somebody on the phone... this is not a formal, scheduled president."
Tax reform:
"Much simpler" than health care reform, saying the Trump administration will do it comprehensively. Not going to break it up into more passable pieces.
Corporate tax rate: Mnuchin declined to reiterate Trump's goal of a 15% corporate tax rate, vs. Ryan's 20% plan.
Carried interest loophole: Mnuchin said the loophole will be closed in our tax plan. But that's for hedge funds. No commitment on real estate, etc.
Border adjustment tax: It has certain aspects that are VAT-like, which much of the rest of the world uses.
The focus of tax cuts: Mnuchin said the Trump administration's focus is on tax cuts for the middle class, not upper.
The global economy:
Renegotiating trade deals: "So long as we can renegotiate [trade] deals that are good for us, we won't be protectionist. Otherwise we will."
The one bad thing: We don't know how to predict the next bad thing.
Trump's big objective: Keep people safe, per Mnuchin.
Does Mnuchin worry about who is calling Trump? "No. Do you?"
On Silicon Valley, tech and jobs:
Valuations: "I don't understand these valuations."
Infrastructure:
Infrastructure finance: "It's clear he wants to do something very significant," Mnuchin said, referenced Trump's wish list. He added it wouldn't be deficit-financed.
The big problem: Regulations, not the money.
Go deeper