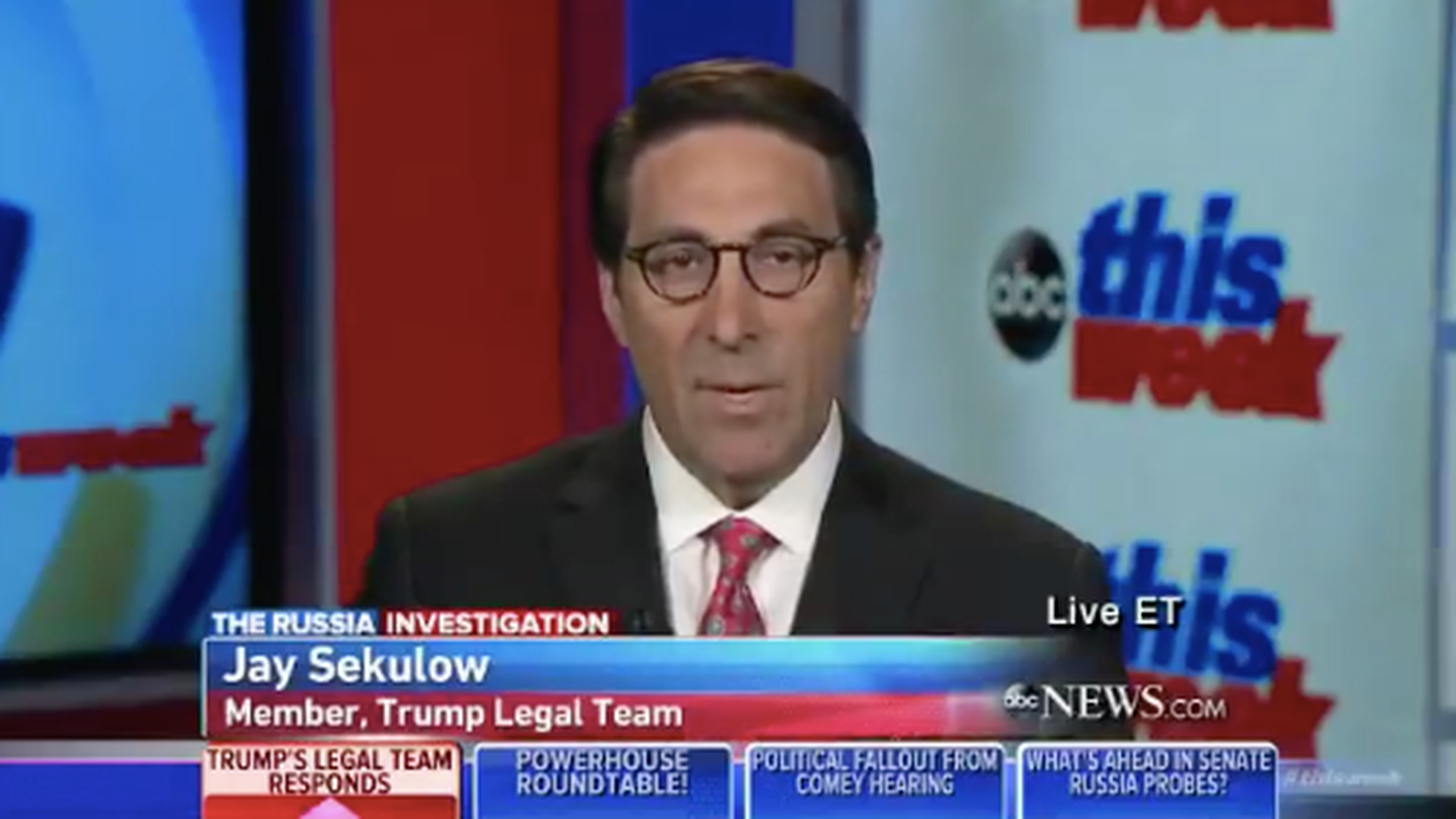 On ABC's "This Week," George Stephanopoulos introduced Jay Sekulow as "a member of President Trump's legal team."Our tip: You'll be seeing a lot more of Sekulow as the Russia probe escalates. A conservative attorney with a nationally-syndicated radio show, Sekulow has had a mutually supportive relationship with Trump for some years and has met with the President at the White House recently."He's going to be the Lanny Davis of this," said a source familiar with the legal team being constructed to support Trump in his fight against the Russia investigation. "He's sharp on his feet and polished. He's exactly what Trump likes."What the source means by that comparison is that Sekulow — like lawyer Lanny Davis was for Bill Clinton — is expected to be the omnipresent TV face of Trump's defense. The President's lead lawyer on the Russia probe, Marc Kasowitz, is not viewed as good media talent, and I'm told Trump thinks Sekulow does a good job defending him on TV.Background on Sekulow:
He's well-connected in the conservative movement. His group, the American Center for Law & Justice (ACLJ), was founded by Pat Robertson.Argued 12 cases before the Supreme Court and made a speciality of fighting high-profile religious liberty cases.
Sekulow fought against the "Ground Zero Mosque" and during that effort Trump offered to buy the site. Sekulow also appreciated Trump's public support of his campaign to free Saeed Abedini — an Iranian American Christian pastor who was imprisoned in Iran.
Sekulow and Trump share a taste for Brioni Italian menswear.
Go deeper