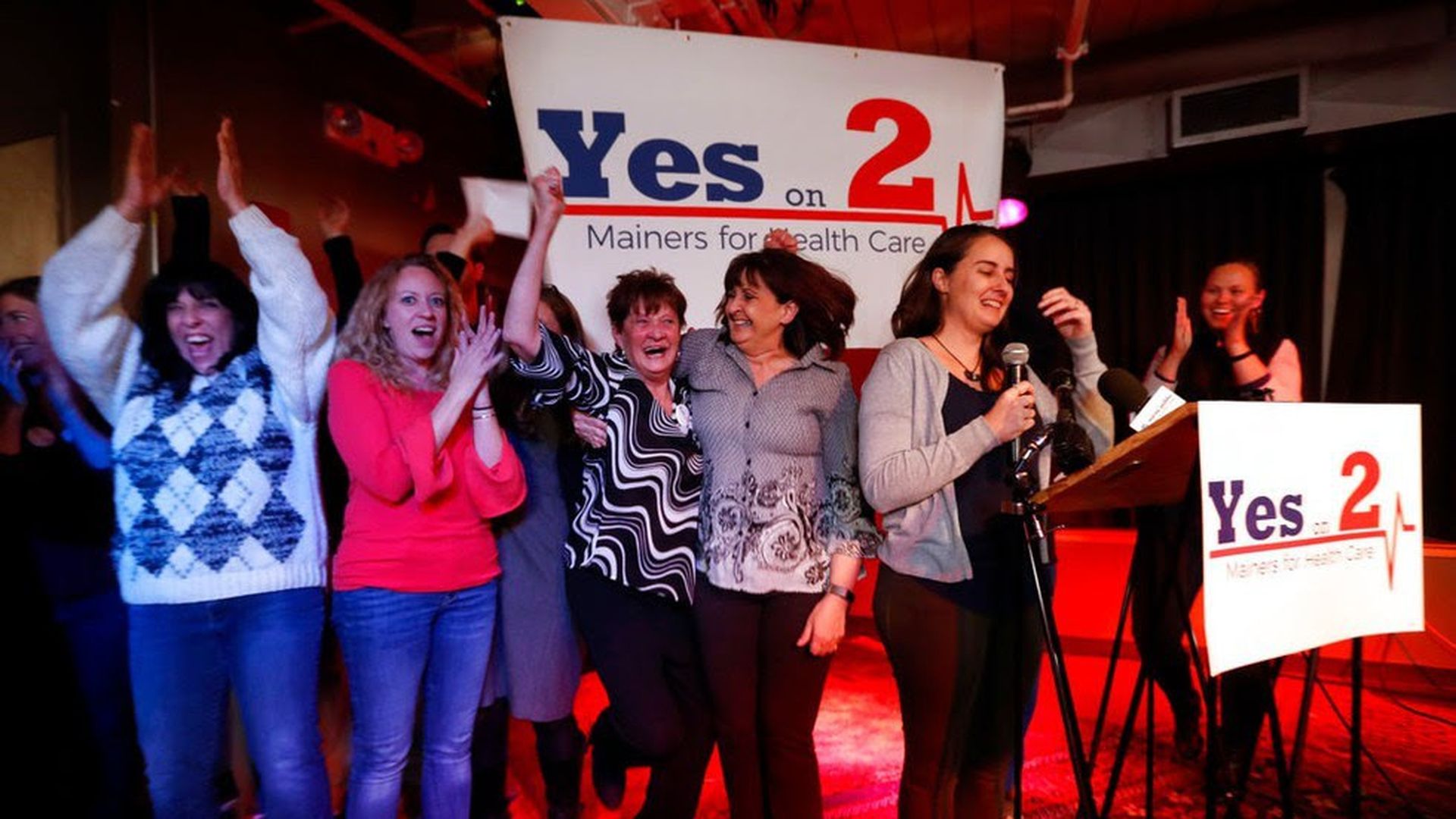 Last night, Maine became the first state to expand Medicaid via referendum and the 33rd state (counting D.C.) to adopt the Affordable Care Act's expansion one way or another. And in Virginia, Democrats' unexpectedly large gains in the state's House of Delegates made expansion a much more realistic prospect there, too.
The big picture: Last night was a huge night for Democrats, and health care was a huge part of it.
Exit polls in Virginia showed that health care was the No. 1 issue for a plurality of voters — and 78% of those voters broke for Democrat Ralph Northam.
Virginia already had a Democratic governor. The party's immense gains in the state legislature, where past efforts to expand Medicaid failed, are what move it closer to reality.
Maine's Medicaid expansion might be somewhat delayed. Some expansion advocates expect Gov. Paul LePage, a fierce expansion opponent, to run out the clock and leave the actual implementation for whoever takes over after he's term-limited in 2018. Even so, last night's referendum will bind his successor, too. It's happening eventually.
The emotional win might be the most important. The main takeaway for Democrats across the ideological spectrum last night: They can, in fact, win, and win big, and win on health care issues. Even, or maybe especially, when President Trump and congressional Republicans are still fixated on some form of ACA repeal.
The results from Maine, whenever they actually take effect, have already mobilized Democrats to try to get similar initiatives on the ballot next year in more non-expansion states.
Look for Idaho, Kansas and Utah to be at the forefront of those efforts.
And if last night does turn out to be a sign of what's to come in 2018, don't expect any more ACA repeal bills to pass the House. Whatever provisions Republicans think they can actually agree to repeal, delay or weaken, they'd better repeal, delay or weaken soon.
One last thing: Ohio voters overwhelmingly rejected a ballot initiative to cap what state-run health programs would pay for prescription drugs.
The bottom line: Governing majorities come and go, but pharma always wins.
Go deeper