Making sense of OPEC's deal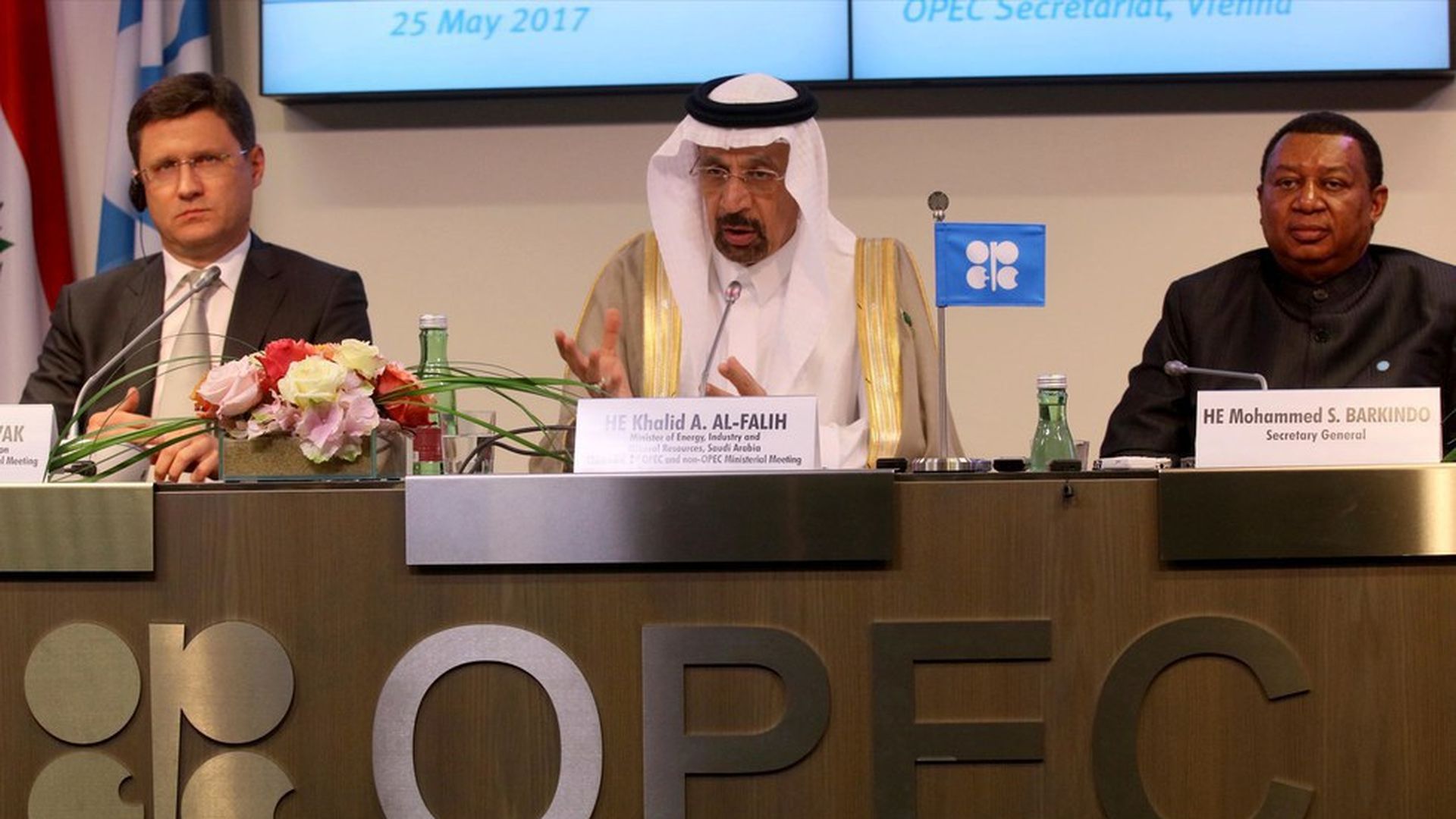 A few more observations on yesterday's move by OPEC and Russia to extend their production-limiting deal for nine months through the end of 2018...
Markets: Via Reuters, oil prices are up somewhat today on the heels of the deal, but really the expectation of the extension has been baked into the cake, so there likely would have been sharp dive had the agreement collapsed.
Cloudy future: An analytical piece out this morning from Bloomberg's team points out that the agreement left "big questions unanswered," including:
"If the cuts succeed in meeting their stated goal of bringing global inventories back down to their five-year average level, how will the deal be unwound? And if they don't, will the deal be extended in perpetuity?"
OPEC and Russia are still reckoning with the U.S. shale surge. Bloomberg notes that while the production deal has helped to elevate prices, it creates a "quandary" for OPEC and allied producers about how to keep those prices high without igniting even greater shale growth.
Russia's posture: A big question going forward is the ability of powerhouse producers Saudi Arabia and Russia to sustain unity, especially as Russian companies have reportedly chafed at the continued limits.
"This meeting was largely devoid of the witty banter and joint red carpet appearances between [Saudi oil minister Khalid] al-Falih and his Russian counterpart (and official meeting co-chair) Alexander Novak that characterized the May meeting, despite protestations that the relationship remained robust," RBC Capital Markets' Helima Croft said in a note last night.
To be sure: Barclays' analysts, in a note this morning, downplay the Russian corporate grumbling and its potential impact going forward, noting: "the geopolitical incentives to remain engaged with OPEC and its leading countries far outweigh the costs of frustrated companies."
What's next: The agreement text highlights that producers will take stock of where things stand mid-year.
While analysts have pointed out that this kind of review would have occurred at the mid-year OPEC meeting regardless, the decision to emphasize it in the communique is still sign that the status of the cooperation is subject to change.
Go deeper: Platts has a comprehensive rundown of the action in Vienna and the outcome here.
Go deeper