Le Pen, Macron advance in French election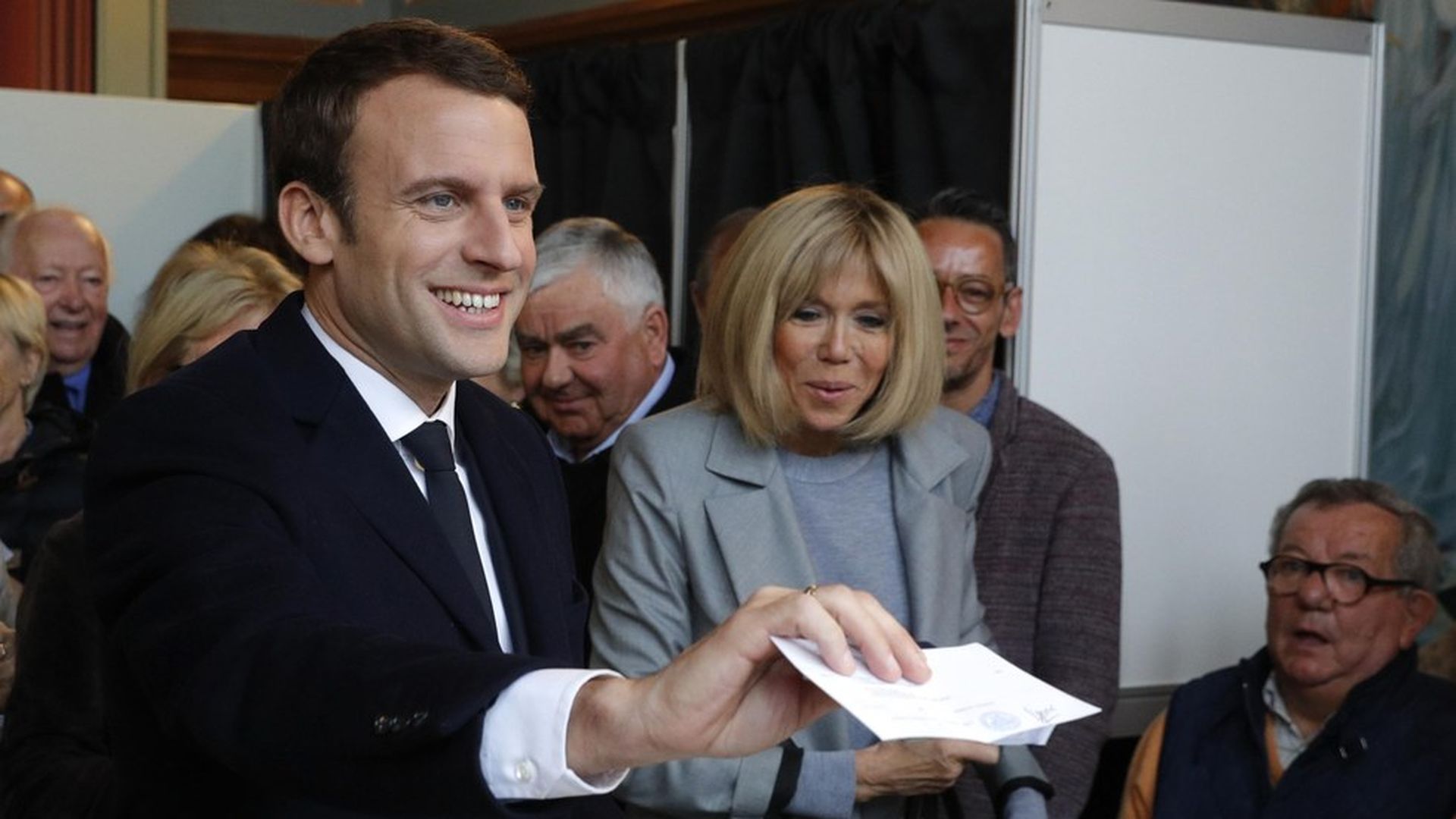 Official vote estimates from Sunday's election indicate that Emmanuel Macron and Marine Le Pen will advance to a runoff for the French presidency on 7 May. The latest numbers:
Macron: 23.7%, Le Pen: 21.9%, Fillon: 19.7%, Melanchon: 19.2%
Macron is not affiliated with any political party, and he is now the only candidate standing between Le Pen's populist anti-Europe, anti-immigration platform and the presidency. He is favored in head-to-head polls by upwards of 20 percent.
The American connection: Macron used a conversation with Barack Obama as a campaign ad, and Le Pen's campaign points to Donald Trump as evidence she can win.
Emmanuel Macron: the 39-year-old former investment banker resigned as economic minister under Socialist Francois Hollande to form his own centrist political movement, En Marche. He quickly went from long-shot to favorite, with Barack Obama showing his tacit support with a phone call earlier this week.
Marine Le Pen: Le Pen has worked to make what was a fringe party under her father Jean-Marie electable, but anti-immigration and anti-Europe policies still form the basis of the National Front platform. Steve Bannon is a fan, but Reince Priebus says Trump's tweets should not be taken as a sign he supports Le Pen.
Francois Fillon: The conservative candidate beat former president Nicolas Sarkozy in the primary and appeared on course for victory, but his campaign was hit by scandal and he slipped outside the top two.
Jean-Luc Mélenchon: The far-left candidate is skeptical of both NATO and the EU and surged in the polls late on, campaigning via hologram and coming within striking distance of the runoff.
Other updates
Le Pen called the results "historical," saying the very survival of France was at stake and adding, "I am the candidate of the people." She derided Macron as "Hollande's heir" and said "it's time to free French people from arrogant elites."
Macron congratulated all of the candidates who did not advance by name, taking the first step toward consolidating their support. He said the second round presented "an opportunity for hope" for France and Europe, in contrast with "the threat of nationalism."
Fillon called the National Front an "extremist party" that would lead France to bankruptcy and Europe into chaos, saying he would vote for Macron.
Benoit Hamon, representing President Hollande's Socialist Party, had a stunningly poor result with about 6%. He has called on Socialist voters to back Macron, calling Le Pen "an enemy of the republic."
Melanchon did not concede, saying he'd wait for the final results.
Hollande took in the results:
Go deeper