John Thune: What's coming on tech legislation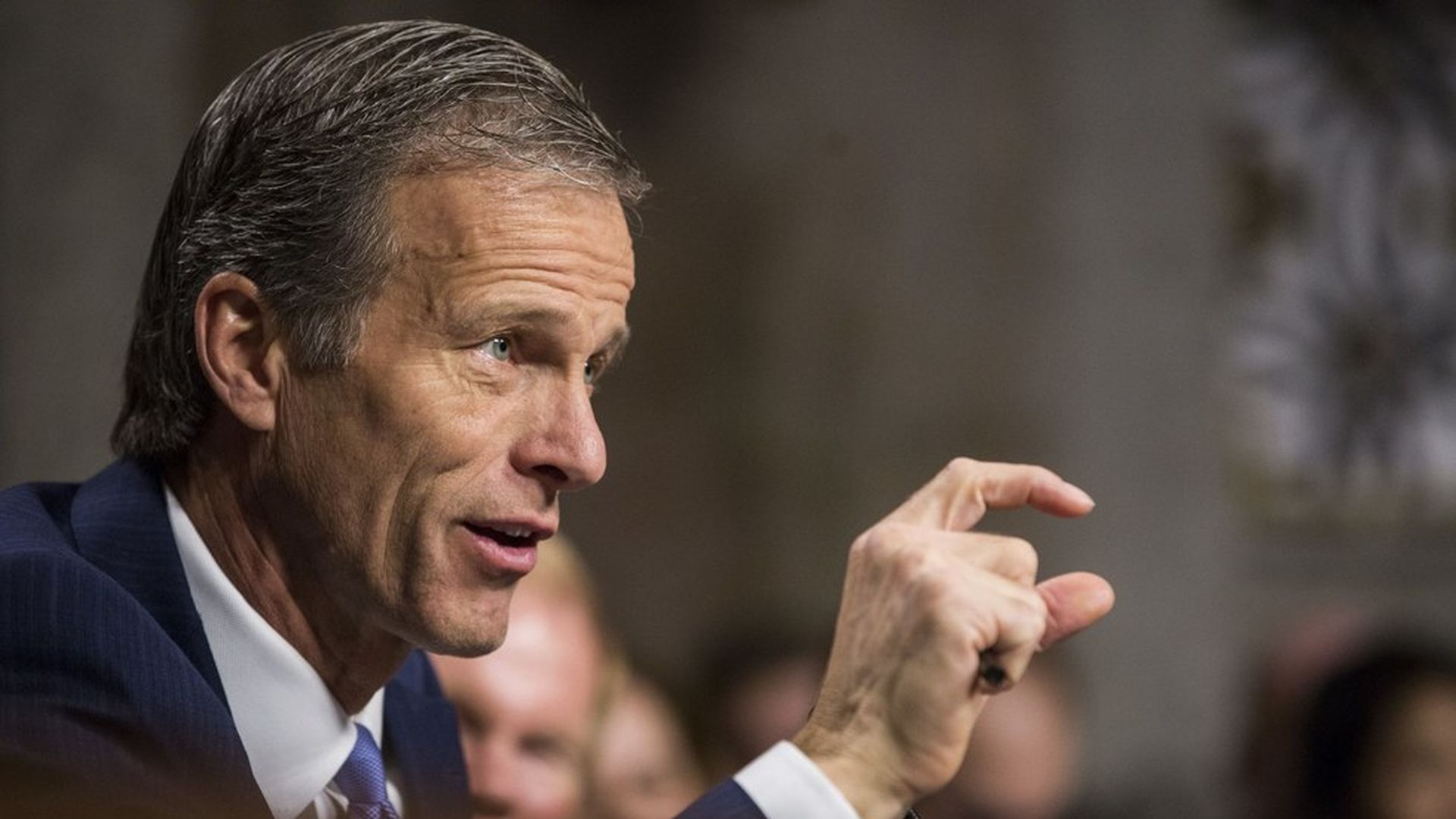 South Dakota Republican John Thune has emerged as a major voice on tech issues since becoming chair of the Senate Commerce Committee in 2014. In an interview with Axios, Thune said he hopes to reach a deal on net neutrality, expand broadband via an infrastructure package and look under the hood of self-driving cars.
Opportunity #1: Making a deal on net neutrality, sooner rather than later.
He's hoping a potential deal can be a carrot to get Democrats to the table — and the threat of aggressive FCC action to roll back its own net neutrality rules can be the stick. "I think, again, it's just going to depend entirely on whether we sense there's any reason to believe that Democrats are willing at this point to come to the table," he said. "If they are now, then let's go. If they're not, then maybe they'll have to see some activity by the FCC that would trigger that."
Thune expects opposition to a deal from some within his own party. "I think people are going to say, now why should we all of a sudden play the nice guy and try and do something here that creates a bipartisan solution when we can get everything we want by just having the FCC undo a lot of this," he said. "But I don't buy that."
Thune — like his House counterpart — says the contours of a proposal he offered in 2015 are still on the table. That would ban bad internet provider behavior like blocking, throttling and fast lanes. It wouldn't, however, give the FCC broad authority over internet providers.
Opportunity #2: Getting broadband into Trump's infrastructure plan.
Thune says there is potential for a Trump administration infrastructure package to include broadband provisions. One proposal would require conduit be laid as part of federally-funded highway projects; another would make it easier to get permits to set up internet infrastructure on federal lands. Tax credits could also be an option to get internet providers to expand their footprints.
A senior committee aide said there's also a possibility for standalone legislation on the issue. That could include an examination of regulations that impact broadband deployment and a look at bloated parts of the Universal Service Fund that the government uses to subsidize internet buildout in hard-to-reach areas.
Thune is starting to hear from industry on the issue. During a recent meeting, Alphabet Chairman Eric Schmidt had ideas about how to expand broadband access.
Opportunity #3: Finding a legislative path on tech issues with a new partner in the House.
The Trump administration has yet to articulate much of a platform on tech and telecom policy. "It'll be interesting to see what they, besides filling positions at the FCC, what types of policy ideas they might advance," he said. "I don't have a sense for that yet."
But he said that a lack of policy guidance from the Republican White House should not in "any way detract from our role of trying to get out there and drive policy in the direction that we think that it needs to go."
He also has a new partner in Greg Walden, the Oregon House Republican who is now chair of the Energy and Commerce Committee. "It'd be really nice to see Congress step into this space and actually do what I think we should be doing and what most people expect us to do," Thune said.
Also in the cards: Reforms to the laws governing the FCC, oversight of self-driving cars and the passage of his bill to encourage the distribution of government-occupied wireless spectrum.
Go deeper