John Cornyn holds up top White House nominee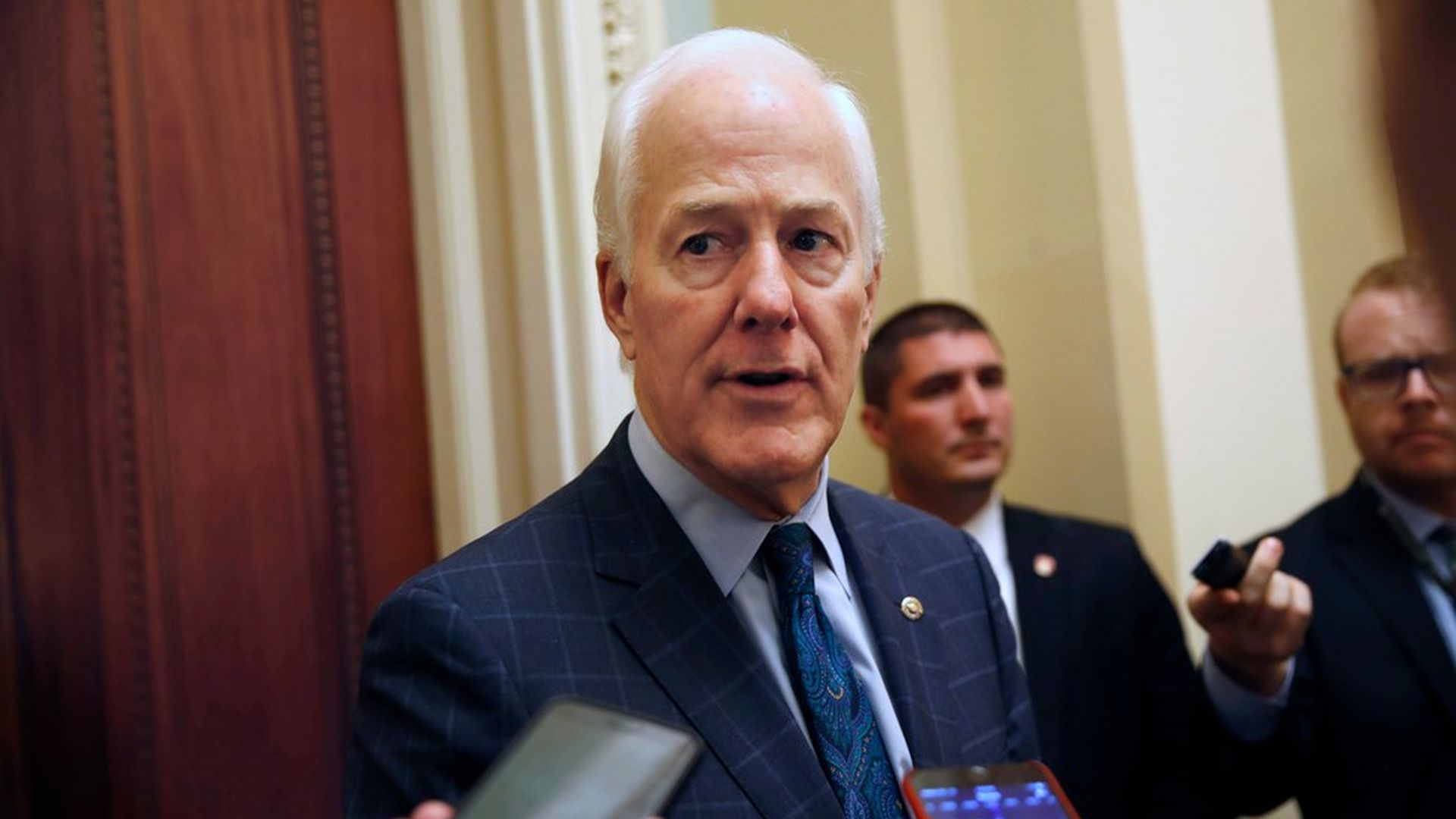 Texas Sen. John Cornyn is frustrating both administration officials and conservative movement leaders by holding up the confirmation of Russ Vought to be Mick Mulvaney's right hand man at the Office of Management and Budget.
Cornyn — a member of Senate leadership who has a strong say over the floor schedule — has made it clear that Vought will be held up until he gets more funding for Texas' hurricane relief, according to three sources close to the situation. It's unclear how Cornyn has phrased his demand or how much extra money, exactly, he's asking for, but his message has been heard loud and clear by top Trump administration officials.
Cornyn's office didn't respond to multiple requests for comment for this story. Sources said the next supplemental bill — and therefore Vought's confirmation — could be held up for at least another month.
Why this matters: Vought is a top White House priority and is considered a leader in the conservative movement. Social conservatives rallied around him and his profile exploded after his confirmation hearing in June when he clashed with Sen. Bernie Sanders over his religious beliefs. Vought wrote a blog post in which he described his Christian faith and said that those who do not accept Jesus Christ as their Lord and Savior "stand condemned." Sanders then accused him of "racism and bigotry" because of that post.
A sample of the anger: A senior conservative congressional aide texted Axios: "It is unfortunate Senator Cornyn is holding Russell Vought's nomination hostage for more emergency funding for Texas. That a member of Republican leadership would block such an integral member of the president's team at OMB is disturbing. Congress has already approved two tranches of emergency supplemental appropriations without corresponding offsets - both of which were supported by Senator Cornyn. Yet blocking an important nomination like the nominee for deputy director at OMB only breeds further disdain among the conservative movement and Senate leadership."
Go deeper