Jared and Ivanka's bipartisan dinners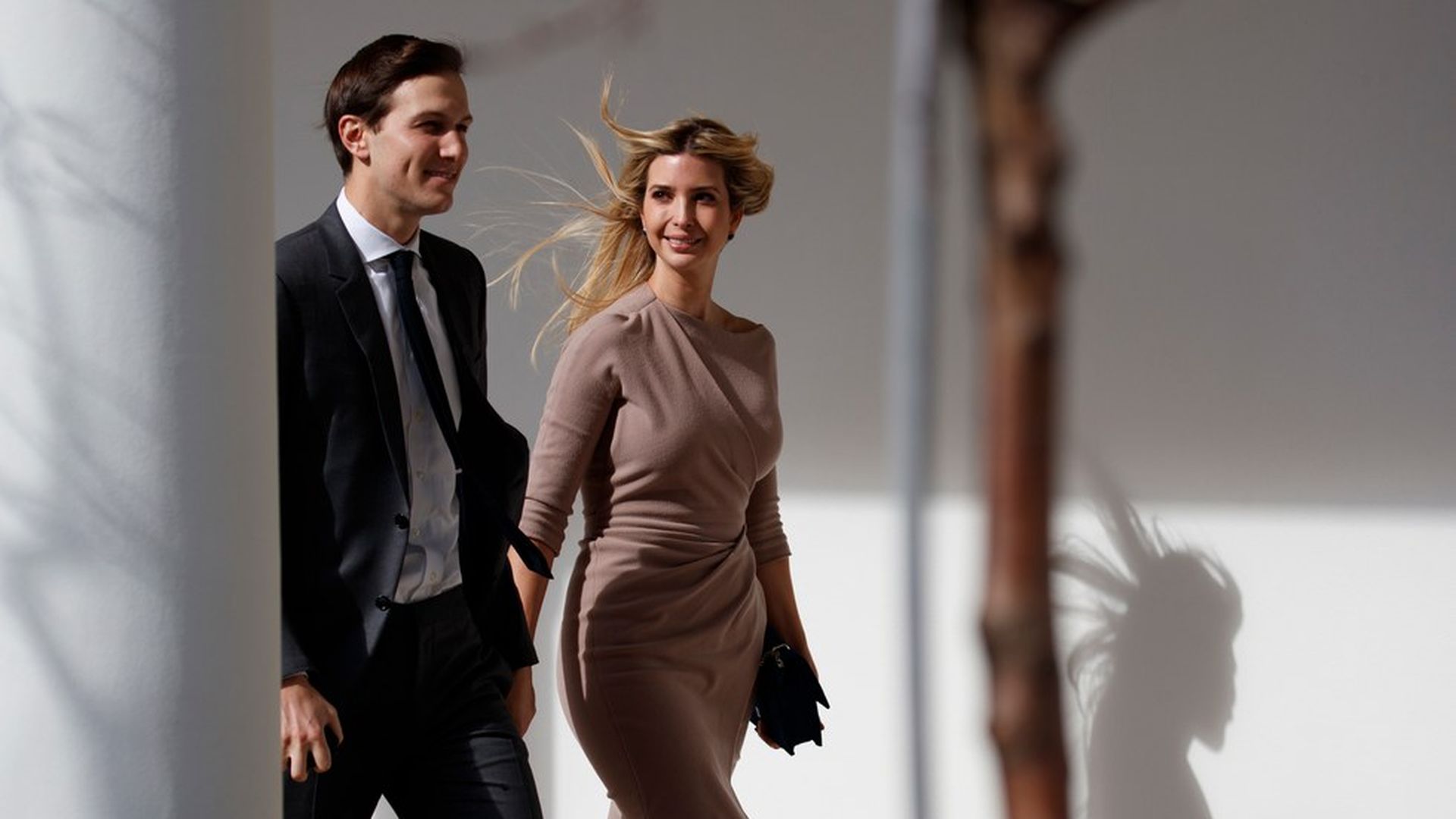 Jared and Ivanka have been working with the White House Office of Legislative Affairs to host dinners with Democratic and Republican members of Congress at their home in the upscale D.C. neighborhood of Kalorama. The dinners, which have been going on for months but have been ramping up more recently, have focused on a range of policy issues, and have yet to result in any substantive leaks.
Capitol Hill sources told me that last Tuesday night, four senators visited Chez Javanka to talk about criminal justice reform: one Republican senator, Mike Lee, and three Democrats: Dick Durbin, Sheldon Whitehouse, and Amy Klobuchar. A source with knowledge of the event told me a handful of White House officials also attended, including Reed Cordish — a friend of Kushner's and assistant to the president — as well as White House Staff Secretary Rob Porter.
Between the lines: Kushner describes his role in the administration as helping solve problems that should be above partisan politics: improving government systems, brokering peace in the Middle East, and shepherding through criminal justice reform. Some administration officials privately complain he's naïve, entitled, and unqualified for such transcendent challenges. Meanwhile, Republicans and Democrats on the Hill tell me he keeps pushing for bipartisan wins.
Why last week's dinner matters: Over the last week, Congress has shown the first signs of movement on criminal justice reform in more than a year, with two bills being introduced. Kushner is especially passionate about this issue, even though Attorney General Jeff Sessions favors a "tough on crime" approach.
Kushner recently convened a criminal justice roundtable at the White House where attendees said he spoke about his personal interest in the issue. Kushner said he got a first-hand taste of the challenges of the criminal justice system when his father, Charles Kushner, was sentenced to two years in prison after pleading guilty to tax evasion.
Go deeper