Ivanka hits the road to sell tax reform, child tax credit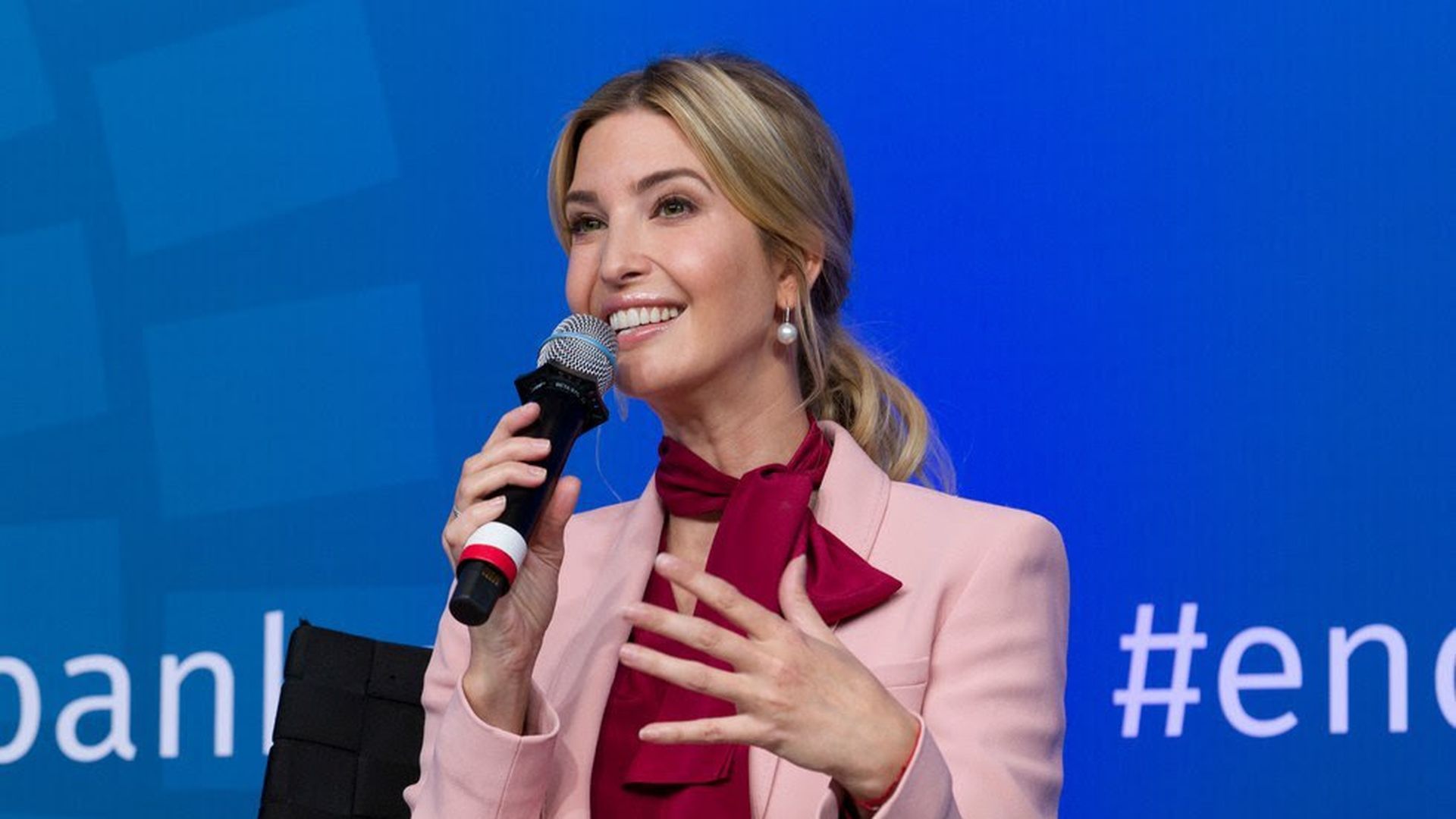 Ivanka Trump heads to Bucks County, Pennsylvania, on Monday to talk tax reform, according to a senior administration official. She'll appear at a White House tax reform town hall, alongside U.S. Treasurer Jovita Carranza, and former New York Rep. Nan Hayworth will moderate the event.
Pressure's on: Since the campaign, Ivanka has openly pushed for expanding the child tax credit. The Big Six tax reform plan would do that. But some fiscal conservatives worry it will only make the deficit worse. It remains to be seen whether House Republicans' final tax plan will keep the child tax credit expansion that Ivanka and the administration are lobbying for as part of their plan for "middle class relief." So that will be a big part of her focus in Pennsylvania.
Ivanka been working towards that end with the National Economic Council, the Office of Legislative Affairs and Treasury; and, as we first reported a couple weeks ago, Jared and Ivanka have been having members of Congress over for dinner at their Washington D.C. residence. A senior admin official said the child tax credit is "part of her overall commitment to work on policies that help working families."
Despite concerns from fiscal conservatives, officials working on tax reform say support is building for the child tax proposal.
Momentum play: The administration's effort to sell tax reform has kicked into overdrive. The president sat down with Fox News' Maria Bartiromo on Friday for an interview aired today, his team placed a Trump Op-Ed that ran this morning in USA Today, OMB Director Mick Mulvaney hit the Sunday shows, and the president phoned into a conference call for House Republicans this afternoon, urging members to adopt the Senate budget this week and follow through to tax reform, saying, "We are on the verge of doing something very, very historic."
What's next: House Republicans are set to pass the Senate budget this week — even though it doesn't include top conservative priorities, like addressing the debt crisis through entitlement reform. They're putting those goals on the back burner in hopes of expediting tax reform.
Go deeper