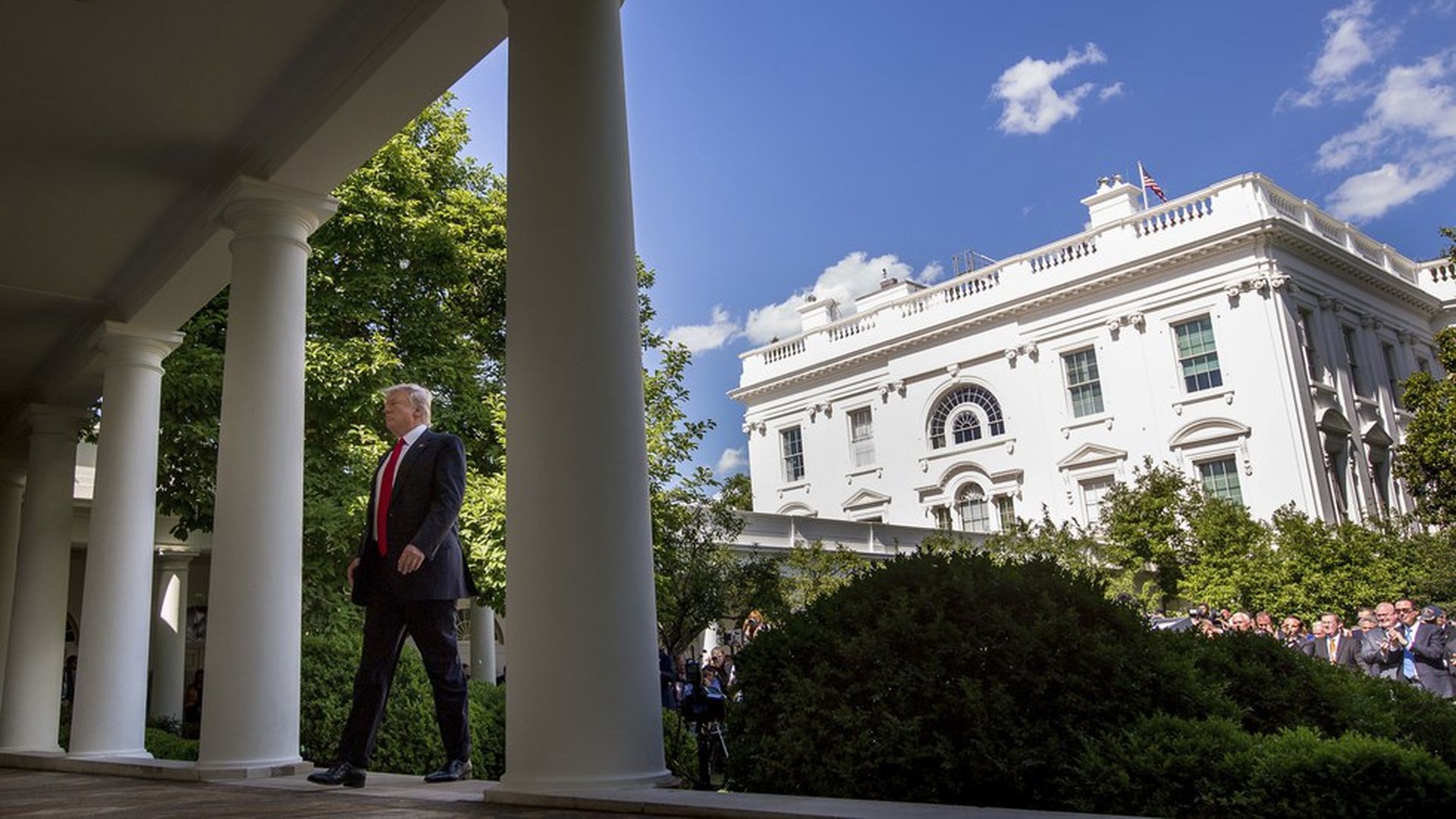 Beyond North Korea, Trump has another "no good options" dilemma this week: his decision, due Tuesday, on whether to terminate DACA — the Obama-era program that temporarily shields from deportation illegal immigrants who came to the U.S. before their 16th birthday.
Unusually for this leaky White House, they've managed to keep the DACA decision-making within an extremely small circle. That said, here's what I've ferreted out, from conversations with senior administration officials over the past 72 hours:
The common view within the Trump administration: DACA is not legally defensible. The debate internally has been less about whether to rescind DACA, than about how to do so while mitigating the harm inflicted on the roughly 800,000 people currently protected by the program.
What everyone in the White House agrees: It's up to Congress to act if members want to preserve the principles of DACA and protect these illegal immigrants who came to America as children.Trump's advisers know that Congress only acts when there's a crisis. Tuesday's announcement is expected to force such action.Trump is expected to rescind DACA but will likely give Congress a window to act before the effects of the termination are felt.But, there's no chance Congress will pass a bill that gives permanent legal status to any class of individuals without attaching serious enforcement measures to the same bill.
Over the past several weeks, the Trump administration has been weighing three options:
Rescind DACA immediately — meaning the day after the announcement, the roughly 800,000 protected by DACA no longer have protection. The Department of Homeland Security does not view these people as priorities for deportation, but many on DACA are understandably worried because they trusted the government with their personal information to register for the program.
The 0% likelihood option: Trump keeps DACA as is and the administration defends the program in court against the state attorneys general who are threatening to sue unless the administration phases out DACA by Sep. 5.The most likely option: Trump winds down DACA in a manner that limits the impact of the termination on current beneficiaries but allows Congress enough time to find a constitutional and legislative solution for the program, in conjunction with significant commitments for enforcement.
How the debate has played out inside the White House: Kelly hasn't allowed the debate to widely ventilate, which has frustrated some officials, given how politically and morally sensitive this issue is.
There are those, like Attorney General Jeff Sessions, who think DACA is illegal and that the principles underpinning it are not worth supporting.
There are other, more moderate officials, who support the principles underpinning DACA; and there are still others who don't necessarily support DACA but believe it's not politically viable to instantly kill it.
What Trump is thinking: Sources who've spoken to the president about DACA — even as recently as Friday — are convinced his mind is still not fully made up. I first reported, 10 days ago, that Trump was seriously considering rescinding DACA, but he's publicly grappled with the morality, and explosive politics, of this decision in a way he hasn't with any other since becoming president.
Go deeper