Inside President Trump's meeting with Tim Scott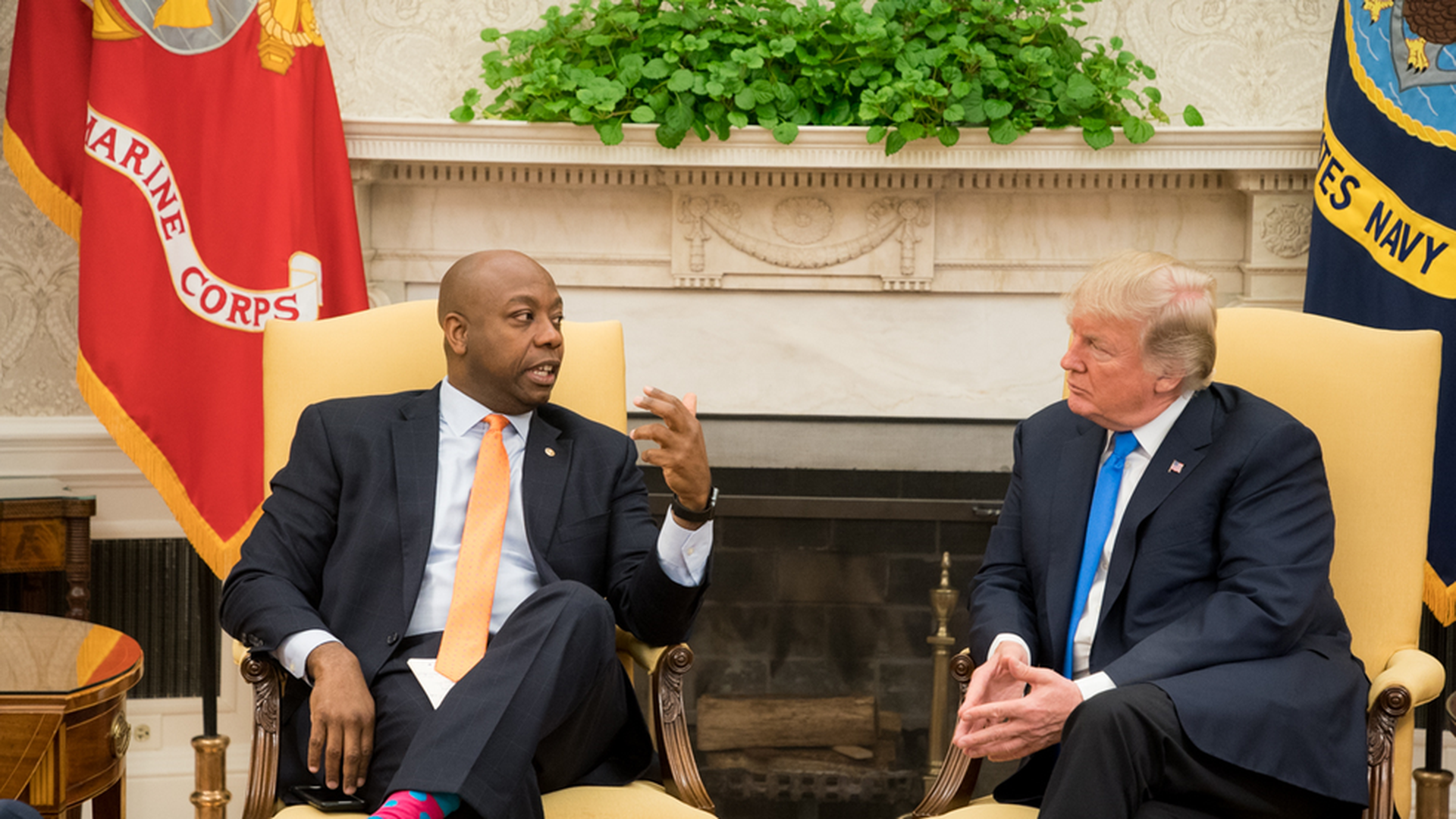 Sen. Tim Scott, the only African American Republican in the Senate, talked to President Trump today about "diversifying White House staff and the value that brings," said a source with direct knowledge of the meeting.
Scott told Trump that if he had more people on his team like Mary Elizabeth Taylor it'd be a good thing. Taylor, an African-American woman on the White House legislative affairs team, was also in the Oval Office meeting. Trump, the source added, "was very much on board with that. Liked that idea and agreed."
Why this matters: Trump has appointed very few African-Americans to White House roles. One of the only African-Americans in the White House, Omarosa Manigault, has reportedly been marginalized (though by all accounts this has nothing to do with her race and everything to do with her behavior.) Scott hopes Trump might become less racially tone deaf — and understand the historical weight of his words — if he has more daily exposure to minorities.
What happened in the room, per three sources with direct knowledge of the meeting:
Scott met with Trump for more than 30 minutes in the Oval Office and spent most of the meeting advising the president on "what do we do next" after his divisive comments about "both sides" being to blame for the racist carnage in Charlottesville.
Scott used his personal story to move Trump, who listened intently. Scott grew up poor in the South, raised by a single mom.
Trump didn't go so far as to admit he made a mistake with his Charlottesville response. Trump said, "I understand," after Scott shared his concerns about what he said about the white supremacists.
Scott has made clear in his interviews after the meeting that he believes the president took his concerns seriously, and that he has "obviously reflected" on his comments. He noted the fact that they stayed on that single topic — race relations — for the entire meeting and didn't divert into other subjects.
Other key points:
Scott pitched the president on his "Investing in Opportunity Act" — legislation that incentivizes investment in poor neighborhoods. The president told Scott he was interested in learning more about the bill and working with Scott to make it law.
Scott echoed the critical comments he made about the president after Charlottesville, explaining why he was troubled by them, and rooting them in the black experience in America — a history of slavery, grotesque violence and discrimination.
Joining Trump and Scott in the Oval were: Vice President Pence; Director of WH Legislative Affairs Marc Short; legislative affairs official Mary Elizabeth Taylor; press secretary Sarah Huckabee Sanders; and Scott's Chief of Staff Jennifer DeCasper.
Go deeper