IEA: Big crude players must show 2018 "discipline"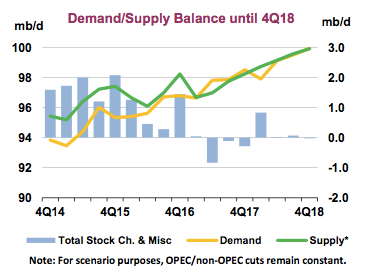 The International Energy Agency sees strong potential for some stability in global crude markets next year — if OPEC and Russia re-up their production-limiting deal beyond the first quarter (check out the chart above).
"Looking into 2018, we see that three quarters out of four will be roughly balanced — again using an assumption of unchanged OPEC production, and based on normal weather conditions," they said in the latest closely watched monthly outlook.
"The next few weeks ahead of the producers' meeting in Vienna on 30 November will be crucial in shaping their decision on output. A lot has been achieved towards [stabilizing] the market, but to build on this success in 2018 will require continued discipline."
By the numbers: The IEA expects supply from outside of OPEC to grow by 1.5 million barrels per day next year, alongside similar growth in crude demand of 1.4 million.
The IEA notes that there has been progress in cutting the glut of global inventories, with a "major reduction in floating storage, oil in transit, and stocks held in some independent areas."
At the end of August, combined stocks of crude oil and refined products in industrialized countries were slightly over 3 billion barrels, dropping down to 170 million barrels above the five-year average, a sign of progress in clearing the global glut.
Go deeper: Reuters has much more on the report here.
Go deeper