How the Russia probe closed in on Paul Manafort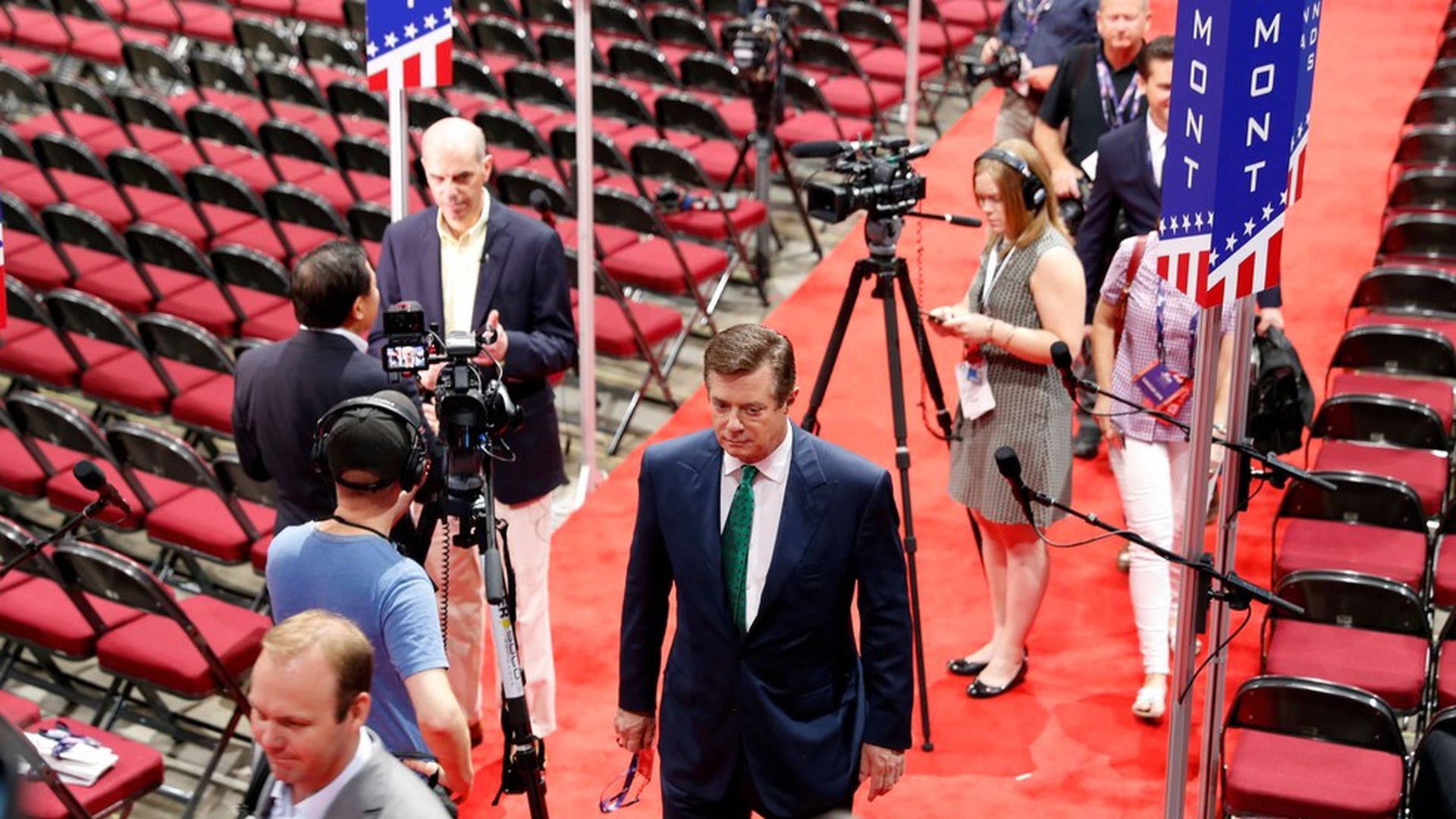 Paul Manafort was in the room when Donald Trump Jr. met with a Russian lawyer hoping for dirt on Hillary Clinton. One month later, he reportedly sent an email to a Russian billionaire offering private briefings on the campaign. Before he even signed on with Trump, the FBI was reportedly secretly monitoring his calls.
Why it matters: Now, he has surrendered to authorities and been charged with 12 counts in the first indictments of Robert Mueller's Russia probe.
The timeline:
2006
Manafort begins working for Russian oligarch Oleg Deripaska, who has close ties with Vladimir Putin, for $10 million per year, per the Washington Post. Around the same time, he's hired by a pro-Russia political party in Ukraine.
2014
The FBI begins investigating Manafort over his consulting work in Ukraine.
As a part of that investigation, the FBI obtains a FISA warrant to wiretap Manafort, per CNN. It was discontinued at some point in 2016, and later renewed. The CNN report emerged in September, 2017.
2016
March 28: Manafort joins the Trump campaign, tasked with wrangling delegates for the convention.
Spring 2016: A new FBI investigation into Manafort is opened, relating to his business ties to foreign countries, including Russia, per the NY Times.
May 19: Manafort is promoted to campaign chairman.
June 9: Manafort attends the Trump Tower meeting at which Donald Trump Jr. had been told he'd receive dirt on Hillary Clinton as part of the Russian government's efforts to help his father win. News of the meeting emerged in July, 2017.
July 7: Manafort reportedly sends an email to an associate of Deripaska, asking if the billionaire would like private briefings on the campaign. News of the email emerged in September, 2017.
August 12: The AP reports on secret ledgers that record $12.7 million in payments to Manafort from the Ukrainian political party, the Party of Regions.
August 19: Manafort quits the campaign, with Jared Kushner reportedly telling him if he doesn't resign immediately he'll be fired.
Late 2016: The FBI renews its wiretaps of Manafort's communications, per CNN.
November 8: Trump is elected president.
2017
March 20: Sean Spicer claims Manafort "played a very limited role for a very limited amount of time" on the campaign.
May 17: Robert Mueller is named special prosecutor in the Russia probe 8 days after Trump removed James Comey as FBI director.
May: Deripaska says he'll cooperate with the Congressional Russia investigations in exchange for full immunity. The offer is declined.
June 27: Manafort registers as a foreign agent.
July 20: The Wall St Journal reports that Mueller is investigating Manafort for possible money laundering.
July 25: Manafort testifies in private before staff for the Senate Intelligence Committee, and turns over his notes from the Trump Jr. meeting. The Senate Judiciary Committee withdraws a subpoena ordering him to appear, and he agrees to produce documents for that committee.
July 26: The FBI raids Manafort's home in Virginia. After the search, prosecutors on the Mueller probe tell Manafort they plan to indict him, per the NY Times. News of the raid emerged in early August.
September 8: Unwittingly communicating with a prankster, Trump lawyer Ty Cobb writes, "Manafort and Flynn have issues separate and apart from the WH that will cause the investigation to linger."
September 15: Jason Maloni, Manafort's spokesman, testifies before Mueller's grand jury. Manafort's lawyer had also been subpoenaed.
September 20: CNN reports that Mueller's is looking into "possible crimes committed as far back as January 2006" by Manafort.
September 26: Roger Stone says Manafort's attorneys are expecting an indictment soon.
October 29: Buzzfeed reports that the FBI is investigating suspicious wire transfers from offshore companies linked to Manafort.
October 30: Manafort is asked to surrender to authorities.
Editor's Note: Sign up for Axios newsletters to get our smart brevity delivered to your inbox every morning.
Go deeper