How private equity is watching Trump's Paris announcement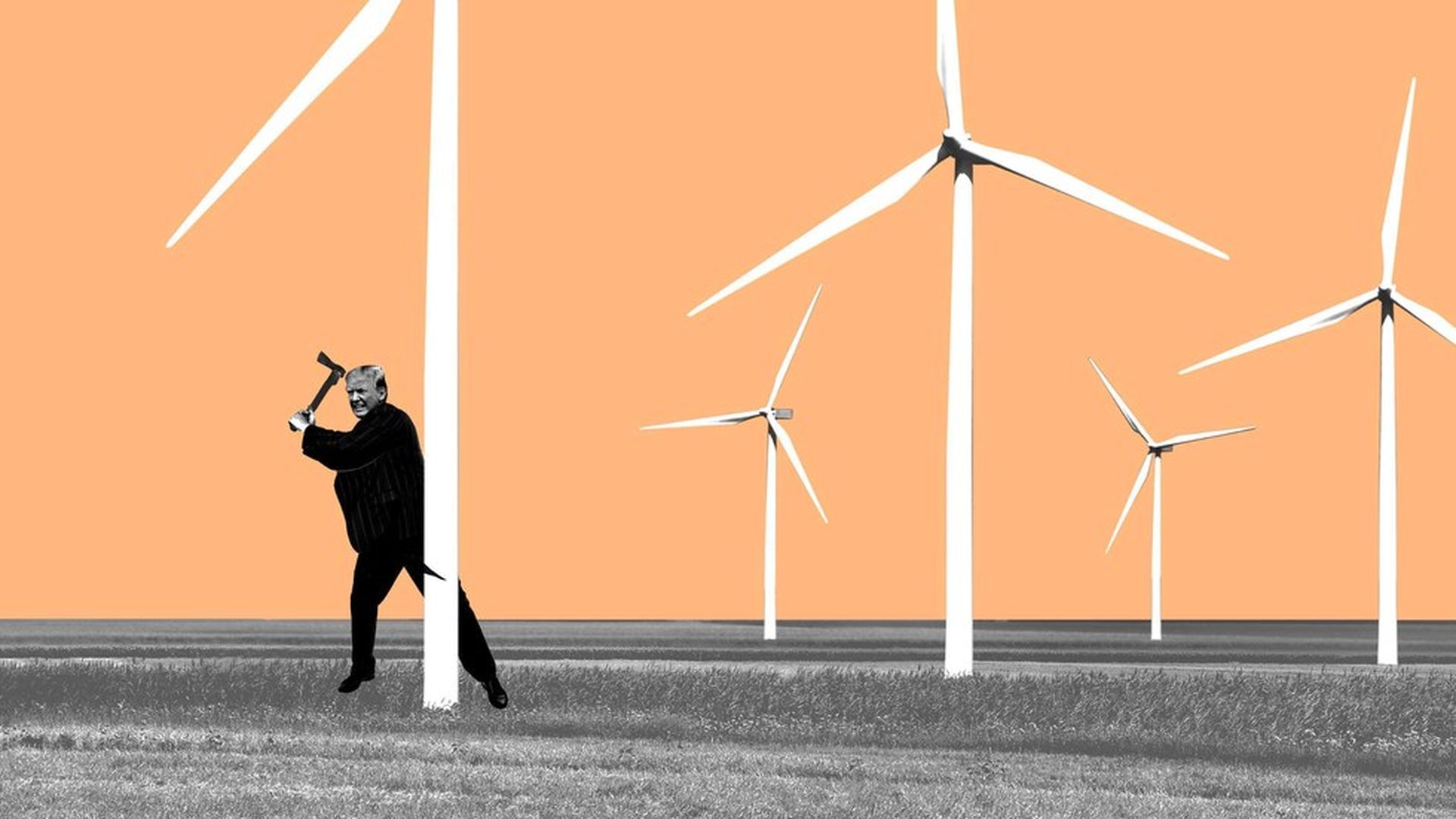 President Trump is expected to announce this afternoon that the U.S. is pulling out of the Paris Climate Agreement — despite reported pressure from some in his Administration, almost the entire tech industry (Elon Musk will bail on presidential councils) and even many fossil fuel companies (including Exxon Mobil and ConocoPhillips).
The big takeaway after discussing with energy-focused private equity investors, most of whom say they will be closely watching Trump's specific language:
Little investment impact: Paris is more a goals-based framework than specific regulatory policy, so it hadn't had much impact on upstream or midstream oil and gas companies. This is particularly true for private equity plays, which have a limited time horizon. Bailing may provide some better sleep for power plant execs, but it's hard to imagine anyone today investing in a new coal-fired plant, given that the long build time could run into a post-Trump president who brings the U.S. back into Paris.
Caveat: Future renewables investments (both tech and project) are less likely to be for U.S.-based companies, even if states like California toe the carbon reduction line. This may be the first area of next-gen tech where the U.S. voluntarily cedes leadership and market value.
Macro story: The big concern I heard was about what this does to long-term U.S. economic competitiveness, particularly now that America will not have a seat at the global table when it comes to energy decision-making (remember, the only other two UN countries to reject Paris were Syria and Nicaragua, and the latter abstained because it wanted stronger language). Renewable technology advancement is not going to retreat and, at some point, the U.S. could be damaged by basing its energy policy on older, more expensive generation sources (yes, even if natural gas remains cheap and abundant).
Increased coal investments? No, unless there is some national moratorium on fracking.
Record raise: CVC Capital Partners today announced that it has raised over €16 billion for its seventh flagship private equity fund (€15.5b from third parties), for what is the largest-ever such fund ever raised by a Europe-based firm. The runner up was Apax Europe VII, an €11.2 billion fund raised in 2007. The dollar conversion works out to around $18 billion vs. $16.3 billion, based on contemporaneous exchange rates.
Everything is awesome: Time Warner CEO Jeff Bewkes insisted yesterday at the Code Conference that neither President Trump nor the broader political climate will impact regulatory approval of the company's $85 billion takeover by AT&T (which Trump threatened to block during the campaign).
Behind the bluster: Makan Delrahim is new head of the U.S. Justice Department's antitrust division, and also used to be outside counsel for AT&T (plus Comcast, Google and others). Axios has obtained his written responses to questions submitted by U.S. Senators after his confirmation hearing, including his views of so-called vertical mergers. Key reply, which may disappoint some of his former clients: "Just because a transaction or particular types of transactions have been approved int he past does not mean that they could not raise competitive concerns in the future."
Empty handed: Self-driving auto engineer Anthony Levandowski lost more than just his job at Uber earlier this week, when he was fired for refusing to hand over documents he allegedly stole from Alphabet's Waymo. He also appears to be out around $250 million related to Uber's acquisition of Levandowski's startup, as first reported by Bloomberg.
What happened, via Kia K: Uber's purchase of Otto was almost entirely in stock, with Levandowski to receive 5.31 million shares. All of that was subject to vesting based on various milestones (time and product), but a source familiar with the situation says that none of them had been met at the time of his dismissal.
More Uber news: Finance chief Gautam Gupta is leaving in Julyin order to become COO at a different San Francisco startup, which means that the ride-hail giant has yet another C-suite spot to fill. Uber also disclosed $3.4 billion in Q1 2017 revenue (up 18% from Q4 2016) and $708 million in losses (down 28.5% from Q4 2016).
Go deeper