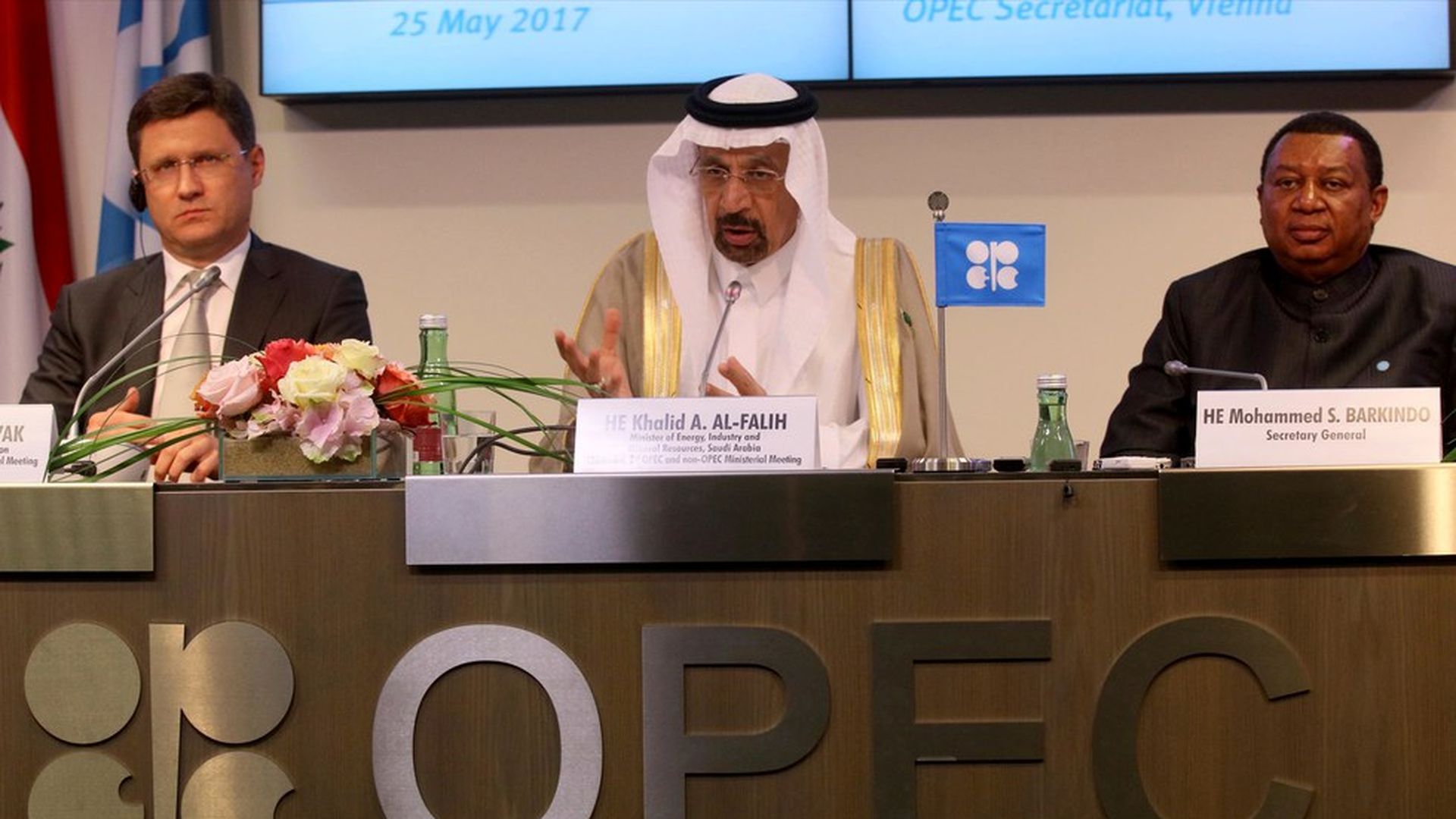 OPEC is out today with its big annual World Oil Outlook, a detailed analysis of supply and demand trends in coming decades that puts meat on the bones of some top-line conclusions that Secretary General Mohammad Barkindo offered in London last month.
Why it matters: Yes, OPEC has plenty of reasons to shape a narrative around future oil demand. But the forecast nonetheless adds a detailed entry to the mix of analyses of the global energy pictures, and shows how the powerful cartel is positioning itself.
A few takeaways:
No peak: The outlook shows global demand growing through 2040 — the end of the forecast period — to reach 111 million barrels per day by then (a slight increase over their last projection), although the growth rate slows during the latter parts of the forecast to 300,000 barrels per day during 2035–2040.
As we explored in Generate before, this contrasts with some other forecasts of demand peaking as soon as the late 2020s.
Nearer term, OPEC has revised demand upward by 2.24 million barrels per day in 2022 compared to last year's outlook.
They see demand for transportation fuels climbing 5.4 million barrels per day by 2040 as the expanding auto fleet outpaces increasing efficiency and electric vehicle penetration.
Don't call it a comeback: The report shows OPEC's importance to global crude supply reasserting itself. The outlook projects that U.S. production will keep rising sharply for years but then tight oil — the driver of the U.S. surge — peaks around 2025 and then starts declining.
"Demand for OPEC crude is projected to remain just over 33 mb/d until US tight oil peaks in the mid-2020s, after which demand for OPEC crude rises steadily to reach 41.4 mb/d by 2040," it notes.
Spending needed: The report forecasts that meeting global oil demand will require $10.5 trillion in global investment between now and 2040, with $7.9 trillion of that needed in the upstream sector to ensure a "balanced and stable market."
The report notes that while what has been stagnant investment levels pick up somewhat in 2017 and 2018, it's nowhere near past levels and much of it is in so-called short-cycle (i.e. shale).
"It is vital that this be rectified so that a lack of investments today does not lead to a supply shortage in the future," the report states.
Go deeper