How Bush alum Ruben King-Shaw got booted from his investment fund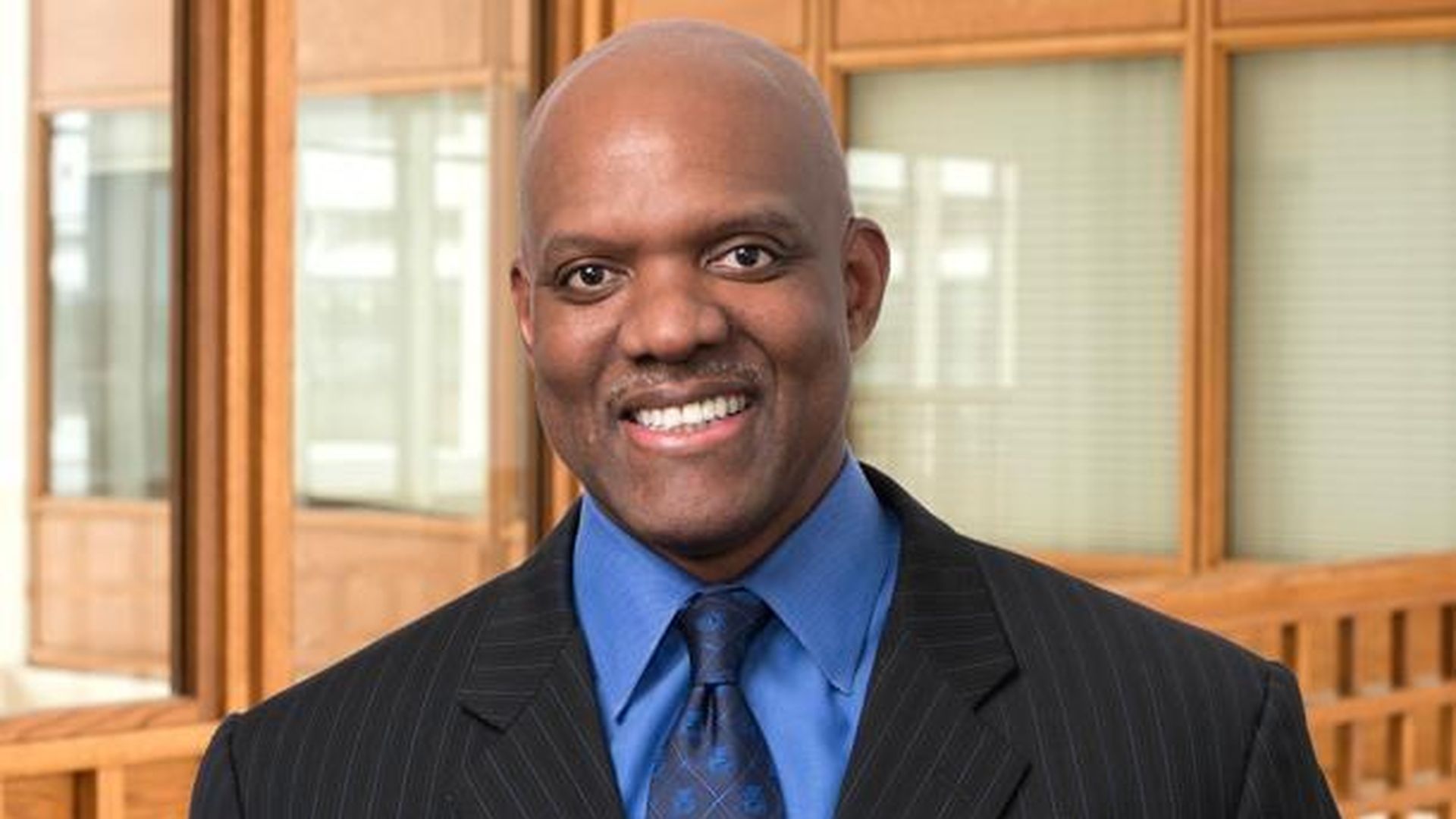 Ruben King-Shaw, a former Bush administration official and veteran healthcare executive, was kicked out of his private equity fund late last year.
Why it matters: The story has not been told until now, in large part because King-Shaw has maintained misleading information about his current role on both his investment firm's website and in a federal regulatory filing. He's still on the boards of companies such as Steward Health and Cotiviti Holdings and two weeks ago he was named CEO of healthcare fraud prevention company MedicFP. King-Shaw says this is mostly a misunderstanding.
Who: King-Shaw previously was a member of Medicare's Program Advisory and Oversight Commission under Obama and served as senior advisor to the Secretary of the Treasury for healthcare tax policies under George W. Bush (plus served as his deputy administrator for CMS).
In 2011, King-Shaw founded Mansa Capital, a healthcare-focused private equity firm with offices in Boston and Florida. Along with partner Jason Torres, Mansa would raise $46 million for its debut fund, including from state pensions in New York and Connecticut. The fund included a typical "GP commit" of around 2%, to be supplied by King-Shaw and Torres.
What happened: Shortly after Mansa held a first close on its fund, some of the individual limited partners (LPs) told King-Shaw that they would not be able to meet their obligations (totaling around $5 million). Rather than cutting the fund size or asking other LPs to cover the shortfall, King-Shaw assumed the obligations himself ― via a personal holding company called Mansa Equity (yes, the name similarities become key). This transfer was disclosed to LPs via footnotes in annual reports, according to King-Shaw.
As the fund progressed, King-Shaw found takers for around half of the extra obligation. But that still left him on the hook for around $2.5 million plus the GP commit. And, by his own admission, he and Torres were often late with their portion of capital calls.
By Q3 of last year, a Chicago fund-of-funds managing New York and Connecticut's money became concerned that there was a shortfall. King-Shaw, who had planned to raise a second Mansa Capital fund, scrambled to find investors to fill the remaining $2.5 million. He ultimately succeeded (actually obtaining $3.5 million in total new commitments), but it was too late. The fund-of-funds ― Muller & Monroe Asset Management ― wanted to boot the general partner. It had north of a 50% stake, and found enough other LP support to form a super-majority.
King-Shaw and Torres were out, with a Massachusetts firm called Semaphore put in charge two days before Christmas. King-Shaw did not contest, although there is still a possibility that the LPs will pursue future legal action, depending on the result of a forensic audit.
Misrepresentations: King-Shaw continues to refer to himself as the CEO of Mansa Equity, and tells Axios that it's important to understand the distinction between that holding company and Mansa Capital. The trouble is that it's not a bright line he's cared to draw elsewhere. For example, the website for Mansa Capital was www.MansaEquity.com, and that site still contains the Mansa Capital logo, Mansa Capital portfolio companies and Mansa Capital team members (including Torres, who is not part of Mansa Equity). Moreover, King-Shaw did not inform private equity firm Silversmith Capital Partners of the Mansa Capital situation upon recently being named an industry advisor to the firm, according to Silversmith managing partner Jeff Crisan (who sounded stunned to hear it).
Finally, and perhaps most problematically, a 10-K filing from Cotiviti Holdings in February says:
"Mr. King-Shaw has served as Managing Partner and Chief Investment Officer at Mansa Capital since 2011 and as Chief Executive Officer of Mansa Equity Partners, Inc. since 2003."
It makes the Capital vs. Equity distinction, but the Mansa Capital role is not given an end-date.
Sourcing: King-Shaw spoke to Axios for this story, insisting that this was largely an innocent misunderstanding ("I should have changed the website") and that the GP removal was largely caused by LPs wanting an outside firm with greater financial and strategic resources. Muller & Monroe CEO Andre Rice commented briefly for our piece, only confirming that GP transfer and saying that it related to King-Shaw and Torres not adequately meeting their financial obligations. Semaphore declined comment, except to acknowledge that it now manages Mansa Capital. Jason Torres did not return a request for comment.
Go deeper