How bees decode each others' dances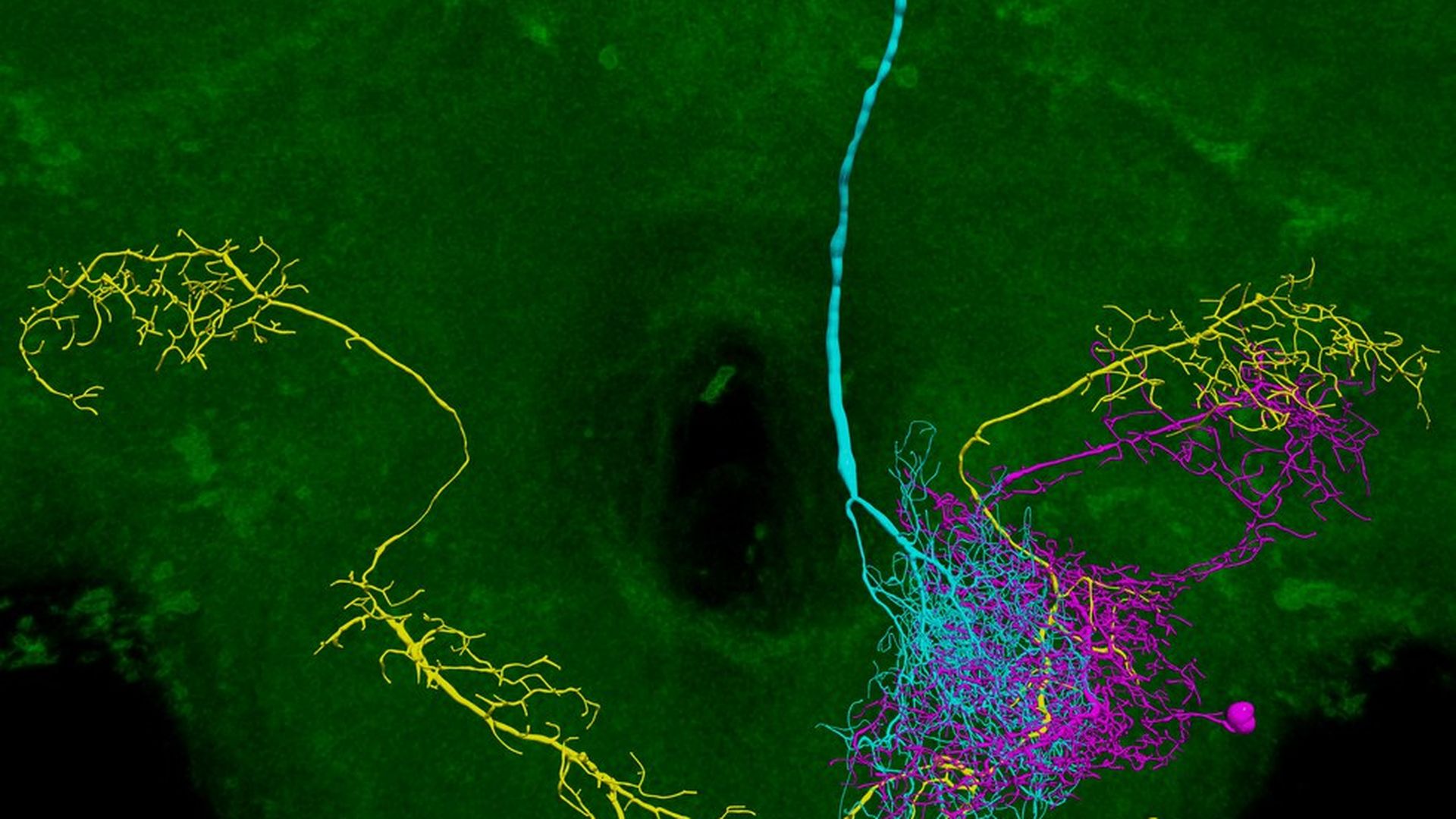 Scientists have mapped some of the neurons that let bees talk by dancing.
Why it matters: Bees, who accomplish impressive things despite their tiny stature, have become models for understanding cognition. Scientists study how they navigate and recognize faces — and now, how they share information. "We're starting to understand how a fairly simple neural system, like a bee's, can solve a complex task like communication," says Thomas Wachtler, a researcher at the Ludwig Maximilian University of Munich and an author on the study.
Bees tell each other how to find pollen-laden flowers using the 'waggle dance.' It's incredibly precise, and can pinpoint a flower miles away. A bee stomps and vibrates her wings and waggles her abdomen while walking in a straight line, then circles back to the start and does it again. The angle she moves says which way to go. The amount of time she wags tells the distance. Other bees follow the waggle map.
The catch: Hives are pitch-black. The observing bees don't see the dance — they hear and feel it.
Researchers already knew which neurons the bees used to feel vibrations, and they knew about the dance. But no one had looked at how the two interacted.
How they did it: Wachtler, along with Hiroyuki Ai and his colleagues at Fukuoka University and the University of Hyogo, drummed the beat of an artificial waggle dance to a bee, and measured signals from the neurons. At the center of the brain's response were three neurons: the first starts or stops the second in response to sound – so that measures the time period of the waggle. The purpose of the third isn't clear yet, but since it receives signals from both of the bee's antennae, Wachtler thinks it helps the observers track where the dancing bee is in space, so they can determine the angle of the waggle.
Go deeper