How an oil producer wants to make climate change its business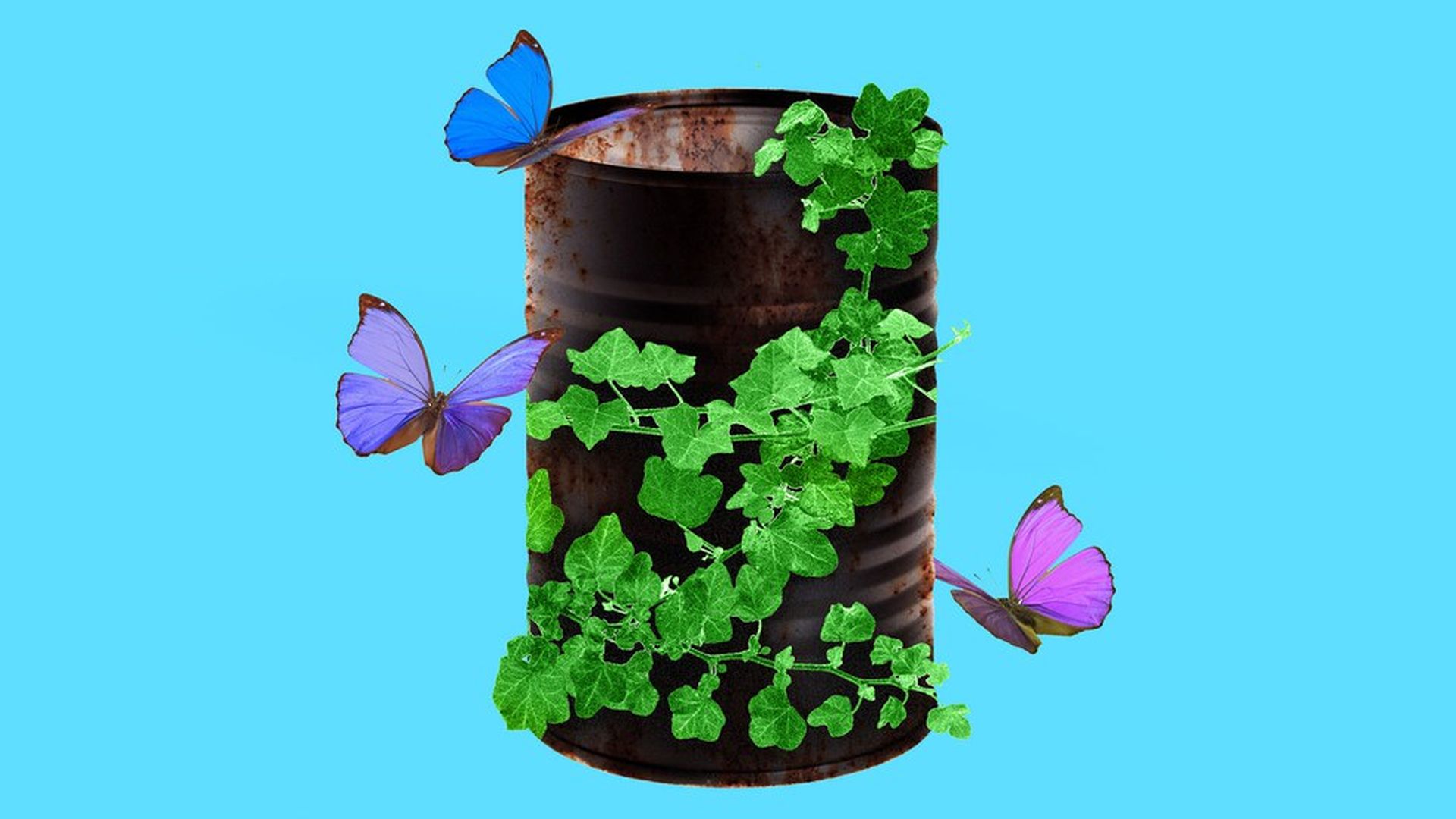 One of the world's largest oil companies, Norway-based Statoil, is teaching thousands of its employees how to talk about climate change and investing billion of dollars into renewable energy. It also doesn't want to be called an oil company at all.
Why it matters: Statoil offers a glimpse into what an oil producer in a lower-carbon future could look like. Most of the world's biggest oil and natural gas companies are inching toward greener businesses, driven by a handful of global market and policy trends. Partially owned by the wealthy Norwegian government, Statoil is one of the most aggressive with its investments and company culture on the matter.
Investments
Statoil's goal, announced earlier this year, is to invest 15-20% of its capital into renewables and lower carbon technologies by 2030. That goal is among the most aggressive by big oil companies, along with French producer Total, whose publicly stated target is 20% of its energy output be renewables by 2035.
Statoil has invested more than $2 billion into offshore wind, which requires similar expertise as offshore oil drilling. The company is also investing in batteries and other technologies in the electricity space as it seeks to benefit from the growing electric vehicles market, one of the handful of global trends nudging oil companies to greener investments.
That still leaves the vast majority of the producer's portfolio based on traditional oil and natural gas, and Statoil is going to keep exploring for new hydrocarbons to replace depleting fields.
Even if most cars go electric, other sectors of the economy, like plastics and aviation, still need oil and natural gas, said Bjørn Otto Sverdrup, Statoil's top sustainability officer, at a recent event hosted by the Center For Strategic and International Studies, a Washington-based think tank.
"We're very surrounded by hydrocarbons and it's very difficult to get rid of it," he said.
This mindset provokes skepticism by those outside the industry.
"The bar for leadership in this industry is very low," said Andrew Logan, who directs the oil and natural gas program at Ceres, a group that urges greener investments. "What Statoil is doing counts as leadership, but it's not enough. It's probably more than anybody else, but not nearly enough on the scale and scope of the climate challenge."
Statoil is also still a member of the American Petroleum Institute, which has spent years and millions of dollars fighting policies cutting greenhouse emissions. I pressed Sverdrup on whether what the company is doing is more just an aggressive form of greenwashing.
"I think you should watch what we do," he responded in an interview with Axios after the event. "There's always someone who would like to see us doing more and faster, but I think we get it, and we are moving responsibly and quickly."
Company culture
Statoil, more than any other company in the industry, seeks to talk about its renewable targets in the context of climate change, both within the company and outside of it.
"We really believe in the business case," Sverdrup said. "If it wasn't a compelling business case, it wouldn't be as important to raise the awareness and knowledge of climate change."
In a 28-page slide presentation titled "Climate roadmap ambassador training," Statoil executives are teaching thousands of its employees how to talk about the issue with their peers.
Launched in March, the program aims to educate employees about, among other things, climate science, renewable energy prices and how to talk about Statoil's greener business plans, according to a presentation viewed by Axios. About 2,000 of its 20,000 employees around the world have received the training so far, including in Texas.
Sverdrup is also trying to change the way people are describing the company: "We are historically an oil and gas company, and now we're transitioning to become an energy company," Sverdrup said.
The word Statoil combines two things it's a little less of today: State and oil. It was founded in 1972 by the Norwegian government, but beginning in the 2000s it became partly publicly traded. Today the government owns 67%.
The big picture
The world's oil and gas industry is hardly monolithic. European firms like Statoil are the most aggressive investing in -- and calling attention to -- resources that aren't fossil fuels. There are a lot of reasons for that, including pressure from European politicians to consider climate change.
America's oil and gas companies have been quieter and more cautious on the potential of renewables, with domestic firms even less convinced of the business case and of climate change as a concern.
Even still, most international oil and gas producers, including American firms like Exxon Mobil Corp., urged President Trump to stay in the Paris climate deal, largely because a lower-carbon world means more natural gas, which burns cleaner than coal.
"It would be helpful to our business if they stayed in the Paris deal. We sent a letter to the president, encouraging his administration to stay in," Sverdrup said. "I don't think we got a response."
Go deeper