Harvey's impacts on the energy sector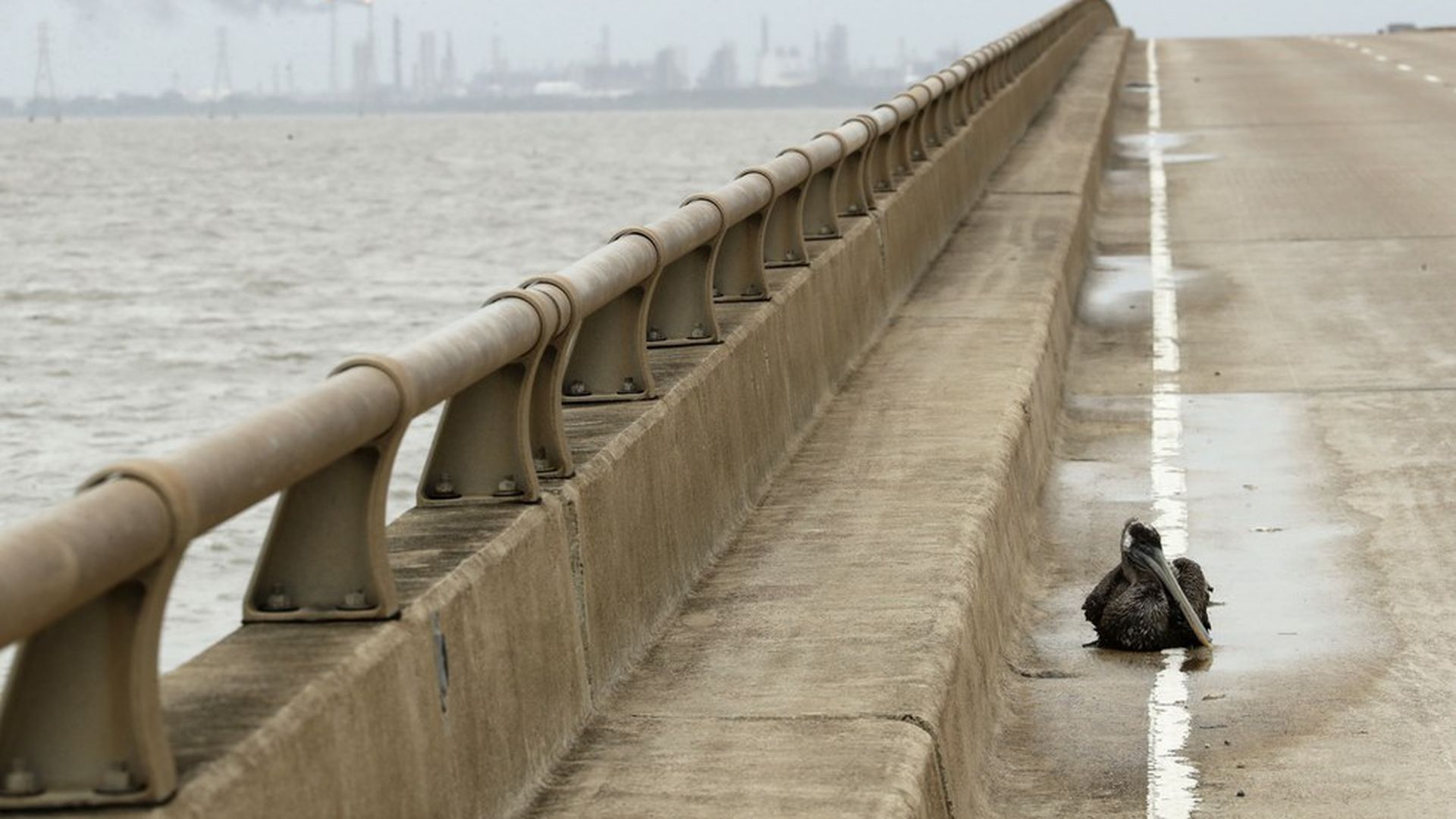 Harvey's devastating flooding is hitting a state and region that's a central hub for the energy sector. For instance, BP and Shell alone have roughly 11,000 employees in the Houston region combined.
The storm is closing down refineries, some crude oil production offshore in the Gulf of Mexico and onshore in the Eagle Ford shale region, pipelines, shipping, and other infrastructure networks.
Via a sobering Reuters story: "Damage assessments could take days to weeks to complete, and the storm continues to drop unprecedented levels of rain as it lingers west of Houston, home to oil, gas, pipeline and chemical plants. And restarts are dangerous periods, as fires and explosions can occur."
Power loss: Over 300,000 people are without electricity, according to the Electric Reliability Council of Texas, which oversees the Texas power grid.
Gasoline: The disruption of Gulf Coast refining and pipeline networks will send prices upward nationwide, and gasoline futures are already trading higher.
On Sunday night, GasBuddy analyst Patrick DeHaan issued a forecast that prices in the Gulf region will rise by as much as 35 cents per gallon over the next two weeks. The midwest is due for a 10-25 cent rise, with smaller increases in other regions.
Gasoline futures were around 6% higher in Asian trading on early Monday, and The Wall Street Journal reports: "Energy markets could be in for a bumpy ride when they open Monday as investors try to gauge the impact of the disruption."
Refineries affected: The storm has forced the shutdown of multiple refineries in Corpus Christi, Houston, and elsewhere in the Gulf of Mexico, such as Exxon's huge Baytown facility that processes nearly 600,000 barrels of crude per day and Shell's big Houston-area refinery, which has a 340,000 barrel-per-day capacity.
Nearly three million barrels of refining capacity, or over 16% of the U.S. total, has been taken offline, according to a Goldman Sachs research note Monday morning.
"At this stage, most of the refining outages are reported as preventive, with only a few comments on minor flooding. However, the slow moving nature of the storm will likely lead to these shut-downs continuing in coming days and may generate persistent damage as well," Goldman said.
"Some of the issues around gasoline and refinery production are going to be a little bit enduring, at least for the next month," Wayne Gordon, a top analyst at UBS, told Bloomberg late last night.
Crude oil: The Interior Department said in a Sunday afternoon update that 105 Gulf of Mexico's platforms have been evacuated. Nearly 22% of Gulf of Mexico oil production has been halted.
Yes, but: Overall, the storm has been harder on the refining sector than on oil production, notes Goldman, stating that overall about 11% of total U.S. crude production is halted, including offshore and onshore. The heart of the Gulf of Mexico producing area was not in the storm's direct path, and the greater production impact has been onshore wells, they note.
Horrifying: Via Mashable, one meteorologist believes ongoing rainfall in Texas could eventually lead to a total of 25 trillion gallons dropped on the state, with 11 trillion having occurred already.
Go deeper